Jessica Chastain: Zero Dark Flirty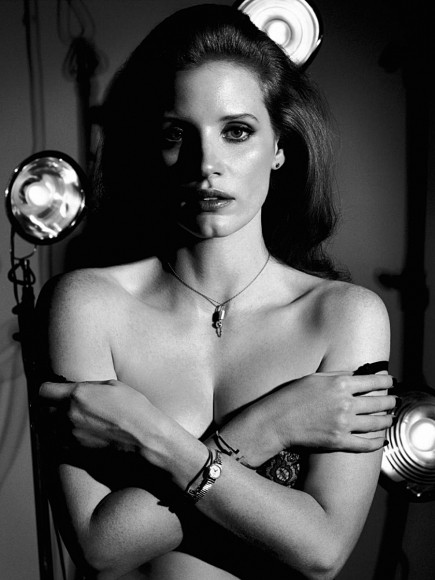 When it comes to hot redheads, Jessica Chastain is at the top of the list. Like Julianne Moore, Jessica is not only sexy but she is also one of the most acclaimed actresses of her generation. Hailing from Sacramento in Northern California, Jessica played Juliet in professional theater company, TheatreWorks' version of Romeo and Juliet in Menlo Park, now home of Facebook, located in the southern San Francisco Bay Area. She then went on to attend the famous Julliard School in New York City on a scholarship funded by one of Julliard's most famous alums, Robin Williams. At Julliard, Jessica acted in several student film projects and stage plays, graduating in 2003. Even before graduation, Jessica signed a deal with ER producer, John Wells after he saw her perform in a drama showcase. Soo after, Jessica moved to Los Angeles to begin her career.
[[contentId: 2883044| ]]
HOW DID JESSICA CHASTAIN BECOME A STAR?
Despite having a deal with John Wells, It wasn't easy at first since being a redhead with unusual looks, Jessica found it hard to get cast. She got her first TV break on The WB network's remake of Dark Shadows. The pilot was not picked up but Jessica then started getting guest starring roles on various TV shows. She still continued to work in theatre and in 2007, Jessica was recommended to Al Pacino who was directing a production of Salome and looking for an unknown actress to play the lead. The success of the play brought Jessica to the attention of casting directors and in 2008, she made her film debut in Jolene, a film inspired by the Dolly Parton song. Other film roles followed and in 2011, Jessica was acclaimed for starring in six films most notably, playing the ostracized Celia Foote in The Help. Her performance earned her an Oscar nomination for Best Supporting Actress in addition to nominations for a Golden Globe and SAG award. Jessica got another Oscar nomination in 2012, this time for Best Actress for her role in Zero Dark Thirty. She won the Golden Globe that year for Best Actress – Motion Picture Drama along with the Critics Award for Best Actress. Time also featured her as one of the "100 Most Influential People in the World" that year. Her other subsequent film projects included co-starring with Julliard classmate, Oscar Isaac in 2014's A Most Violent Year.  When asked why she was able to be in one notable film after another, Jessica said, "I think a lot of it is luck. I never looked at a project and thought, this is going to get me a lot of money or this is going to make me famous." But they certainly have!
OK, THAT'S ALL GREAT BUT WHERE CAN I SEE JESSICA CHASTAIN NAKED?
Luckily despite all her acting accolades, Jessica is not opposed to doing nudity. Seeing Jessica Chastain nude is easily done in several films starting with her first starring role in Jolene as a troubled girl who works as a stripper and winds up having a lesbian affair in a mental hospital. You can see Jessica's breasts when she's stripping and in bed during the lesbian fling. Oddly enough despite Jessica's willingness to get naked, a body double was used for other love scenes. You can see the real Jessica nude again in the 2012 crime drama, Lawless. Although the nude scene is really dark, you can see some frontal nudity as well as Jessica's behind. Jessica shows off her breasts again in the 2013 film adaptation of Al Pacino's passion project, Salome where as Salome, she performs the legendary "Dance of the Seven Veils" and is topless.
[[contentId: 2883045| ]]
HOW DOES JESSICA CHASTAIN FEEL ABOUT DOING NUDITY?
Jessica credits Al Pacino who discovered her in the theatre world and gave her the "Salome" experience for opening her mind about nudity. In the play, Jessica had to be naked at the end of her Salome dance in every performance which was a departure from her initial view about doing nudity. She said, "When I first started at Juilliard, they asked me to do nudity a couple of times. I said no each time, because it didn't quite make sense. I wanted to be known as an actress first." She was also troubled that nudity may become problematic for her in her career, "When I saw all the fantastic actresses whom I respect doing nudity, I was like, 'Oh, it's no problem.'" Then when Jessica got cast in Salome, she read a book called "Sisters of Salome" which talked about the power of nudity which changed her mind to what nudity represented.
DOES JESSICA FEEL COMFORTABLE DOING NUDITY?
Jessica admits she still gets embarrassed doing it but knows that sometimes nude scenes are necessary, "Like in Lawless if the director, John Hillcoat, had said I didn't need to be nude I would have been surprised. My character in that movie is domineering and driven and attention-seeking, she's the aggressor and it was right to show her getting out of bed naked. So I can find nude scenes really powerful." Apparently a few days before she shot her Lawless nude scenes, Jessica started picking fights with people because she was acting out at the anticipation of having to get naked explaining, "Nudity is something I'm uncomfortable doing. But, I feel like it's my job as an actor to be a more evolved person, to look at that fear in the face and say, 'Well, I have to rise up and meet this.'" Jessica knows nudity in films can just be for pure titillation and she won't do nude scenes that are purely just for the sake of being naked.  For her, the nudity has to have a purpose. She said, "Usually a woman takes her clothes off and she loses power. But I like the idea of exploring different women, women who have great sensuality." 
[[contentId: 2883046| ]]
HOW DOES JESSICA FEEL ABOUT THE FAPPENING NUDE PHOTO LEAKS?
In the Fall of 2014, the shocking results of the Iphone hacking scandal and nude photo leaks of many prominent actresses reverberated around the world. Jessica was luckily not on the list of Hollywood stars like Jennifer Lawrence whose intimate pictures were leaked online. When asked about what she thought of the photo leak scandal also known as The Fappening, Jessica said, "It's such a violation," Jessica said, "To me they're not leaked photos, they're stolen photos." Like many others Jessica hopes the hackers are found and prosecuted since she sees this as a sexual violation since the victims didn't choose to have their personal photos exposed to the world as oppose when she does nudity in a film. She said, "Me appearing nude in a film is my choice and I find it so terrible that these actresses have been completely victimized."
WILL JESSICA EVER POSE NUDE FOR PLAYBOY?
If what she told TMZ is true, Jessica had no problems getting naked but she won't do it for Playboy. When the entertainment gossip site caught up with Jessica in Los Angeles to congratulate her for being on the cover of Vogue, she told them that she wanted to be more risqué for her next photoshoot.  When TMZ suggested Playboy, Jessica told them, "I'll be naked in other magazines but not Playboy." Jessica has done several sexy pictorials such as posing semi-nude for German Vogue and Vanity Fair in which she appears topless but covering her breasts, She also did a spread in British GQ and in one picture, she's naked in bed with a sheet covering her as she talks on the phone. Wearing bright red lipstick, the pictorial features Jessica's mouth in various open positions. See the article and photos here.
IS JESSICA CHASTAIN A NATURAL REDHEAD?
Well, if you were lucky enough to see her onstage completely naked in Salome or ever watched Lawless, you would know she was a natural redhead since it's a pain to dye the hair around one's private parts. Jessica confirmed in an interview that she indeed is a natural ginger saying, "As a child I didn't like it because it made me different. But as I grew older and more comfortable, it became a badge of honor." When she plays a character that has a different hair color, like Celia in The Help, Jessica wears wigs. She's said that if she ever changes her hair color, she would, "Go in a completely opposite direction: Gwen Stefani platinum!"  Other notable real redheaded actresses include the aforementioned Julianne Moore, Nicole Kidman, Amy Adams and Isla Fisher.