Jessica Alba: A Beautifully Dark Angel
Ok, close your eyes. Now say the name "Jessica Alba" three times in a row, slowly enunciating each sound. Feel the consonants roll off your tongue, while the verbs do magical dances in the sky. Alright, perhaps this isn't a universal response to that name, but for her legions of fans, it's right on the money. (But not on the Cash, for reasons to be explained below.) You see, much like saying the name Beetlejuice out loud in the movie of that name, merely uttering Jessica's name can have a reaction of dreamy eyed bliss. If indeed you are one of her fans, you may then be wondering the sphinx-like question:
WHERE CAN I SEE JESSICA ALBA NUDE?
A simple google search will turn up tons of photos that may appear to be the Divine Ms. Alba in the buff, but upon further examination, it's pretty obvious that Photoshop seems to have been invented simply to paste Jessica's lovely face on some random porn chick's body. In fact, in only one film did Jessica Alba actually bare any nude flesh, and it was only her butt on display. In 2010's "The Killer Inside Me," that juicy Jessica butt is indeed  shown, although the fact that she's being whipped with a belt during the scene will make it less sexy to many. The film itself, a dark and odd noir piece, is definitely not for all tastes. Unlike her butt, of course.
Despite only actually doing nudity in that one film, she has offered her fans many cinematic scenes of sexiness. Then again, she could be wearing a burka and reading an Economics textbook and it would still probably be kind of hot. In 2007's "Awake," she gets into the tub with Hayden Christensen and starts making out. True, no real nudity but it is definitely a bona fide hot tub. Feel free to turn the movie off or skip through the rest, as it's a real snoozer.
For 2008's "The Eye," fans got a lot of scares during the supernatural horror flick, but the biggest scare might be that Jessica is basically wearing clothes through the whole thing.  Less than your eyes might have wanted, but she does have a shower scene that offers a suggestion or two of what lies beneath.
In 2003's "The Sleeping Dictionary," there does indeed seem to be a good amount of boobage on display. However, it's pretty clear it's just a body double. Is that better than nothing? Hell yeah it is.
IS THERE A JESSICA ALBA SEX TAPE?
Do you believe in Santa Claus? The Easter Bunny? Trickle Down Economics? If any of those myths ring true, then you are more likely to believe an actual Jessica Alba sex tape exists. However, that doesn't stop the many links in circulation that claim to offer the amazing Alba getting her groove on. Spoiler alert – they don't exist. 
I HAVE A TIME MACHINE AND I WANT TO VISIT A RED CARPET. ANY ADVICE AS TO WHEN AND WHERE I SHOULD GO TO SEE JESSICA ALBA NUDE?
First of all, if you really have a time machine there are many more important things you could do with it. But if you truly insist on using it to see a bit more Alba flesh than normal rather than to go back in time and stop 9/11, World War I or the JFK Assassination, your best bet would be the 2005 MTV Movie Awards. Jessica's sheer dress became utterly see through when hit by the paparazzi's flash bulbs, allowing some great looks at the braless Ms. Alba.
The next best thing might be a behind the scenes vantage point at one of her photo shoots.
WHAT CITY WOULD OFFER THE MOST CHANCES TO SEE JESSICA ALBA NUDE?
If you guessed Bagdad, Cleveland, Newark or anywhere in Rhode Island, you clearly are off base. Vegas might have been a good guess, or maybe Hollywood. Unfortunately, there is no such place that becomes the fairy tale city where Jessica walks around naked all day for fans to appreciate. She did however have a super steamy role in 2005's "Sin City," and while there is no actual nudity, she almost burns up the screen with her sensuality.
HOW LIKELY IS IT THAT JESSICA ALBA WILL BE DOING NUDE SCENES IN FUTURE?

The sad answer is "not at all likely." According to a 2006 interview she did with Elle Magazine "the directors of Sin City gave her the option of appearing nude in the film, but she declined. "I don't do nudity," she says. "I just don't. Maybe that makes me a bad actress. Maybe I won't get hired in some things. But I have too much anxiety."
"And she nearly had a heart attack [that] year when she discovered herself on the cover of Playboy, in a publicity photograph from Into the Blue that depicted her in a barely there swimsuit—a picture that she says neither she nor her representatives gave the magazine permission to use. "It went against who I am and what I represent," she says. "I've been working so hard to be somebody else, and it wasn't cool." (Hugh Hefner wrote an apology letter to Alba and made charitable donations on her behalf.) Though she'd previously appeared on the cover of GQ wearing nothing more than a pair of granny panties, Alba says there's a difference between the two men's magazines: "You don't open GQ thinking you're going to look at somebody's vagina.""
WHO IS CASH WARREN AND HOW THE HECK DID HE GET SO LUCKY TO SPEND SO MUCH TIME WITH A NUDE JESSICA ALBA?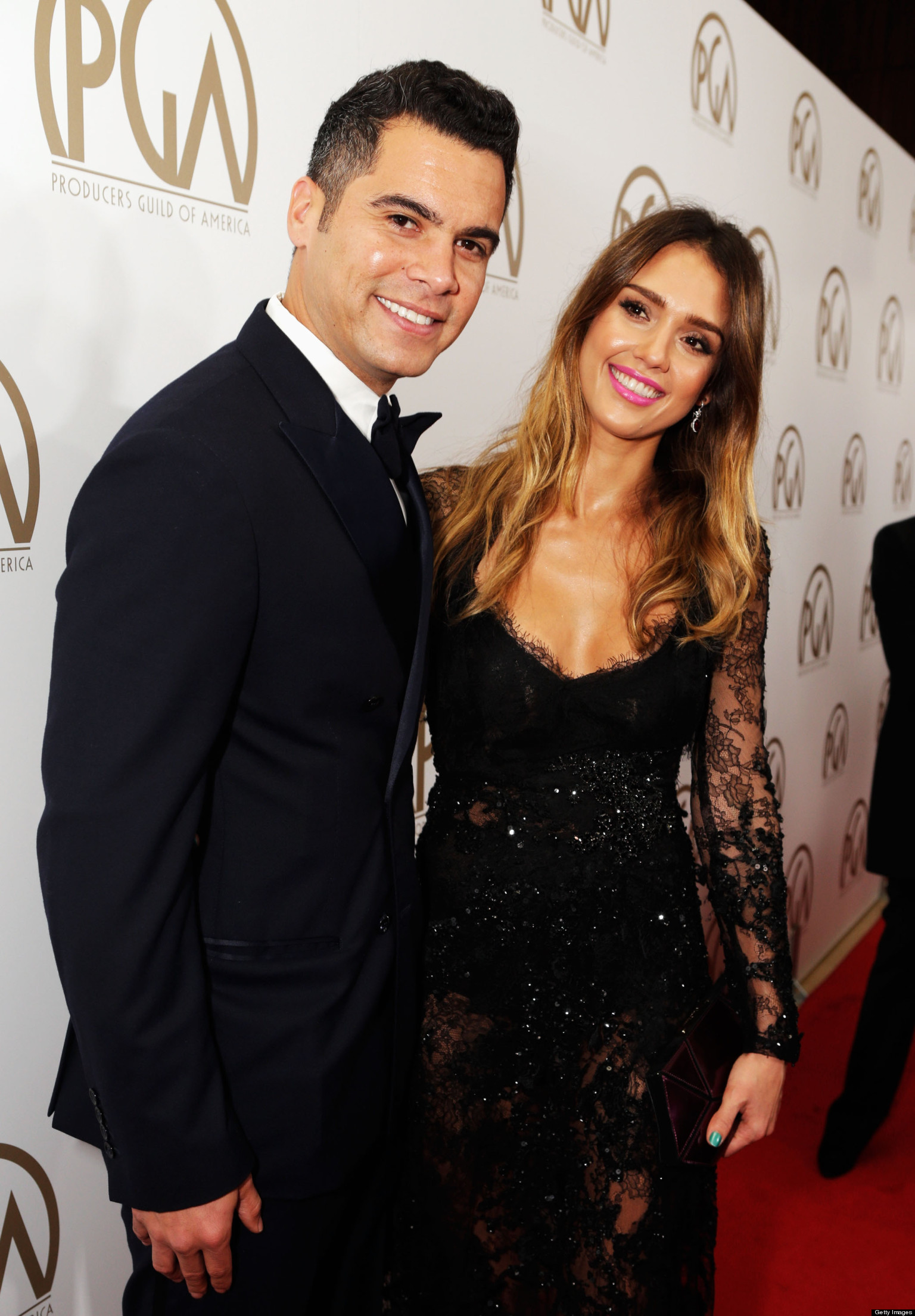 Since 2008, Jessica has been married to Cash Warren who she met while making "The Fantastic Four" four years earlier. His varied biography states he is an entrepreneur and producer, but let's face it, the guy could cure hunger, cancer, acne and the common cold and would still be best known for hooking up with Jessica Alba.
WOULD A NUDE JESSICA ALBA MAKE FOR FUN COMPANY?
Truth is, we will probably never know first hand, but at the very least she would make Honest Company. That is indeed the name of her company, which was founded with a mission of "savvy style, sustainability, and extraordinary service & convenience all wrapped in a passion for social goodness, tied with a bow of integrity and sprinkled with a little cheeky fun." The green-friendly company seems to be doing rather well, proving that Jessica may well have a body for business as well as for driving men crazy.