Jenny McCarthy: Sexy McCarthyism
Of the over 50 woman who have been named Playboy Magazine's Playmate of the Year, few have had a career anywhere as interesting, controversial or just plain odd as the one and only Jenny McCarthy. To have parlayed a nude appearance in a magazine to a film, tv and comedy career is surprising by itself, but she has gotten herself into a lot of op-ed pieces due to her outspoken ideas on sensitive health matters. But we are digressing. You've come here to find out where to see her naked, and on that front, we are perfectly able to oblige. Ready? Ok, let's answer the question of
Where Can I See Jenny McCarthy Nude?
Of course our tour must begin where it all started, and that is with her early appearances in Playboy in 1993. The first of many appearances was notable for many things, especially in that her unshaved pubic area was supposedly among the hairiest the photographer had ever seen. Ah, the '90s…..
What Does a Naked Jenny McCarthy Have to Do With Hot Dogs?
Well, it might not have involved her own personal nudity, but a young McCarthy claims to have given a trucker oral sex for $20. "I do recall eating a hot dog, at that truck stop… A girl's gotta do what a girl's gotta do." Take that story for what it's worth, but suffice it to say that twenty bucks sounds like a bargain that even Groupon couldn't beat.
Speaking of Jenny McCarthy Being Naked and Performing Oral Sex, is She Any Good at It?
Sadly, we can't offer you a first hand demonstration, so we'll have to take it straight from the horse's mouth (so to speak.) "I'm very very good at it. I will actually research on how to make sex more interesting and better, whether that's positions and I'm cartwheeling on that… talking dirty."
Does Jenny McCarthy Like to Have Sex in the Grand Canyon?
Unlike most human beings, she actually does have an actual opinion on the matter based on her field research. "I certainly did it, so I can say I did it in the Grand Canyon, because otherwise it's the back seat of a car and that's not exciting. But the bottom of the Grand Canyon is not fun. There's like scorpions and stones and dirt and it's hot. It was like the strangest and worst sex of my life."
The strangest and the worst sex of her life? Clearly that begs the question: would ex-boyfriend Jim Carrey find that flattering or insulting?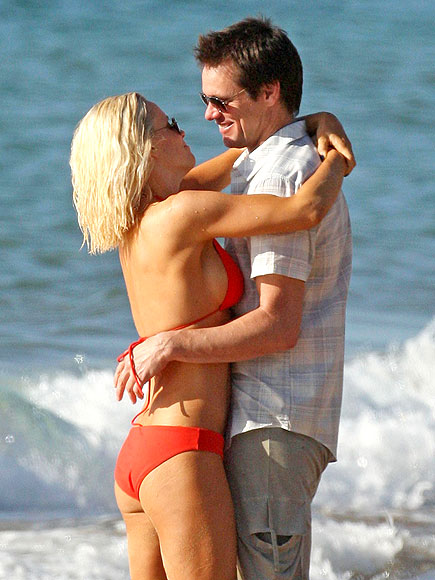 Does Jenny McCarthy Have a Sex Tape?
Despite the fact that she's posed nude many times, has the mouth of a truck driver, the sex drive of a 14 year old boy and is incredibly open about her sex life, the answer is "No I don't have a sex tape and I'm kind of upset that I don't. You know why? 'Cause I'm really good."
What Does Jenny McCarthy Think About Penis Size?
Once again, the woman with absolutely no filter is happy to give us her insight. "Size definitely helps, but the thing is, you don't need big. Average is awesome. Standard issue is awesome!"
What Else Turns Jenny McCarthy On?
She met her now husband, Donnie Wahlberg, on the set of her TV show and they almost immediately hit it off. "Let's just say we visually give 50 Shades of Grey a run for its money. It gets steamy. I mean like really steamy. Being turned on by a guy is always fun but to have it legitimately happen to you on TV is to be turned back into a 12-year-old. By the time we get into the groundbreaking interview, my face turns fifty shades of RED."
Was Jenny McCarthy One Of the Many Celebs Who ad their Pictures Leaked as Part of the Notorious Scandal of 2014?
Like literally dozens of other stars, Ms. McCarthy was indeed a victim of this serious and disturbing crime. It's hard to understate this, but the fact that she had done nudity so many times in the past and that this is just more nudity is completely not accurate. Choice is the key word here, along with privacy and integrity. Do yourself a favor – stick to the many Playboy pics floating around out there. We'll even make it easy for you.