Jennifer Love Hewitt: The Love Whisperer
Love is perhaps the most popular four letter word in the world, it makes the world go around, and love means never having to say you're sorry. It's also the middle name of an actress who may well have one of the most incredible racks in Hollywood history. Jennifer Love Hewitt's breasts are likely as famous as any of the films she has appeared in. Her 36C's might never win an Oscar, as sadly there is no category for best supporting bra or best performance by an actress in white lingerie, but they have won over the hearts of millions of fans who otherwise might never have tuned into one of her shows. They are real, magnificent, epic, praiseworthy, lovely and all around just peachy. That said, you would likely be thrilled to be able to take a peek at them. Wouldn't that be fun? Wouldn't you like to know:
WHERE CAN I SEE JENNIFER LOVE HEWITT NUDE?
The simple truth is that she has never done a nude scene or photo shoot. That somewhat depressing statement isn't the end of the matter though, as despite never showing her fans quite as much as they might want, there are many times she has worked her cleavage to fabulous effect. In 2002's "The Tuxedo," she and her breasts played opposite Jackie Chan, and in one brief scene, she might or might not flash a nipple underwater. Even a freeze frame is inconclusive, but it might be the closest we'll get to seeing her nude.
HOW CAN I BECOME A CLIENT OF JENNIFER LOVE HEWITT'S? CAN I CALL AND MAKE AN APPOINTMENT?
Perhaps you are confusing Jennifer's recent Lifetime series "The Client List," where she plays a prostitute, with real life. That's why it's called acting. So sadly, you can't call her up to see her naked. Luckily for her fans, she was constantly putting her sexuality to good use on the show, with virtually every episode chockfull of bursting bras, lingerie, steamy massage and good ol' naughty fun. 
One of her "clients" from the show can certainly attest to her talents, as co-star Brian Hallisay ended up marrying Jennifer and her boobs. That's what we call a package deal.
HOW MUCH ARE JENNIFER LOVE HEWITT'S  BOOBS WORTH?
In some ways, it is fair to say they are priceless. But if forced to put a dollar figure on them, Ms. Hewitt herself had this to say. "I need, like, an insurance invitation. If somebody was like, 'Hey, you know what? We would like to insure your boobs for $2.5 million dollars,' I'd be like, 'Do it. Love it! Why not?' She then pointed to her chest and said "These things right here are worth $5 million!"
She might be selling herself short, as pictures like this prove.
HOW DOES JENNIFER LOVE HEWITT FEEL ABOUT HER BREASTS?
That's a good question, but not quite as good a question as how would her breasts feel. Here was her response to being asked what her favorite part of her body was. "It's horrible to say, but I like my boobs. They've always served me well. They're good."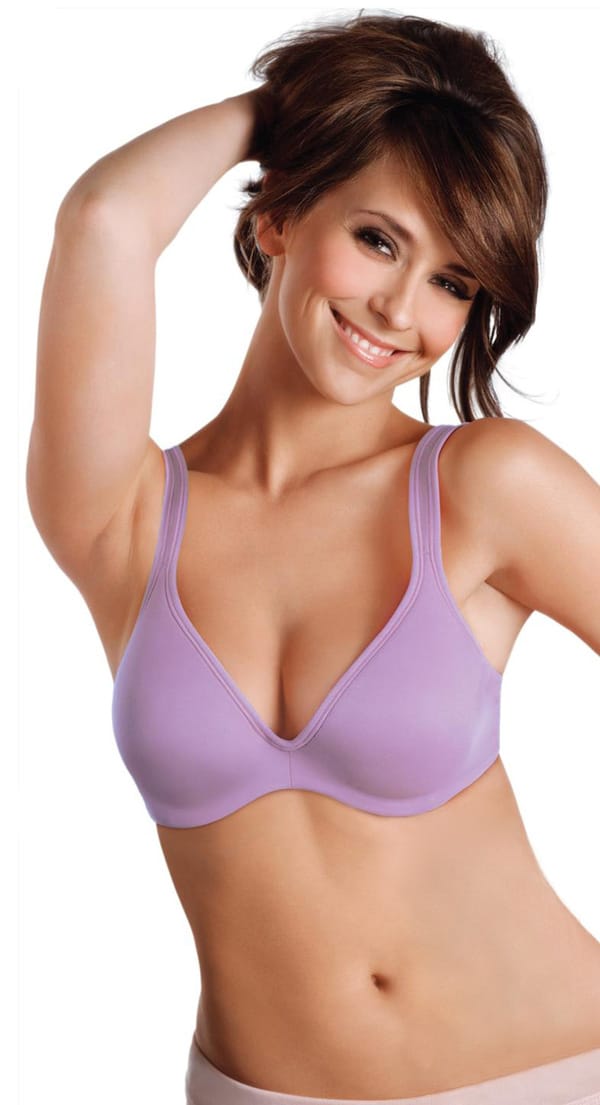 Good? Good? Just good? Candy is good. Ice cream is good. Soccer is good. Jennifer Love Hewitt's boobs are a hell of a lot more than good! Duh.
HOW DID WEARING ALL THAT LINGERIE ON HER TV SHOW EFFECT JENNIFER'S PRIVATE LIFE?
On "The Client List" she was constantly wearing sexy outfits, and it did indeed make a difference when she got home. "I've cut down on the lingerie in my own life because I wear it all the time. So, it's like I don't want to go home and even think about another cute bra and panties set. I'm over it!"
Suffice it to say, we aren't over it.
IF JENNIFER WERE TO WHISPER SEXY THINGS INTO MY EAR, WHAT WOULD SHE SAY?
That's something the world may never know, but we do know that for five years she starred on CBS' "The Ghost Whisperer." She was indeed able to communicate with ghosts on the show, but somewhat surprisingly the ghosts never asked about seeing her breasts. Feel free to add that to the list of another reason it sucks to be a ghost. Anyway, the show was lower on the sexy side than much of Jennifer's other work, but of course it couldn't completely remove her sexuality. In fact, you could likely put her in a burka and her boobs would still be majestic. 
WHAT DID JENNIFER LOVE HEWITT'S BOOBS DO LAST SUMMER?
We may not know exactly what her boobs did last summer, but we do know that the movie that really put her and her boobs on the map was "I Know What You Did Last Summer." The teens in trouble slasher movie was a huge success, and although her boobs didn't get their own trailer or personal assistant, they clearly stole the show. 
IS JENNIFER LOVE HEWITT'S VAGINA EXTRA SPARKLY?
That question isn't quite as weird as it sounds, and in fact the answer is yes. We know this because she has on several times discussed her love of vagazzaling. Let's allow her to explain just what that is. Trust us, you won't ever think of her the same way again. "Vagazzaling is where you stick Swarovski crystals on the female area to add a little glitz and glamour. I actually named it that because it's like BeDazzling for your hoo-ha."
She continued by saying "The fun part of being a girl is that there are little beauty things you can do to make yourself feel special. I can walk around all day and think, Nobody has any idea that I have a sparkly secret in my pants right now. It kind of took off after I wrote about it in my book, and now I have strangers coming up to me all the time like, "Oh, my God, I'm vagazzaled right now. Want to see?" I'm like, "No, I don't, but congratulations.""
[[———— Page Break ————]]
WHAT ADVICE CAN YOU GIVE ME ABOUT DATING JENNIFER LOVE HEWITT?
The best advice would come straight from the source herself, as she penned a comedic book entitled "The Day I Shot Cupid: Hello, My Name is Jennifer Love Hewitt, And I'm a Love-aholic"about dating that offered plenty of tips. "Remember, your body is a temple, not a 7-Eleven." Meaning, if you want to try to date Jennifer, respect her holy places and don't go fishing around for her Slurpee machine.
She also created a list of things to do after a break up, which included this nugget. "Make out with a stranger (he must be gorgeous or you'll feel worse)." So, basically, if you are gorgeous and you hear that Jennifer is nearby and newly single, make your move. If you're not, you're likely out of luck.
Another insight into dating her that she offers in the book is "I'm a spooner, I love to spoon! Like a Velcro monkey, I will suck to the back of my cuddle partner, creating the ultimate spoon." We can only wish that the Velcro monkeys that we have were half as hot.
SO, SHE CAN ACT, WRITE AND OFFER CLEAVAGE THAT WOULD AWAKEN THE DEAD. ANY OTHER SPECIAL SKILLS WORTHY OF MENTIONING?
She has directed a couple episodes of television, but more interestingly is her career as a pop singer. Though she hasn't had nearly as much success in the US as she has in certain other countries, she has had a couple of minor hits. 
WHICH IS BETTER – A CRANKY CAT WHO EATS LASAGNA OR JENNIFER LOVE HEWITT'S BOOBS?
Luckily, you don't have to choose as there is a way to combine them both. In "Garfield," everyone's favorite cartoon cat teamed up with Ms. Hewitt and her legendary boobs. 
WOULD IT BE POSSIBLE TO PARTY WITH JENNIFER LOVE HEWITT FIVE TIMES?
In theory it would be, but the simple fact is that anyone lame enough to ask such a question won't be partying with her ever. The closest they will get is to check out old reruns of "Party of Five," the Fox series that first brought her national attention. The show featured many chances to think about the party that was going on inside her shirt, as well as other things. We can't remember any of those though right now, as we are distracted by that party inside her shirt.