Jennifer Lawrence; Sexy and Adorably Taking Over Hollywood
Want info on the Jennifer Lawrence picture leak scandal? Scroll to the bottom!
Take one part Meryl Streep, a dash of Dame Judi Dench, and a teaspoon of Helen Mirren and you may be on to the formula for Jennifer Lawrence's acting skills. Not that she looks or acts like any of these three actresses, each of whom are considered among the absolute best of the best in modern film. She does though seem to be the consummate young great actress of today, having won an Oscar and having been nominated two other times by the ripe old age of 23. Her ability to do drama, comedy and action, all the while still retaining her unique style, has made her many people's favorite actress. While all this may be true, there is of course one major question to be dealt with, and that involves her spectacular breasts. If you hunger to know more, or wish to play games with her boobage, let's find out a bit more about her naked.
WHERE CAN I SEE JENNIFER LAWRENCE NUDE?
The sad but true fact is that Jennifer Lawrence has never done a nude scene. Then again, she's relatively young so maybe she will do one in future films. Until then, you will have to make do with a combination of your imagination and this guided tour through her most sizzling scenes so far.
Jennifer picked up her first Oscar for 2012's "Silver Linings Playbook." She also earned a Golden Globe for her performance as a young widow looking to rebuild her life.The film showcases her comedic and dramatic skills, as well as her dancing prowess. Sadly, no nudity is on display from her, but there are several sexy cleavage shots. 
Jennifer first found an audience on the largely forgotten TBS sitcom "The Bill Engvall Show," but wasn't really on Hollywood's radar until her amazing work in 2010's "Winter's Bone," for which she earned her first Oscar nomination. The low budget indie film was light years away from the big budget films she would soon be doing, but proved that she could light up the screen even in a very dark film. The Sundance hit was low on the glamour as well as the nudity, but is a must watch for her fans. 
Although she again doesn't get nude, she definitely played up her sexuality in 2013's "American Hustle," which also earned her an Oscar nomination. Sexy outfits, flirty dialogue, plenty of craziness and an unforgettable kiss with Amy Adams are but part of the many shades of Jennifer on display. 
Truthfully, for those who want to catch Jennifer Lawrence nude on screen, you've got to be feeling blue. Or at least looking at her wearing nothing but blue for her work in the "X-Men" films as Raven (aka Mystique).  When she played the sexy blue mutant the first time, it was all paint and nothing underneath. By the second time she stepped into the role, things had changed. She said "I'm so excited because I'm going to wear a body suit. It will be from neck down so it will cut out time and the blisters. 
In a later interview, she spoke of the changes between the two films and her clothing regime. "I'm naked. But when I do get to wear clothes, I love the '70s outfits."
She continued by saying "Some of the Mystique look is a little different, but we're still using the same paint. But she's different in this film too. She was struggling — like a lot of normal humans — with the way she looked, and she was covered up a lot in the first movie, but this time she is Mutant and proud."
WHAT MAKES JENNIFER LAWRENCE SO DAMN ADORABLE?
Ok, sure, she's hot and talented and has epic boobs. Perhaps though the thing that sets her aside from nearly all of her peers is that she seems so honest and unguarded. This is a truly rare thing when the powers that be in Hollywood tend to force actors to hide behind masks and have every quote, outfit, or idea run by a team of publicists first. Not Jennifer -- she happily blurts out whatever is on her mind. 
In a very funny interview on Conan, she definitely brings up subject matter that you're not expecting from a starlet. The interview starts normally enough, with her answering a question on what she might have done if she hadn't become an actress. "It used to be like doctor but that's just unrealistic. But definitely I would be a hotel maid because it's all of my favorite cleaning. I don't like dishes and I don't like the kitchen but I love beds and bathrooms and spraying and going through everybody's stuff. Everyday there's like new people to snoop on. It would be my dream!"
O'Brien then asked "Do you worry that when you're staying at a hotel, since it's your fantasy, do you worry anybody's going to be snooping and looking at your stuff?"
"This is actually really funny. Somebody as a joke bought me a bunch of butt plugs. It's a long story. So I had a copious amount of butt plugs Tons of butt plugs. Huge amounts of different colored butt plugs and then the maid was coming so I was like, 'Well I'll just shove this under the bed so she doesn't see all these butt plugs.' She might not know they're for a joke."
She continued "Then I came back and all of them were brought out of the bed and were in this beautiful display on my bedside table. I think she knew what she was doing. They're under the bed. I wanted to leave a note like, 'not mine' or 'bought as joke.'"
WELL, IF I CAN'T CHECK OUT JENNIFER LAWRENCE NUDE ON SCREEN, WHAT'S MY BEST BET?
She has done several photo shoots, and though not fully nude of course, they tend to be both glamorous and sexy. They are also usually accompanied by interviews with the ever-quotable Ms. Lawrence. This shoot from Elle offers some pretty pictures and some interesting insights into what makes her tick. 
Of all the shoots she has done, her 2010 session for Esquire Magazine is definitely the steamiest. If you are a fan, this video from the shoot is so sexy that it might melt your computer.
IF WE KEEP WANTING TO SEE JENNIFER LAWRENCE NUDE AND SHE REFUSES, COULD SHE GET MAD AND KICK OUR COLLECTIVE BUTTS?
She seems like a pretty tough chick in real life, but certainly she is a bad ass on screen. Forgetting for a moment her mutant X-men side, her work as Katniss Everdeen in "The Hunger Games" films proves that she is not to be messed with. 
WHAT DO WE KNOW ABOUT JENNIFER LAWRENCE'S BREASTS?
Sure, they are clearly awesome but they are also a source of amusement at least to her. She admitted in an interview that ''I think people are fascinated with breasts that bounce. They are so used to seeing [fake ones]. She continued ''People are confused [that mine bounce]! My breasts have a life of their own.''
She also went on Kimmel and, not surprisingly, the topic of her boobs once again came up. "I just went to the doctor today, I got a chest X-ray of my lungs and discovered that my breasts are uneven." She continued  by saying "I was like standing there with these doctors and they're like looking at my lungs and I just couldn't — it felt like an elephant in the room — and I was like, 'Are my breasts uneven?' And they were just kind of, like, stifled and uncomfortable, obviously. So I kept thinking, 'Well, I'm gonna dig myself out of this hole by bringing it up again.'" She wrapped up the story by saying the doctor "was like, 'All right, our radiologist will get back to you about your lungs.' And I was like, 'and my breasts?'"
I HEARD THAT THERE WERE NEW LEAKED PHOTOS OF JENNIFER LAWRENCE NUDE. IS THIS TRUE?
Not only is it true, but they have caused a genuine scandal in their wake. In late August 2014, a poster leaked over 1000 nude photos of various celebs that seem to have been taken from hacking into the Icloud and then put on 4Chan. Within minutes, they had travelled the globe and within 24 hours the story became one of the biggest news stories in the world. The lion's share of the images were indeed of Jennifer Lawrence, and although several of the involved celebs denied that their respective pictures were legitimate, Jennifer's publicist soon confirmed that hers were real. There are approximately 60 pictures, and even a rumor that there is a two minute video clip of her performing a sex act that rhymes with moral vex. We can't legally (and shouldn't morally) actually show you them, but they are widely available if you look hard enough.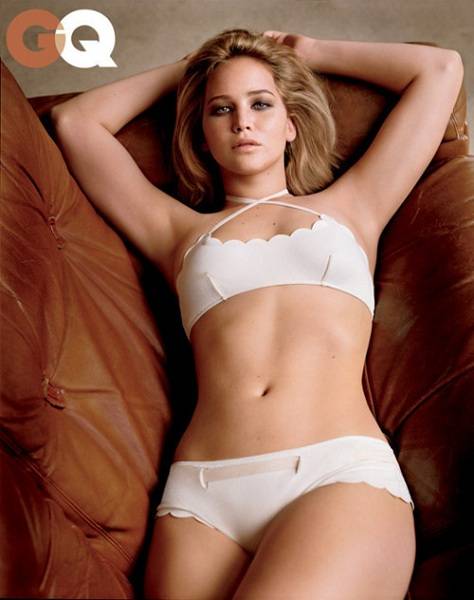 Her publicist quickly released a statement saying "This is a flagrant violation of privacy. The authorities have been contacted and will prosecute anyone who posts the stolen photos of Jennifer Lawrence." Whether this whole thing becomes a turning point into how we look at celebrity nudity or privacy, or how we deal with leaks and cyber breaches, there's one thing we can say for certain: Katniss would kick the crap out of whoever did this. In real life though, don't be surprised to read that the person behind this actually goes to jail.