Jenni Rivera: Banda and Bad
Proving that anybody can make a sex tape, even a mother of five kids, Hispanic pop music star Jenni Rivera made headlines in 2008 when a sex tape she made with an unidentified male made the rounds in the Mexican music industry circles.  Known as the "Diva of Banda," the sex tape was released four years before Jenni's tragic death on December 9, 2012 in an airplane crash. The poor quality video seems to be shot by her partner from his POV and begins with random close ups of a clothed Jenni's cleavage and face. 
Jenni has some impressive cleavage:
The fun really begins when there's a close up shot of Jenni pulling out her partner's manhood. Much of the rest of the video features Jenni performing oral sex on the man. The almost 5 minute video ends with Jenny removing her pants and close up shots of her behind.  When the sex tape was first released, it made international news and the police investigated but there was no concrete evidence as to who released it.  Jenni firmly believed that it was either stolen from her house or her partner in the video publicly released it. Either way if someone was looking for a big payday, it never happened since the video made its way onto the internet as all sex tapes do. 
WHAT WAS JENNI'S REACTION TO THE RELEASE OF HER SEX TAPE?
The video generated widespread curiosity among Jenni's many fans so as soon as they got a variation of the video,  various websites published clips and stills from it.  In interviews after the video's release, Jenni asked for respect from the media during "this difficult time" and revealed that especially since she was a mother, she was also super embarrassed about the XXX video going public.  
Various clips made its way to the web:
The gossip mills started churning that Jenni released the video for publicity but in October 2008, Jenni vehemently denied that she did the sex tape on purpose and said she doesn't need that kind of publicity nor did she make the video for fame.  She said, "I've been a singer for ten years, I have kids, a father, this is embarrassing for me, it's not fair to say such things."  In December 2008, Jenni went on Cristina Saralegui's Telemondo talk show on "The Cristina Show" and talked about the embarrassment the sex tape caused her.  She even cried.  Later in the show, Jenni showed that she had a sense of humor when she laughed over a T-shirt showing her as a fugitive.  She explained her resilience, "I can't get caught up in the negative because that destroys you. Perhaps trying to move away from my problems and focus on the positive is the best I can do."
Perhaps wearing the pimp daddy hat wasn't the best fashion choice in this discussion:
However, a little thing like a sex tape can't keep a survivor like Jenni down.  Very few teenage mothers in abusive relationships go on to sell 1.2 million records in the U.S. and win the Billboard's Mexican Music Award for Best Female Artist and Banda Album of the Year which Jenni did in October 2012.  She once said, "I am a woman like any other and ugly things happen to me like any other woman. The number of times I have fallen down is the number of times I have gotten up."
Jenni as a teen mom:
WHO IS THE MAN IN THE JENNI RIVERA SEX TAPE?
Rumors are the lucky recipient of Jenni's talents in the sex video was one of her musicians whom she had been dating for a year.  A Latin music website reported that when Jenni confronted the guy who she thought had leaked the video, she gave him a black eye and bit him before people were able to pull her off of him.  Clearly, Jenni was one feisty Latina.  In 2008 in North Carolina, Jenni was arrested after attacking someone who she claimed was throwing beer cans at her during a concert.  At another show, she offered fans money to "take care" of a woman who was throwing ice cubes at Jenni while she was onstage. 
It seems lotsa things happen to Jenni onstage:
WHO IS DEFINITELY NOT THE MAN IN JENNI'S SEX VIDEO?
Although the man in the sex video is not identified, we know who Jenni's XXX rated partner is not.  Not known for making good choices when it comes to men, Jenni had a complicated love life.  Chances are very high that the man in the video is not Jenni's first husband, José Trinidad Marín since he is in jail.  Marín is the father of the first three of Jenni's kids, Janney "Chiquis" (born while Jenni was still in high school), Jacqueline (born 1989) and Michael (born 1991).  Jenni divorced Marín in 1992 citing emotional and physical abuse.  Marín was later sentenced to more than 31 years in prison without parole for molesting his daughters and Jenni's younger sister, Rosie.  Chances are also pretty good the sex partner is also not Jenni's second husband, Juan López because he too was in jail.  The couple married in 1997 and had two children, daughter Jenicka in 1997 and son Johnny in 2001.  They divorced in 2003 and in 2007, López was convicted of selling drugs. In 2009, he died from pneumonia related complications while serving time.
Jenni in younger days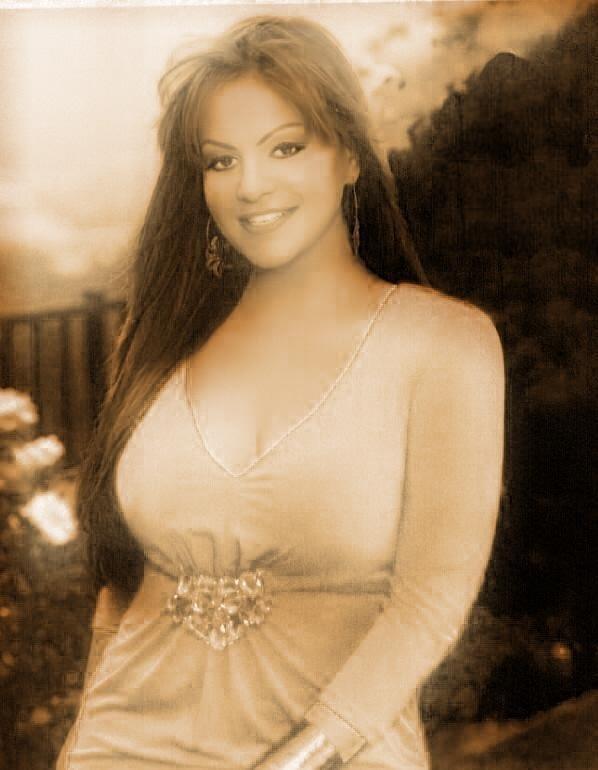 WAS JENNI INVOLVED IN ANY OTHER SCANDALS?
On May 18, 2009, Jenni was arrested at the Mexico City Airport by customs officials for not declaring $52,467 in cash she had in her purse.  The Attorney General's Office said Jenni was arrested when she was about to board a commercial flight to Los Angeles. She was caught during a routine random search of carry-on luggage, declaring that she only had $20,000 but the search uncovered 50 grand.  Jenni was later released after paying a fine of $8,400.  A month after Jenni's death, the New York Daily News reported in January 2013 that various Mexican media claimed Jenni did a concert for a drug cartel and may have had ties to drug trafficking.  An unidentified lawyer for the Beltran Leyva cartel, once one of Mexico's most powerful drug gangs, told Mexican newspaper Reforma that one of his job duties was to contract musical acts to perform for the cartel and Jenni was one of the acts.  He also said that in 2009, Jenni sang for the drug cartel and supposedly also did cocaine at the parties.
"El Barbie" is definitely not a "Barbie"
Univision then reported that the singer also worked for "El Barbie," also known as Edgar Valdez Villarreal, a notorious drug kingpin who allegedly once brutally kicked Jenni as a humiliating prank.   In response to the rumors, Jenni denied the allegations and told ¡Hola! Magazine, "Yes, it is true that at times you are not aware of who contracts you. They tell you that you will sing at a certain place and that they will pay you a certain amount of money."  Ironically, the owner of the plane that crashed, killing Jenni and five passengers was also a suspect in drug trafficking charges and was under investigation at the time of her death.
WASN'T JENNI INVOLVED IN ANOTHER SEX SCANDAL?
Jenni herself wasn't directly involved but at the time of her death, she was estranged from her oldest daughter, Janney known as "Chiquis" because Jenni believed that Chiquis was having an affair with Jenni's third husband, professional baseball player Esteban Loaiza. Jenni and Loaiza married in 2010 and had filed for divorce on October 1, 2012 due to "irreconcilable differences on behalf of both parties derived from private circumstances that occurred during the lapse of their two-year marriage." Chiquis said in an interview with Azteca America that she and Jenni stopped speaking in October 2012 because some people for reasons unknown to Chiquis filled Jenni's head with lies about an affair between Chiquis and Loaiza.  Chiquis insists she has no idea what happened or why Jenni would believe she had been romantically involved with her stepfather.  She said, "I don't understand how the rumor got started, this horrible thing that has caused so much suffering.  Esteban has always been very respectful towards me and me with him." Crying during the interview, Chiquis continued tearfully, "There were so many people filling her head with things. If there's a problem with someone you should ask them directly, and that's something she didn't do. To this day, my mother, in her heart, thinks I had something with Esteban."
Jenni and Esteban:
On her part, Jenni refused to talk about why she was divorcing Loaiza saying only that she discovered something serious.  However, she did confirm that she threw Chiquis out of her house.  Mother and daughter never spoke before Jenni died. "We had no communication, absolutely nothing," Chiquis said. "I didn't have the opportunity to sit down with my mother and explain things."  However, at her last concert at the Arena Monterrey on Dec. 8, 2012 in Monterrey, Mexico hours before she died, Jenni dedicated "Paloma Negra" (Black Dove) to Chiquis.  The song is about a feud but talks about the hope of an eventual reconciliation.
See the performance here:
WHAT IS CHICQUIS DOING NOW?
In an interview with Latino network Univision in October 2013, Chiquis confirmed that she would be portraying her mother in a Jenni biopic and that the project has the blessings of the Rivera family.  The movie will focus on the period during the peak of Jenni's career and Chiquis is reportedly busy taking dancing and acting to prepare for the role.  In January 2014, Chiquis posted online "Paloma Blanca" (White Dove), a song she co-wrote with Argentine composer Claudia Brant which has a special meaning for mother and daughter since Jenni used to often sing Paloma Negra" for Chiquis.  The song had over 30,000 views just two hours after it was posted online and talks about their troubled relationship, Jenni's death and how much Chiquis misses her.  Surrounded by her family, Chiquis performed at the Premios Juventud (the Latin Youth Awards) in July 2014 in Miami and sang her own unedited composition of "Esa No Soy Yo."  Using Jenni's microphone, Chiquis wore a mariachi dress similar to the ones her mother would wear during concerts.  Doing her best to channel Jenni, Chiquis later said, "I always ask her, mother give me strength, give me some of your grace on stage and I feel she helps me a lot. Many people say I look like her, that is a big compliment for me."  
Mother and daughter: