Jenna Lewis: Survivor Contestant Becomes Sexy Star
Originally from Franklin, New Hampshire, Jenna Lewis is best known as a contestant on the first season of CBS's reality show "Survivor: Borneo" finishing eighth and for season eight of "Survivor: All-Stars," finishing third.  She is an aspiring actress, an occasional television personality and the mother of twin daughters, Sadie and Sabrina.  Jenna hosted various shows for VH1 and MTV including "The List," "Back to Back," "Rock Across America" as well as "Spring Break Survivor." 
Here she's voted off:
She's also appeared on "Live with Regis" as a correspondent for beach segments.  Jenna was in a direct-to-video movie, "The Scorned," starring a cast made entirely of reality stars including Steven Hill who played Jenna's love interest on and briefly off the screen.  Jenna appeared on an episode of Nash Bridges with other Survivor castaways and on syndicated radio relationship advice call-in show, "Loveline." 
Jenna and Steven Hill:
In 2004, Jenna gained notoriety when she joined the list of celebrities who have made a sex tape.  An explicit 42-minute sex tape emerged featuring Jenna and then husband Travis Wolfe on their honeymoon in Las Vegas.  After the sex tape was released, Jenna said in an interview about how embarrassed she was but oddly enough, she also mentioned the website where people could buy the video.  This led to speculation that Jenna deliberately made the sex tape and released it to make money and stretch out her 15 minutes of fame.
After Survivor, Jenna made the rounds at charity events to stay in the public's eye:
HOW DID THE JENNA LEWIS SEX TAPE HAPPEN?
In early May 2004, 26 year-old Jenna married 21 year-old Travis Wolfe, a model for the Wilhemina International Modeling Agency in Los Angeles who she met March 18 at a Hollywood restaurant, Barney's Beanery after returning from Panama where she was filming Survivor: All-Stars.  Jenna said about their meeting, "I spotted (another) guy across the room and I turned to my girlfriend and said, 'Do you think he's cute?' And Travis looked up and said, 'Are you talking about me?' I said, 'No, but do you need your ego stroked?' Love at first sight. I knew right away." On May 1st while the couple was in Las Vegas, Wolfe proposed to Jenna with a sapphire ring after knowing each other for only 6 weeks. "We were actually there on vacation before all the hubbub of Survivor. He asked and I said yes. We debated on whether we should wait and we said let's do it now," she told People magazine. She added, "We wed at the Candlelight Chapel. Just us. No alcohol was involved. I don't know if it was the same chapel Britney (Spears) went to. I'm hoping not."   
Jenna's new husband, Travis Wolfe.  He has less clothes on in the sex tape:
At the time of their wedding Jenna still hadn't met her new husband's family.  The elopement came as a "shock" to Travis' family but his mother, Lisa said to The Tulsa World newspaper about Jenna, "I would characterize her as an aspiring actress and he is taking acting lessons too, so I think they are really on the same page. My son is into a healthy lifestyle and so is she and they really hit it off."  Survivor: All-Stars was approaching its finale on CBS at the time and the network asked Jenna to keep the wedding under wraps because they wanted to reveal it live.  The marriage was briefly mentioned during the reunion show broadcast. When asked about celebrating their marriage, Jenna said, "I think things are going to be busy for a little while but then we're definitely going to have a honeymoon. We're thinking of Australia."
WHAT IS IN THE JENNA LEWIS SEX TAPE?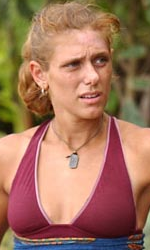 Well, Jenna and Travis didn't go to Australia, they wound up honeymooning in a Las Vegas hotel the weekend of May 1 and 2 and made a raunchy sex tape featuring oral sex and various sexual acts. They later said they made the sex video for their own private use and that it was leaked onto the internet.
The happy couple: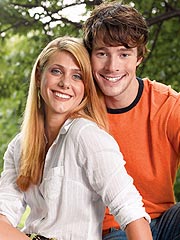 Jenna and Travis denied any involvement with the distribution and US Weekly reported in their June 28 edition that the stress of the ordeal has been "a strain on the new marriage."  In an exclusive interview on July 23, 2004 Jenna told syndicated entertainment news program "Extra" that the sex tape went missing the week after they got home to Los Angeles after Las Vegas and before Jenna flew to New York for the following weekend's Survivor reunion.  Jenna was "horrified" to discover the tape was "gone." She said, "I ran around the house crying, screaming, so angry and upset that day."  Travis added, "It's a moment of pure terror when you can't find the tape."  Jenna told Extra that after "discovering the tape missing" she instantly thought about her 8-year-old twin daughters and wondered "How am I going to explain this to them?"
Jenna also spoke about the embarrassment of people seeing her naked and engaging in sexual activities, commenting that "once it gets on the Internet, it's going to be there for life."  She again denied that she and Travis released the tape themselves but curiously never said the tape was "stolen," only that it was "gone." When asked who could have possibly taken the tape, Jenna said, "That's the $64,000 question. It's what runs through our minds every day."  Responding to allegations that the couple released the tape themselves, Jenna referred to her refusal to pose for Playboy and said, "If I'm not going to do Playboy for a ton of money, I'm certainly not going to put something like this out there that could hurt my family and friends."  She said she hopes people will soon forget about the sex tape, commenting "Who wants to exploit a C-list reality celebrity? I mean, really." 
Maybe no Playboy but Jenna's clearly not shy.
WHY IS JENNA SUSPECTED OF RELEASING THE SEX TAPE?
The Extra interview raised more questions then it did to provide answers about the sex tape. Jenna made no mention of taking legal action against the internet company that was selling the tape for $40 for a 10 day viewing period.  Since there's no doubt that Jenna and Travis owned the copyright to the tape, they would have had a very strong legal position to stop its distribution.  In regards to the theft of the tape, Jenna and Travis also didn't say there was any forced entry into their home and since the tape was supposed to have disappeared within a week's timeframe, it raised the question of why can't the couple calculate the amount of visitors they've had and narrow it down to a suspect?
In December 2004, the Daily News' gossip columnist Ben Widdicombe reported that he had detailed records that confirmed Jenna and her manager, Andre Jetmir created the website selling the video and getting 70% of the profits from the sales which totaled over $100,000 since the tape's release.  There was no mention whether Travis Wolfe knew about their scheme or was involved. Widdicombe alleged that while none of the website's profits appear to have been deposited into bank accounts in Travis' name, Jetmir got 7.5% of the money.  The report also quoted excerpts of an email that Jenna sent to CBS denying her involvement in the tape's distribution, "You ain't a star until there is a sex-tape rumor. Unfortunately, my manager is not that smart."  The public became skeptical of Jenna's claims that she had nothing to do with the sex tape's distribution since she didn't provide plausible answers to the basic questions that fueled the rumors that the tape was a publicity and money-making stunt.
Jenna and Travis later divorced after a few months of marriage.
WHY WOULD JENNA LEWIS DELIBERATELY MAKE A SEX TAPE?
Because surviving a TV show is easier than surviving in real life.  In 2000 when Jenna  appeared in the first season of Survivor, the ratings for the finale had brought in almost Super Bowl numbers and the cast became the hottest television stars of the year, enjoying the perks of overnight fame.  The future looked bright for television's new stars as TV offers, endorsement deals and representation offers came pouring in to cast members.
But four years later in 2004, the situation was vastly different. New reality "stars" were made seemingly every day and former Survivor contestants were just that, former Survivor contestants and no longer the hottest thing in TV entertainment.  With this reality, Jenna became just another aspiring actress living in Los Angeles, trying to gain attention in a sea of attention seekers.     
 
WHERE CAN I SEE THE JENNA LEWIS SEX TAPE?
Many internet sites only offer a few clips or snippets but if you want to see the whole 42 minutes, it's right here.