Jamie Chung: She's the King
In a modern day Hollywood star in the making story, Jamie Chung has made the jump from reality show participant to film and TV actress.  Jamie was literally "working as a waitress in a cocktail bar" where MTV was holding auditions for their reality series, "The Real World: San Diego."  She auditioned and won a role, appearing on the show in 2004. Afterwards, Jamie transitioned into acting full time and of all the Real World cast members, she is considered to be the one with the most successful media career.  She has appeared in several feature films and was the lead in the ABC Family television miniseries, "Samurai Girl."  Jamie also played Channing, a series regular on the NBC drama series "Believe" in addition to the recurring role of Mulan in "Once Upon a Time," the ABC fantasy television series.  As a beautiful, up and coming actress, Jamie is not only appearing in TV fantasies but fulfills all her fans' hot Asian girl fantasies.
See Jamie strut her stuff in a photo shoot:
WHO IS JAMIE CHUNG?
Jamie Jilynn Chung was born on April 10, 1983 and raised in San Francisco, California.  She has an older sister and they come from a hard-working, traditional Korean family.  Her parents immigrated to the United States in 1980 and operated a hamburger restaurant called Tony's in the Italian North Beach district of San Francisco.  Jamie's father even took on the name "Tony" to help increase business.  Her parents were strict, "We'd only speak Korean at home, they wouldn't let us have sleepovers and sent us away to Korean church camp during the summers," she explained, "We had weird food concoctions too, so instead of Spaghetti Bolognese, we had rice Bolognese with kimchi." Jamie discovered her love of acting at Korean church camp where she appeared in various skits.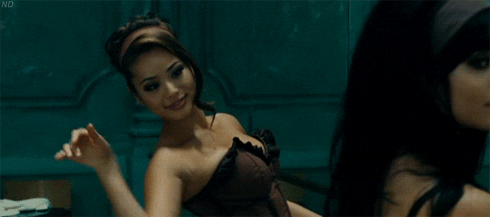 After graduating from prestigious Lowell High School, Jamie attended the University of California in Riverside and studied economics.  While working two jobs to help pay for college, including one as a waitress at a bar in Riverside where MTV held a casting call for "The Real World."  The casting director approached Jamie to audition and she ended up becoming a cast member.  She took a quarter off of school to do the show.  The season premiere aired in 2004 to an audience of 4 million people.  About her experience on "The Real World" Jamie said, "It's pretty real! Luckily, I didn't do anything too much to embarrass myself. My dad found out about The Real World: Las Vegas and how everyone was having sex, so he warned me before we started, 'Do not have sex with American boys on TV!'" She laughed and said, "That was his farewell to me."
Jamie and her The Real World: San Diego" co-stars:
Jamie found herself thrust into the middle of an alleged rape incident while filming the show.  On the morning of November 5, 2003, she found a 22-year-old woman who claimed she was raped in the Real World house the night before.  The accused rapist was identified as only "Justin," a friend of Jamie's cast member, Randy Barry.  Jamie said about discovering the woman, "This guy we didn't even know took her to the bathroom which is the one place we don't have cameras and then we found her.  We talked to her about what she'd seen and our advice to the girl was, 'If it feels weird down there, you should get checked.' She was wasted. And we thought they knew each other but they didn't. It was just super shady." 
The police confiscated a month of footage shot for the show while conducting their investigation but ultimately, the case was dropped due to lack of evidence.  Jamie says she doesn't have any regrets about appearing on "The Real World" and even keeps in touch with some former cast members.  Jamie graduated from UC in Riverside in 2005 with a B.A. in Economics.  Later, she appeared on the spin-off reality TV competition, "Real World/Road Rules Challenge: The Inferno II" where she was a member of the "Good Guys" team.  By the end of the season Jamie and her fellow teammates won the competition.  She used her winnings to pay off her student loans.
Jamie then decided to pursue acting as a full time career but it wasn't easy.  "It was only once I graduated college that I decided to fully go for it when I moved to L.A.," she said. "The casting directors that were aware of The Real World looked at me as a joke. It was so hard to get away from that. And I didn't even tell my parents because I didn't want to fail and I didn't want to be known as the reality-show star trying to be an actress, so I kept a lot of the failed auditions to myself." As an Asian American actress, it's not easy to find jobs in Hollywood since there still aren't too many roles for Asian actresses in mainstream Hollywood. Jamie says it's "extremely hard to even get the Asian roles" since casting directors are looking for authentic Asian actors.  
Jamie starred in a short about what happens when you plug up your blind date's toilet:
Jamie first landed various minor roles in television and films including playing Cordy Han in ten episodes of soap opera "Days of our Lives," episodes of "CSI: NY" and "Veronica Mars" and as a Hooters girl in the feature film, "I Now Pronounce You Chuck and Larry." In 2008, she starred in her first major role in the "Samurai Girl" TV miniseries for ABC Family.  She then started getting supporting roles in various feature films such as Claire, a.k.a The Flirt in 2009's "Sorority Row." Along with her Sorority Row co-stars, Jamie won the Female Stars of Tomorrow Award at the 2009 ShoWest industry trade show.  Also in 2009, Jamie co-starred with Demi Lovato and Selena Gomez in the Disney Channel TV movie, "Princess Protection Program."  Her feature film roles include "Grown Ups" (2010), "Sucker Punch" (2011) and the high-profile hit comedy, "The Hangover II" where she played Lauren, the fiancée of Ed Helms's character, Stu. 
Jamie's first major feature film role was as a businesswoman with questionable motives in 2012's "Premium Rush," directed by David Koepp and starring Joseph Gordon Levitt.  Jamie garnered favorable reviews for her performance in the 2012 independent drama "Eden" as a young Korean American girl kidnapped and forced into prostitution by human traffickers.  She also appears in "Sin City: A Dame to Kill For" set for release in August 2014.
WHERE CAN I SEE JAMIE CHUNG NAKED?
Unfortunately you can't. According to website, Mr. Skin, Jamie hasn't done any nudity in her various roles, however, Mr. Skin provides a handy reference list of films where she appears either sexy, in a bikini or in her underwear.  Of all Jamie's past films, "Sorority Row" gives a the best glimpse at her body when she sits in the Jacuzzi and takes a shower.  Meanwhile, Jamie's fans can see her sexiness in various pictorials and photo shoots. Although she's not nude, this is the best she has to offer right now until a bigger and better role that demands nudity and an Asian actress that doesn't have the word porn somewhere in its description comes Jamie's way.
A behind the scenes look at Jamie's Audrey Magazine shoot
Jamie posed in a spread for Maxium.  See it here.