Jaime Pressly: Emmy Winner And Sex Scene Star
Most people know Jaime Pressly as tough-talking "Joy Turner" on "My Name Is Earl," the NBC sitcom for which she won an Emmy Award.  However, in a stunning example of women who are both funny and sexy, Jamie has also had an extensive career as a model starting when she was a teenager.  Before landing the lead in erotic thriller, "Poison Ivy: The New Seduction," she had previously appeared as a body double in the Poison Ivy movies.  Most guys agree the highlight of that film was Jamie's nude scene.  No stranger to nudity, Jamie posed for pictorial spreads in Playboy in 1998 and 2004 and is a constant on various "hot lists."  Stuff magazine ranked her #8 on their "102 Sexiest Women in the World" list in 2002, she was #34 on Maxim magazine's annual hot list in 2006 and she's also been named to FHM's Sexiest Women lists.
When asked how it feels to be on the "hot lists," Jamie said, "It's become such a big ordeal, everyone has their top 100 girls. FHM, Maxim, Stuff, all of them. It's quite ridiculous because I look in there and I'm like, "Okay, really? What is she doing there?" It's like "People's" 50 Most Beautiful People of the Year. You're like, "Who the hell is that and why on earth?" But I like Maxim because A) it's a good magazine. Great articles in it. It's kind of like Playboy. There are good articles in it. There really are. Girls say yes to these things and they do these things on their own. No one forces them to." 
WHO IS JAIME PRESSLY?
Jaime Elizabeth Pressly was born July 30, 1977 in Kinston, North Carolina.  Her parents are Brenda Sue and James Liston Pressly and she has a sister, Jessica and a brother James Liston Pressly, Jr.  Although not yet proven, Jamie's grandmother claims that they are distant relatives of Elvis Presley.  Inspired by her mother, a dance instructor, Jamie spent 11 years studying gymnastics and dancing.  After her parents divorced, she moved with her mother to Costa Mesa, California and attended Costa Mesa High School.  Jamie started modeling and had appeared on her first cover of Teen Magazine by the time she was 14 years old.   She then became the official spokesmodel for the International Cover Model Search and started modeling in the United States as well as overseas.  In order to work in Japan, Jamie legally emancipated from her parents at the age of 15 so she could travel there since neither of her parents could go with her.
Jamie started acting and in 1997, she landed the role of temptress "Violet" in Poison Ivy: The New Seduction," the new installment in the Poison Ivy series that went straight to video.  She also had a variety of television roles including starring as "Nikki" on the short-lived 1998 TV series "Push."  She was also in the TV action series "Mortal Kombat: Conquest" where she played an assassin.  Jamie then played "Audrey" on the drama series "Jack and Jill" from 1999 to 2001.  She also guest starred in episodes of several TV show including "Charmed," "Fast Lane," "Becker," "Silk Stalkings," "Las Vegas," "Night Man" and "The Twilight Zone." 
Jamie as Joy Turner:
However, it wasn't until 2005 when Jamie was cast as wacky, mean-spirited "Joy Turner" in the NBC sitcom "My Name Is Earl," that she finally found fame.   She won the Emmy Award for Outstanding Supporting Actress in a Comedy Series in 2007 and has been nominated for several other awards including the Golden Globe and SAG award.  Jamie has also guest starred in the CBS comedy, "Rules of Engagement," the Fox sitcom, "I Hate My Teenage Daughter."  In 2013, TV Land announced that Jamie will be the lead in their new show, "Jennifer Falls" playing Jennifer Doyle, a woman who has hit rock bottom and must move in with her mother.  
Jamie kisses Tiffani-Amber Thiessen in "Fast Lane":
Jamie's other work includes being the spokesperson in 2010 for the "AXE Detailer Will Clean Your Dirty Balls" ad campaign for AXE Shower Gel and she's also been the spokesmodel for Liz Claiborne Cosmetics' Lucky You fragrance.  Also a businesswoman, Jamie's lingerie line, "J'Aime" launched in 2003 and eventually became a full sleepwear and ready-to-wear line.  Jamie has appeared several music videos including "The Space Between" by Dave Matthews Band, "Girls of Summer" by Aerosmith and the Marilyn Manson cover of "Tainted Love."  Demonstrating her singing chops, Jamie sang "Fever" in a performance with the girl band, The Pussycat Dolls.  In films, Jamie starred as gold-digger Sandy Lake in an independent film, "Poor White Trash," appeared in "Not Another Teen Movie" as a high school cheerleader and she played a crazed, motorcycle-riding criminal in "Torque." In 2008, Jaime did voicework for the film, "Horton Hears a Who!" starring Steve Carell and Jim Carrey.
The girl has always looked good in lingerie:
Jamie has a son, Dezi James Calvo who was born in May 2007 with DJ Eric Calvo (a.k.a. DJ Eric Cubeechee) and she is divorced from entertainment lawyer Simran Singh.  On of January 5, 2011, Jamie was arrested in Santa Monica, California for suspicion of drunk driving.  She eventually pleaded no contest and was placed on three years of informal probation.
WHERE CAN I SEE JAIME PRESSLY NUDE?
Jamie has said about nudity, "Being nude in front of a photographer doesn't bother me. I love being naked; who doesn't come home after a long day and just strip off? It's the best thing you can do."  How lucky for her fans that there are several opportunities to see Jamie Pressly naked.  She was nude in Allure's May 2006 issue and in Playboy's March 1998 and February 2004 issues.  A simple web search will easily display results with the pictures.  About posing nude for Playboy again, Jamie said, "I did it when I was 20. I did a celebrity pictorial. I'll never do it again. I don't have a problem with other people doing it, it's just something I don't want to do for myself. I've been there and done that, you know."
There's also plenty of ways to see Jamie naked on film as well.  In addition to being naked in "Poison Ivy 3," she was nude in a sex scene in the 1997 film, "The Journey: Absolution,"(which you can see here) displayed frontal nudity in 2000's "Poor White Trash" and backside nudity in 2006's "DOA: Dead or Alive."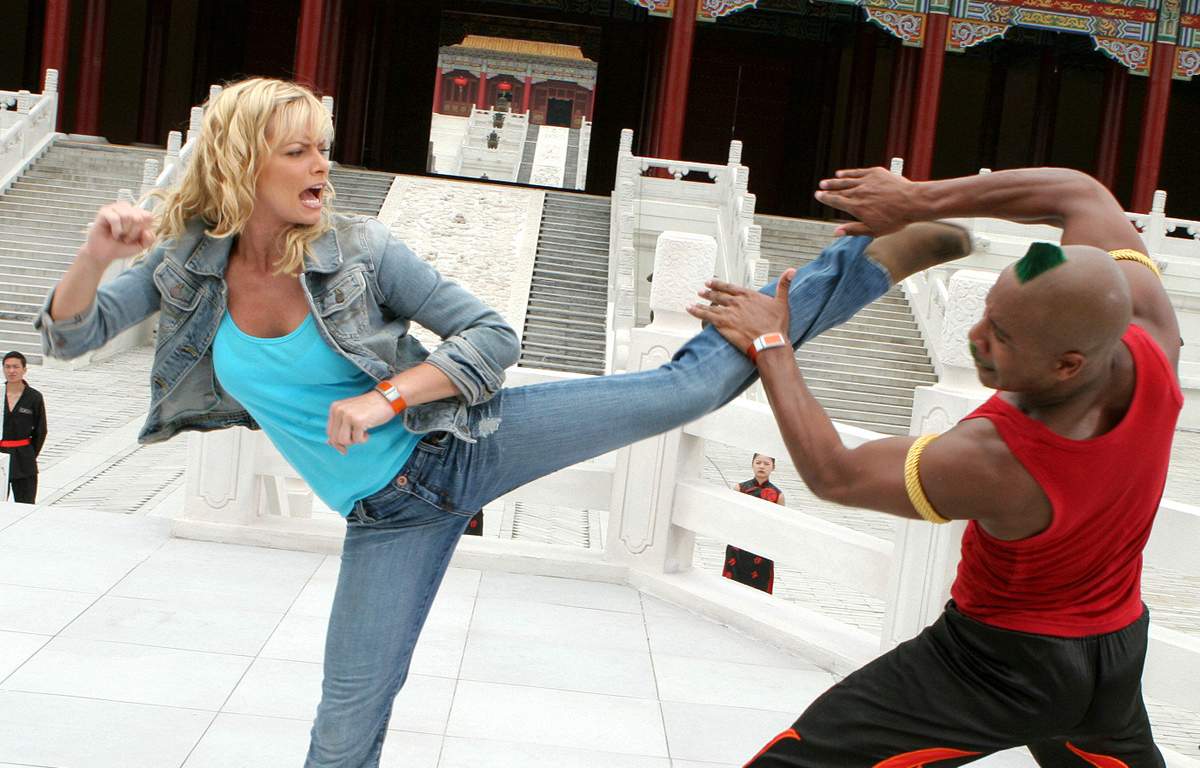 After she did "Poison Ivy," Jamie said she got pigeonholed as an actress to do only erotic thrillers but she didn't take the roles because, "I didn't want to take my clothes off. It's easy to say no. I wasn't supposed to in "Poison Ivy." I was supposed to show the silhouette of my left boob while I'm changing, putting my shirt on and you were supposed to see me swimming in a G-string bikini so you saw my butt. Now there's what? Six or seven scenes where you see my boobs and my butt. They tried to use lower frontal nudity at one point and I ran off set, called my lawyer. This is the very first film I ever did. I was 18 and 19 years old. Knowing that I didn't know what I was doing at the time, I didn't know that I could say, "No, I don't want to do that. No, it wasn't in the nudity clause."  Jaime said filming "Poison Ivy" was a big learning lesson for her as an actress but she doesn't regret it, "I learned what I can and cannot do, what I do and do not have to do and what I can and cannot say no to. So, I learned a lot of lessons and unfortunately a lot of women get started in the business that way. It's unfortunate but true."
For those odd people who like Jamie with clothes on, here is a pictorial:
When asked if there would be any circumstance in which she might be willing to do nudity again, Jamie answered, "As long as it didn't have to do with some huge sex scene. It's got to be the right movie, the right people surrounding me and the right script and character. I'm not afraid of it, I just don't want to use it for blatant like, "We need ratings, here's my tits." I'm not going to do that. (Poison Ivy) was strictly T&A and the only way to sell it was to show my T&A which is why they did that. I didn't realize all that stuff until after the fact, but now I know."
So Jaime Pressly fans, enjoy all her former nudity while you can since there may not be much more in the future.