Is There a Sexy Blonde Supermodel Carolyn Murphy Intimate Tape?
The leak of a Carolyn Murphy sex tape might be horrifying to the supermodel herself but is great news for her many fans.  Carolyn made the sex tape with her ex-husband, Jake Schroeder who she divorced in 2002.  The video footage was shot over 17 days in Barbados during the couple's honeymoon in 1999.  The sex tape scandal is made more interesting than other celebrity sex tape leaks in that when it was leaked to the public, Carolyn took action and had Schroeder arrested for trying to sell the tape and capitalize on his ex-wife's fame.  Carolyn said about Schroeder, "His story that it was stolen is complete bull shit.  Jake leaked the videos to hurt me and my reputation."  Carolyn's reputation is as one of the most beautiful and highest paid models in the U.S.  Dubbed as the "blonde Gene Tierney," Carolyn has graced the covers and pages of all the elite fashion magazines as well as the prestigious Sports Illustrated swimsuit edition.
Carolyn and Schroeder in happier days:
Carolyn the model in action:
WHO IS CAROLYN MURPHY?
Carolyn Murphy was born in Fort Walton Beach, Florida on August 11, 1974 and grew up mainly in Northwest Florida.  She comes from a humble background but like a real Cinderella, after enrolling in modeling school at 16 years old, Carolyn was discovered by scouts for Mary Lou's Models, a modeling company.  She started modeling locally in Florida in addition to Japan and Paris.  After graduating from Choctawhatchee High School in 1991, she went to New York to pursue modeling. While modeling part-time, Carolyn enrolled at the University of Virginia but soon was getting a number of high-profile fashion modeling assignments.  She modeled for French Vogue, Missoni, Et Vous, and Gucci and in 1994 she appeared in major magazines like Harpers Bazaar, Elle, Marie Claire and Vogue.  
In 1995, Editor Anna Wintour had fashion photographer Steven Meisel shoot her for American Vogue and he soon began to use her for fashion campaigns like Max Mara, Calvin Klein and Dolce Gabbana.  In addition to modeling for magazines, Carolyn has also worked the runaways in New York and Europe. In 1998 Carolyn won the award for 'Model of the Year' at the VH1 Fashion & Music Awards.  She made her film debut in 1999 when she appeared in Barry Levinson's film, "Liberty Heights" as "Dubbie the blonde."  The director was looking for someone with a Grace Kelly appeal and Carolyn won the audition.  She took over for actress Elizabeth Hurley as the spokesperson for Estee Lauder's billion dollar campaign in September 2001.  In 2004, Carolyn made her first appearance in the Sports Illustrated's Swimsuit Edition and a year later, she landed the coveted cover of the magazine.  Carolyn continued to model in campaigns for labels like Missoni, Versace and Tiffany & Co.  In July 2012, she was hired to replace Angela Lindvall as host of Project Runway All Stars on the Lifetime Network.  That same year, Forbes Magazine estimated Carolyn's annual earnings to be $3.5 million and ranked her #9 on the Forbes top-earning models list.
WHAT IS IN THE CAROLYN MURPHY SEX TAPE?
In October 1999 Carolyn married Jake Schroeder, an ex-surfer and they honeymooned in Barbados where the sex tape was made over the course of their vacation.  The entire video reportedly runs 2 hours with highlights featuring Carolyn dancing naked for the camera and the couple having explicit sex in various positions and sometimes even outdoors while people walk by.  Although the video is fuzzy, there's no doubt it's Carolyn since you can see her distinctive tattoo of a koi fish which runs from her right hip to her upper thigh. The couple had a daughter, Dylan Blue in December 2000 but divorced in 2002. 
See Carolyn's tattoo?
Happy family picture.  Carolyn with Schroeder and their daughter.  Perhaps it was Halloween.
In January 2006, Carolyn had Schroeder arrested for trying to sell the sex tape.  At the time, Schroeder who has a history of drug abuse, was living in his car with two dogs in San Jose, California.  He was released after his bail was reduced from $500,000 to $33,000.  The bail was paid by Internet Commerce Group, the celebrity sex tape distribution company that Schroeder was negotiating with to market the video.  A lawyer for ICG, David Gingras said about Schroeder, "He's essentially homeless. He called this morning and asked if we could find him an apartment.  I told him if he's arrested for anything else, even jaywalking, we're not bailing him out."  Clearly the distribution deal fell through.  On her behalf, Carolyn's representatives also commented on the situation, "Jake is the individual behind leaking the tapes to the net, he can lie about it all he wants but I know and he knows that he did it on purpose because he is a sad little man." 
WHERE CAN I SEE THE CAROLYN MURPHY SEX TAPE?
Although the entire two hour video has yet to surfaced in its entirety, you can see the highlights here of Carolyn's naked dance and clips of some hardcore sex.  Certain websites advertise that they have the entire tape but they either just have short clips or lead you to a paid adult site.  A rumor that there is another hour of sex video footage of Carolyn and Schroeder in their home circulated for a while but that video hasn't surfaced as of yet.
WHERE ELSE CAN I SEE CAROLYN MURPHY NAKED?
As a model, Carolyn has no problem posing nude and has model for many nude fashion photographs.  Since her divorce, she has dated Incubus front-man, Brandon Boyd and model Mark Vanderloo but so far no sex tape from those liaisons have been discovered. Perhaps she's learned her lesson or is just waiting for the right guy.
Carolyn posed nude while she was pregnant: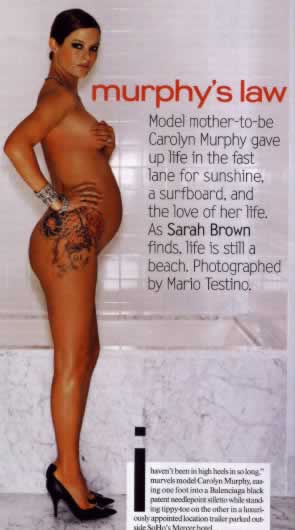 It's ok to pose nude when it's art: