Holly Madison: The Girl You Wish Was Next Door
If there is one thing to be thankful for is that there is no shortage of Hugh Hefner ex-girlfriend, Holly Madison nude photos available for your viewing pleasure. Famous for being one of a trio of Playboy founder's Hugh Hefner's girlfriends on the E! reality TV show, The Girls Next Door, Holly Madison whose real name is Holly Sue Cullen always seemed to be Playboy founder's Hugh Hefner's favorite.  Holly and co-girlfriends, Bridget Marquardt and Kendra Wilkinson had their lives at the Playboy Mansion chronicled on the reality show and although no nude body parts were shown on the network, the DVD versions of the show have plenty of breasts, butt and full frontal nudity.  And although Holly was never an official Playboy Playmate, she has posed for nude pictorials alone and with her costars, Bridget and Kendra.  Holly's Playboy career began as the stereotypical story of a hot girl putting herself through college by stripping.  Except Holly wasn't stripping, she was working at the restaurant chain, Hooters.  Originally from Astoria, Oregon, she attended Portland State University before moving to Los Angeles to go to Loyola Marymount University, a Catholic college. To pay for the private school tuition, Holly worked at Hooters and competed in the Hawaiian Tropic model competition.  This kind of exposure led to invitations to the Playboy Madison and Holly was invited to move in frequently visiting for more than a year.  In August 2001, she was named one of Hefner's seven official girlfriends and in February 2002, Holly, Bridget and Kendra were the only girlfriends left.  Holly was named Hefner's "#1 Girl" and had the privilege of being the one who got to move into his bedroom. 
The Girls Next Door:
Here, Holly demonstrates why one should wear a bra when you have an unbuttoned shirt. As she chit chats with the paparazzi, the cameraman takes the opportunity to zoom into her shirt to her nipple: 
[[contentId: 2886950| ]]
WHY DID GIRLS NEXT DOOR END AND DEPRIVE US OF SEEING HOLLY MADISON NUDE?
During her seven year relationship with Hefner, Holly had said publicly that she wanted to marry him and have children.  In May 2008, Hefner stated during an interview at the Playmate of the Year luncheon, "I love Holly very much and I think we're going to be together the rest of my life but marriage isn't part of my puzzle. It's not a personal thing; I just haven't had much luck with marriages." This didn't sit well with Holly and on October 7, 2008, she told TMZ.com that she and Hef had broken up.  Hefner's response was, "If Holly says it's over, I guess it's over." Despite the end of their relationship, Holly, Bridget and Kendra filmed a sixth season of The Girls Next Door and the show eventually ended on August 8, 2010.  Later it was revealed that Holly worked hard for her position as the #1 girlfriend and perhaps is better off after the break-up.  One of Hef's ex-girlfriend, Izabella St. James wrote a memoir, Bunny Tales in which she details Holly's sexual relationship with Hef.  Apparently Hef would take Viagra around midnight and then the girls and Holly would cover him in baby oil.  Holly would then orally pleasure Hef until he was ready and if no other girlfriend wanted to run with it, Holly would assume the backside position.  She was the only girl that had sex with Hef regularly and in that position.  Holly was also very complimentary with "Oh Daddy" shout-outs but when it came to the grand finale, Hef often pleasured himself while watching porn.  In December 2010,  Hefner, then 84 became engaged to 24-year-old girlfriend, Crystal Harris who broke off their engagement on five days before their June 2011 wedding. The couple eventually reunited and married at the Playboy Mansion in a small private ceremony on New Year's Eve 2012.  Presumably Crystal now takes over Holly's baby oil lube duties.
WHERE CAN I SEE HOLLY MADISON NUDE IN PLAYBOY?
In 2003, Holly was in a Playboy Cyber Girl of the Week pictorial in The Playboy Cyber Club, featured on the magazine's website, Playboy.com.  The Playboy Cyber Club is a part of Playboy Online and serves as an online complement to Playboy magazine.  It's subscription-based and a part of the premium service portion of Playboy.com.  Holly has also appeared in the print edition of Playboy several times to promote The Girls Next Door.  Along with her co-stars, she was on the cover and inside of the November 2005 issue and the three women the cover girls again on the September 2006, March 2008, and February 2009 issues. Besides appearing in Playboy, ambitious Holly said in a Season 3 Girls Next Door episode that she wanted to produce Playbody pictorials as a career.  She interned at the Playboy studios during Seasons 3 and 4 and later became a junior photo editor. Holly helped to design and produce The Girls Next Door 2008 calendar.  However, in February 2009, she quit working for Playboy after splitting from Hefner.  
WHERE ELSE CAN I SEE HOLLY NUDE?
One of the credits in Holly's illustrious acting career is that she played Blonde #1 in Scary Movie 4 (2006) in which she's engaged in a pillow fight and her nipple pops out of her black lacy bra.  Whether this was called for in the script or by the director is irrelevant.  In April 2007, animal lover Holly became one of several models and celebrities who posed nude in PETA's controversial campaign with the tagline "I'd Rather Go Naked Than Wear Fur" where she posed for two PETA anti-fur ads.  The second provocative ad has the tagline in which Holly declares, "I Always Fake It—I'd Never Wear Real Fur."  Holly explained her reason for supporting the campaign, "You don't need fur. And if you want the look of fur, there's faux fur. There is just no reason for it."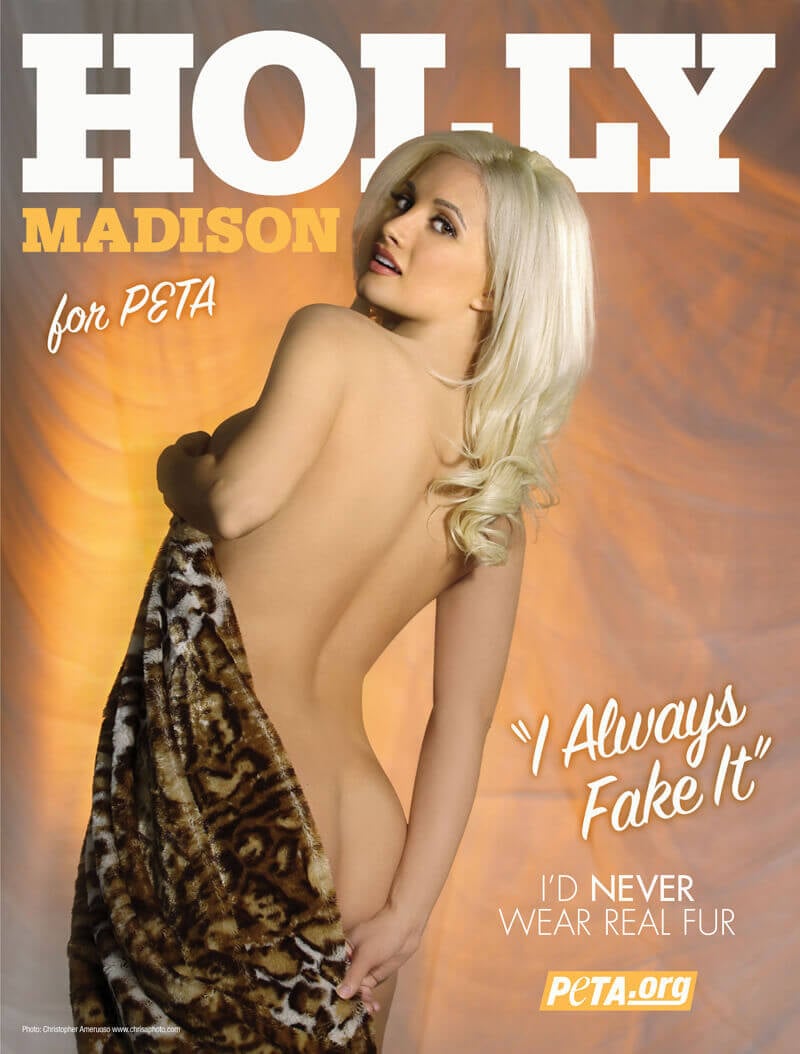 In July 2009, Holly took over the role of Bo Peep in Peepshow, a burlesque show and the longest-running live show at the Planet Hollywood Casino in Paradise, Nevada. Holly originally started with a three-month contract but became so popular that she ultimately played the role permanently until October 2012 when she had to stop due to her pregnancy.  Some actresses who played Bo Peep didn't go topless but of course, Holly had no problem doing so.  Like her The Girls Next Door co-star Kendra Wilkinson, Holly starred in her own reality show, Holly's World which premiered with on December 6, 2009 and ran for 2 seasons.  The show focused on Holly's life in Las Vegas and new career performing in Peepshow. Holly said the way Holly's World differed from other shows is that "It's all good-natured and not mean like other reality shows."  The cast of characters included Angel Porrino, Holly's personal assistant and best friend, Josh Strickland who plays the male lead in Peepshow and Holly's roommate and party girl, Laura Croft.  In May 2009, Holly showed her love for her newly adopted city when she joined forces with Mayor Oscar Goodman to declare Las Vegas' swimsuit season officially open at the iconic "Welcome to Fabulous Las Vegas" sign.  Holly hosted a fashion show featuring stylish retro and modern bathing suits.  After the fashion show, Holly cruised Las Vegas Boulevard in a pink Cadillac convertible and showed off her swimsuit assets.  After arriving at a shopping center, Holly led a parade that more than 300 bikini clad participants.  
Holly leads the bikini parade:

WHAT PARTS OF HOLLY MADISON ARE REAL?
Holly has been very honest about having both breast augmentation and a nose job.  At 5'7, her measurements are now 36-23-35 but she was originally an A-cup.  She's always wanted to have breast implants and explained why, "I wanted to be more proportionate. I was a 34-A but I'm curvy in other areas so I always wore padded bras and stuffed my bras with socks."  Holly said that when she and Hefner started dating in 2001, she felt she looked the worse and had to convince Hef that she needed breast implants because he had seen a lot of bad boob jobs. She got her breasts done in 2001 and a nose job two years later.  Now an expert, Holly advises those who want to follow in her footsteps, "I meet a lot of girls who always want to get things done and I caution them: Don't rush into it." As for her own cosmetic surgeries, Holly says, "Now I'm really happy. My nose, which had a bump, is now shorter and upturned. And I feel more comfortable naked."  Which ultimately makes everyone else very happy as well.  Holly clearly is so pleased with her breast makeover that in September 2011, she insured her breasts with a $1 million insurance policy explaining that since her breasts are her "primary money makers right now," so she needs to financially protect them.  
Check out this video and decide for yourself what's real or improved:
WHO ELSE BESIDES HEFNER HAS SEEN HOLLY NUDE IN PRIVATE?
After breaking up with Hef in 2008, Holly dated illusionist Criss Angel until early 2009.  She told People Magazine in March 2009, "I'm never dating anybody again. I don't need a man. I'm really happy with myself and being with my friends.  I'm focused on forwarding my career."  After her man break, Holly dated musician Jack Barakat from the band All Time Low from late 2010 to early 2011.  She soon started dating the CEO and founder of Insomniac Events, Pasquale Rotella in 2011 and gave birth to their daughter, Rainbow Aurora on March 5, 2013 in Las Vegas.  On September 10, 2013 Holly married the music event producer at Disneyland in New Orleans Square outside the entrance of the Pirates of the Caribbean ride in a wedding ceremony that took place after the park closed.  From the Playboy Mansion to the Magic Kingdom…stranger things have happened.
Holly; new hair color, new husband, new baby, more clothes: