Here's a good "guess that celeb" question for you. She has been a TV star since childhood, has sold over 15 million records, has appeared in several popular movies, has had a book on the prestigious New York Times Bestseller List, launched her own perfume and has dated lots of famous people. Need another hint? Her last name is the name of Homer Simpson's favorite beer. If you guessed Budweiser, please stop reading this article right this second and enjoy your life in North Korea. For the rest of us, the versatile Hilary Duff is clearly the answer and you've come here to find out if and where you can see enough of the stuff that she has under her clothes. (And no, we won't resort to rhyming her last name with muff – except for this one time.) So strap on your old Disney Channel backpack with her face on it, and enjoy this tour into
WHERE CAN I SEE HILARY DUFF NAKED?
Like countless other Disney child stars, Hilary Duff did want to shed her goodie two-shoes persona to try more adult fare and leave the tween set behind. One of her first roles to do this in was 2009's "According to Greta." Well, according to the critics, it wasn't quite ready for Oscar season, but it did allow her to get at least a little closer to doing what adults do. It won't quite shock you, but it will prepare you for some more steamy stuff ahead. 
WOULD IT BE WRONG TO GOSSIP ABOUT HILARY DUFF BEING NAKED?
Far be it from us to judge, but one of Hilary's most steamy on-screen moments came during her run on TV's "Gossip Girl." Sure, she keeps her clothes on but makes out with a dude and then a girl in this clip that would certainly have Walt Disney rolling around in his grave. It might even be enough to have him lose his head, if he hadn't had it frozen.
I WANT TO SEE HILARY DUFF TRY TO SEDUCE LLOYD DOBLER. CAN YOU HELP?
As countless fans remember, Lloyd Dobler was the iconic character played by John Cusack in "Say Anything," and this clip from the movie "War Inc." offers him doing his best to resist a full-on seduction from a heavily made up Hilary Duff. Maybe if she had held up a boom box and played Peter Gabriel it might have worked?
HOW LONG DID HILARY DUFF STAY A VIRGIN FOR?
Well, we don't have a shot clock to accurately time this one, and there is no instant replay, but her virginity has been much discussed, especially as she supposedly said she would remain so until marriage. Clearly that's not the only rumor about her that wasn't true. She has this to say to accompany a provocative photo shoot for Maxim Magazine in 2009. "You know what? I was quoted saying I was a virgin, but I absolutely did not say that. That's nobody's business but my own."
"I've been accused by the press of giving lap dances at clubs. I mean, little ol' me? It's shocking… And they're so descriptive about these lap dances. I don't even know how to do a lap dance!"
"I was ready to do something different. The intent was not to be overtly sexual; I'm not naked. I do have little shorts on in it."
WERE NAKED PHOTOS OF HILARY DUFF POSTED ONLINE DURING THE INFAMOUS FAPPENING OF FALL 2014?
The notorious Fappening claimed many victims, with many supposed photos of Hilary Duff among the countless shots that leaked. While some celebs admitted to having been hacked, others denied that photos of themselves were real. One of the most adamant was Hilary Duff. Her publicist released a statement saying "Photos claiming to be Hilary Duff are completely fake. They are all from the neck down and absolutely fake. They do not have Hilary's defining birthmarks or tattoos. ANY PRESS PERSON who indicates that these photos are Hilary Duff, will meet legal recourse."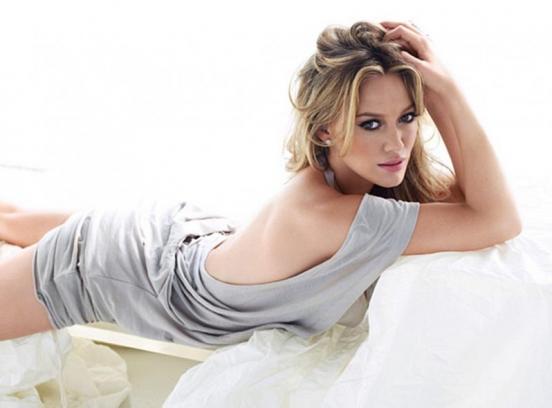 Well, we aren't indicating that they are or aren't, but we will indicate that that comma after her name in the last sentence was poor grammar. Instead of wasting your time chasing those (probably fake) photos, why not watch as she goes "Chasing the Sun" in the music video of that name? This way, at least you'll for sure get to see some of her sexy skin even if still covered by that annoying stuff known as clothing. Even if you don't much care for the song, clearly this video has much in its favor.