Heather Morris: Gleeful and Hot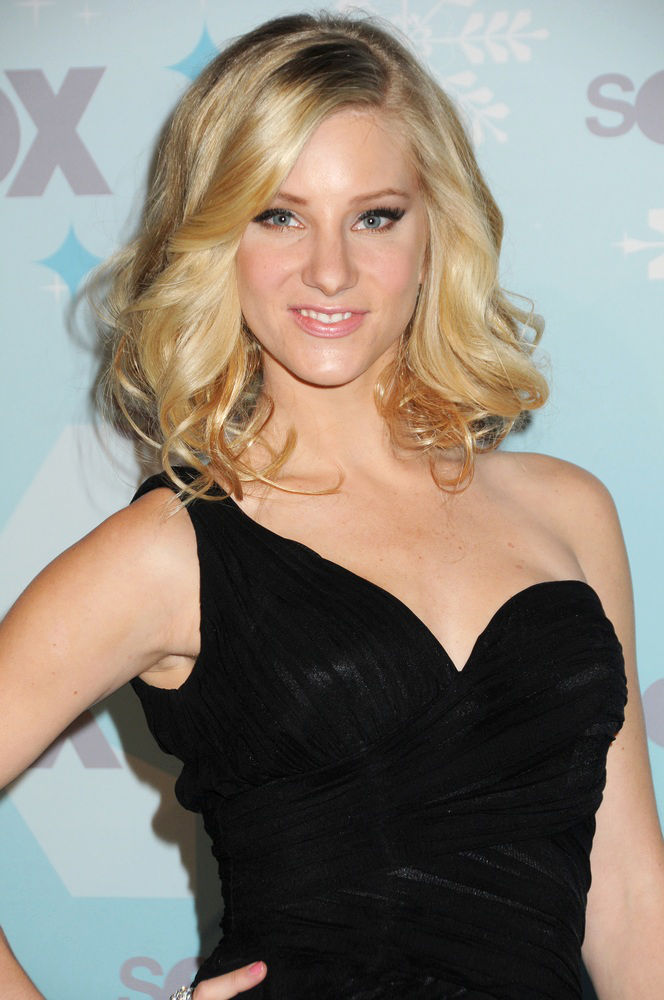 Originally a dancer, Heather Morris has proven that it takes smarts to play dumb.  Her character, Brittany Pierce on the Fox musical comedy series, Glee may be the quintessential dumb blond cheerleader but Heather herself is one bright and hot cookie.  Trained as a professional dancer, Heather got the part of Brittany in 2009 when she was hired to teach the choreography for Beyonce's song, "Single Ladies (Put a Ring on It)" to the Glee cast. Heather was the perfect person for the job since she was one of Beyonce's back up dancers on The Beyoncé Experience world tour.  Heather wormed her way into the hearts of Glee fans as Brittany who although will never get a Mensa invitation, is capable of having some great one-liners like, "When I pulled my hamstring, I went to a misogynist" or "Did you know that dolphins are just gay sharks?" Since she's a dancer, Heather of course has a great body which she's not shy to show.  She's strut her stuff next to Beyonce in tight costumes and high heels.  After finding fame on Glee, Heather is known more than just the girl to Beyonce's left; she's now a bona fide hottie and has her fans wondering where they can see more of her, preferably out of her cheerleader uniform.  With her All-American good looks, FLIRT! Cosmetics, a division of Estee Lauder cosmetics line named her their Celebrity Style Ambassador in December 2010.  Maxim ranked Heather number 85 on their 2010 Hot 100 list and she came in at number 82 on website The Hollywood Gossip's 2012 100 hottest bikini bodies list. 
WHERE CAN I SEE HEATHER MORRIS NUDE?
It's become a fact that if you are a celebrity, it's no longer a good idea to take naked selfies.  Just ask Rhiannon, Scarlett Johanasson and now Heather. In March 2012, leaked cell phone photos of a nude Heather surfaced on the Internet.  No one is saying just exactly how the pictures were hacked and who leaked them but one person who is talking is Heather who's not letting the photo scandal get to her.  Although she wasn't thrilled, Heather laughed off the incident and commented, "Well, it could be worse! At least I look good."  Her lawyers worked to get the leaked photos taken off the web but the damage had already been done and the pictures went viral.  In one shot, Heather is wearing her underwear and in another, she's wearing a costume similar to the one she wore in a Glee episode when she performed the Britney Spears' Slave 4 U music video.   The rest are of her clothed in a white dress. Boring.
The rest of the pictures are of Heather completely nude, exposing her breasts and showing full frontal nudity.  See for yourself here.
CAN I SEE HER NUDE IN ARTSY PICTURES?
In 2009 before being cast on Glee, Heater posed for some artsy, semi-nude professional pictures. She talked about why she did the pictures and told Extra, "I think they are beautiful. It's not something I'm ashamed of.  Everybody should do tasteful beautiful nudes so when you get older you're gonna be like, 'Oh that's when my body looked so great!'"  Seems like a running theme when it comes to Heather and how she views nude pictures. 
You can view those nude pictures here:
Heather fans who can't get enough pictures of her can check out this photo gallery.
If Heather's breasts look a little different to you in various pictures, it's because they are different.  In October 2011, Heather said in an interview with Fitness magazine that she has had her breast implants removed. She said, "Implants were something I thought I wanted when I was younger and now I don't. It was hard being active with them, because my chest was always sore. It hurt a lot, and I didn't like always being in pain, so they had to go!"  Heather had implants done at some point between the time she was 18 and appeared on So You Think You Can Dance and when she was 21 and working as a backup dancer for Beyoncé.
HOW DID HEATHER GO FROM BEING A SINGLE LADY TO GLEE?
Heather grew up in Scottsdale, Arizona started competing in dancing when she was a child.  She's trained in several dance styles including jazz, tap, and contemporary. After Heather graduated from Desert Mountain High School, she planned on studying journalism at a local university but realized she wanted to pursue dancing so moved to L.A. in 2006 when she was 19.  She appeared on Season 2 of So You Think You Can Dance but didn't make it to the finals.  Her big break came when she got hired as a backup dancer six months after she first moved to Los Angeles for Beyoncé's 2008 Single Ladies tour. She performed with Beyonce on the promotional tour and appeared on various television shows including The Today Show, the American Music Awards and Saturday Night Live.  Heather also peformed at the 50th Annual Grammy Awards in 2008 when she was a backup dancer for Tina Turner and Beyoncé.
Heather and Beyonce
At the American Music Awards
In 2009, Heather had a small role in the feature film, Fired Up and met choreographer Zach Woodlee.  He casted Heather in several background dance roles on projects he was choreographing including the Adam Sandler feature, Bedtime Stories, and on episodes of TV shows, Eli Stone and Swingtown.  Woodlee was working on Glee and brought Heather in to teach the Glee actors the choreography to Single Ladies.  The casting people were looking for a third cheerleader to join the show and she eventually won the job.  But it was not an easy road.  After the Single Ladies tour, Heather was scheduled to move to New York to do West Side Story but she decided she wanted to focus on acting instead of dancing.  Woodlee called her to teach the dance and as Heather explains it he said, "Since you're acting now, I know Ryan Murphy (Glee's executive producer) would love to consider you for a part. Look as cute as you can so he'll love you even more."  Heather went to the Glee set in a full-on outfit and although she was scheduled to audition with Murphy twice, he canceled.  Heather's hopes were dashed when Woodlee told her that she probably would not get the job since producers wanted the third cheerleader to be black.  But then Heather's agent called her a week later and told her she was cast as Brittany.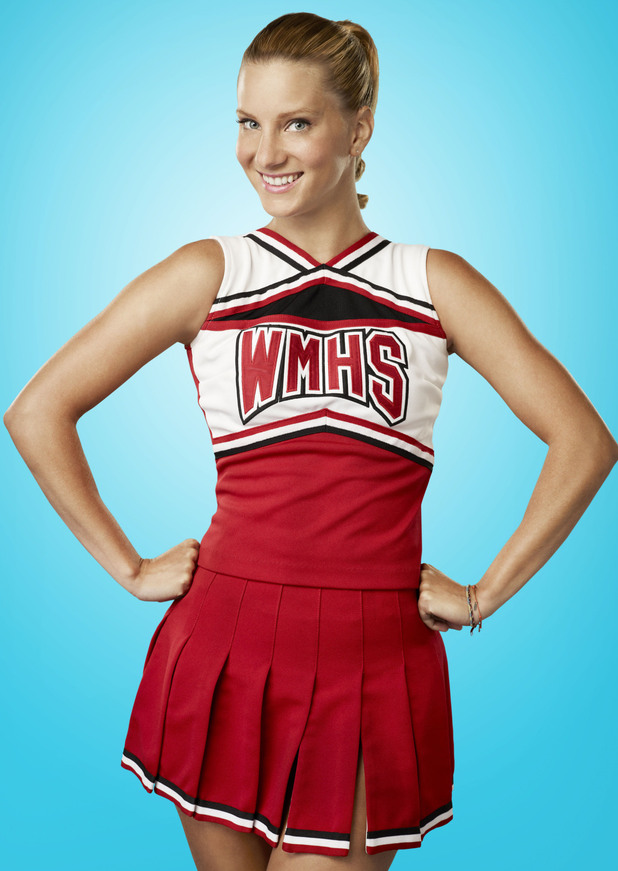 The role was initially supposed to be small but it grew as the first season ended.  Heather was critically praised for her portrayal of the dim-witted Brittany and recognized for her sensitive portrayal of being in a lesbian relationship with classmate Santana Lopez played by Heather's friend, Naya Rivera.  Dorothy Snarker, a writer for the lesbian entertainment website wrote that the two girls were her "new favorite Glee pairing," saying "While Heather Morris and Naya Rivera ) have had minimal screen time, they've made it count. Heather in particular has brought the laughs."  When season one ended, there was so much positive response to her character,  Heather became an official series regular in season two and got to do several singing and dancing solos.  One of Heather's highlights was in the episode, "Britney/Brittany", when Heather did a tribute to Britney Spears and did her first solo, singing Spears' "I'm a Slave 4 U."  The costume Heather wore in the solo was the same one she was wearing in one of the leaked selfie photos, pretty much confirming that the leaked nuded photos were not fake.  Heather didn't return as a regular for Glee's fifth season but is reported to make special appearances on the show.
Brittany and Santana kiss
WHERE ELSE CAN I SEE HEATHER MORRIS IN LINGERIE?
Heather has appeared in several short films in addition to her film and TV work. She co-wrote and appeared in a video for Funny or Die, "Nuthin' But A Glee Thang," in 2011 which was a spoof of the Dr. Dre/Snoop Dogg collaboration "Nuthin' but a 'G' Thang."  The video guest starred Modern Family's Sofia Vergara and Heather's Glee castmates Cory Monteith, Naya Rivera, Harry Shum, Jr. and Matthew Morrison.  In feature films, Heather appeared in Glee: The 3D Concert Movie (2011), Spring Breakers (2013) and was the voice of Katie, aka "Gossip Girl" in the animated movie Ice Age 4 (2012).  Heather had her first lead role in the TV movie, Romantically Speaking (2014).
WHERE ELSE CAN I SEE HEATHER MORRIS NUDE?
Well, unless you were in the delivery room on September 28, 2013 when she gave birth to her son, Elijah, chances are until Heather decides to do nudity for her craft, you won't get to see her nude any time soon.  Heather had her first child with longtime boyfriend, Taylor Hubbell.  They went to the same high school in Arizona but didn't know each other.  Hubbell contacted Heather on Myspace while he was in college at University of Louisiana in Lafayette and asked her if she wanted to hang out when she was back in Arizona.  They started dating and Hubbell moved to LA after he graduated.  When talking about Hubbell, Heather told Fitness magazine, "I want to marry him so bad. That's what I really care about. I want to marry Taylor and have kids with him. I love acting, but if it affects my relationship, then I won't continue doing it."  Hopefully Heather doesn't stop acting since that would significantly cut down on the chances that you will get to see her nude.  However, you can see her looking super sexy in a photospread she did for Esquire Magazine and the subsequent video in which she shows off all her right moves.