Halle Berry: The Hottest Superhero
">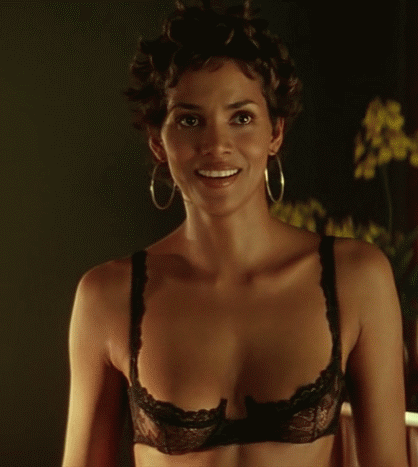 Halle Berry at the age of 35 did something that no African American actress had done before or since. By winning the Academy Award for Best Actress in a leading role and taking home Oscar gold for her memorable work in the film "Monster's Ball," she permanently added herself to a very impressive list of woman who had taken home one of the most coveted prizes in the world. Halle herself was then, and in some quarters remains today, a coveted figure herself, with a gorgeous body and a face that could make a dead man smile. Our lesson today though isn't concerning her talent as a thespian or her historically relevant achievement at the Academy Awards. Nope, we are sticking to one of the basic elements of fan boy worship. Bare naked flesh. The more bare, the better.
WHERE CAN I SEE HALLE BERRY NUDE?
Halle's first major nude scene was in 2001's rather flimsy action flick "Swordfish." The nude scene itself generated a great deal of press attention as she had initially refused to do it. She changed her tune though for a well publicized additional fee of half a million dollars. At a press conference keyed to the film's release, she said that "Initially I had reservations. I have never done nudity. I am comfortable naked, I really am. It was a lot harder for Hugh [Jackman] on the day of the filming!" 
She also said that "I did the scene because it showed you that the character was in control of her sexuality and very comfortable with herself. The challenge for me was to pull it off and not just sit there naked and looking scared to death like I initially felt." 

She continued by saying "I don't think nudity is ever necessary. I think you can make every single movie and never show anything and it's fine. I think it's a choice you make, and it was a bold choice on my part. But it was written in the script and when I was offered the part, I was told, 'That's who this girl is and it's not negotiable to be taken out." Wait, not necessary? Perhaps. Fun though? You bet!
For you keeping score at home, that is a quarter of a million dollars per breast. If perhaps you are thinking that it is too bad that she didn't have more breasts so she would have earned more money, then you clearly don't know how Hollywood works. (Here's a hint: actresses with more than two breasts aren't really in much demand.) Anyway, the film itself co-starred John Travolta, an actor who can single handedly stink up plenty of movies all by himself and who no one is paying extra to flash his boobs. Here is a lovely NSFW GIF of Ms. Berry's boobies from the film. If you prefer, here's a clip of the movie featuring the half a million dollar flash. Be warned though – it does indeed feature Hugh Jackman, who like Halle, appeared in the "X-Men" movies and therefore may cause your head to explode thinking of the possibility of mutant boobies.
I LIKE MONSTERS AND I LIKE BALLS AND I LIKE HALLE BERRY NAKED. IS THERE SOME MAGICAL WAY TO COMBINE ALL THREE?
Well, it may not be magical, but 2001 also brought the world "Monster's Ball," the very powerful and deeply sad film that won Halle the aforementioned Oscar. It also features a very explicit sex scene which can be seen here. The truth is though that the scene taken out of context is very different than when seen as part of the actual film, because in the film it is a really moving moment between characters who have suffered great pain. The scene is played opposite Billy Bob Thornton, and if you really needed to know what his butt looks like, this is your chance. (Spoiler alert: gross.) Do yourself a favor and find time to watch the whole movie if you've not yet seen it, as it also features a terrific performance from the late Heath Ledger. 
WHAT ELSE DO HEATH LEDGER AND HALLE BERRY HAVE IN COMMON?
Ledger, who at the end of his career pulled off one of the most brilliant performances in the Batman pantheon, could have taught Halle a thing or two about appearing in a movie set in the Gotham world. Her work as the title character is 2004's "Catwoman" was hardly the most sublime display of acting talent. In fact, it ranks as one of the worst movies an Oscar winning actress has ever chosen to do within the first few years of winning the Oscar. Though the film is pretty much unwatchable on almost any level, it does merit at least a glimpse or two for a Berry booster because she does get to wear some sexy outfits. Provided that is that you like pussies.
She at least has a good sense of humor and a surprising level of self-awareness about the film. She remains one of the only actors to ever appear in person to accept a Razzie Award, the silly but fun series of prizes given to awful movies, for her work. "I want to thank Warner Bros. for casting me in this piece-of-shit, god-awful movie." She continued by saying "I'd like to thank the rest of the cast. To give a really bad performance like mine, you need to have really bad actors." Yes, the film is the cinematic equivalent of a dirty litter box, but if leather costumes and Halle Berry in all her feline glory turns you on, you'll appreciate this picture as well.
IF YOU JUST WON THE BIGGEST PRIZE OF YOUR LIFE, WOULDN'T YOU WANT TO CELEBRATE BY KISSING HALLE BERRY?
If you are Adrien Brody, then the answer is a resounding yes. He famously won the Oscar for his excellent work in 2002's "The Pianist," and upon winning planted an epic kiss on a surprised but game Berry. Sure, some people win a big prize and say they want to go to Disneyworld, but if you do steal a kiss there, it's just not the same when you smooch with Minnie. Besides Mickey is known to be the jealous type, and hell hath no wrath like a mouse scorned. Anyway, neither Brody nor Berry have since garnered anywhere close to the critical acclaim they received for their respective Oscar winning films, but they will both always be remembered for this classic Academy Award clip.
I WANT TO SEE HALLE BERRY NAKED IN PERSON, AND JUST CAN'T MAKE IT HAPPEN. IS THERE NO JUSTICE IN THE WORLD?
That's a rather deep question, at least the second part. When it comes to justice and seeing Halle naked, there must be made mention of her first husband, former baseball star David Justice. The marriage lasted nearly four years, but its dissolution nearly caused her to kill herself. She told Barbara Walters that "I was going to sit in the car, asphyxiate myself. As I sat there sort of waiting for it to happen, it's almost like I had a flash of that good angel and the bad angel on the shoulder." She said she then heard a voice that told her "Girl don't do it."
She also was wed to musician  Eric Benét for a few years. Early in their marriage, he sought treatment for sex addiction. Now, it's not for us to trivialize this addiction, as it clearly can and does ruin some people's lives. But seriously? If you were married to Halle Berry, wouldn't you want to be addicted to having sex with her too? Here are the gorgeous couple in happier days:
Halle is currently married to French actor Olivier Martinez, who she met on the set of their otherwise forgettable film "Dark Tide."  Martinez had dated his fair share of celebrities prior to settling down with Ms. Berry, with Mira Sorvino and Kylie Minogue among his former lovers. Halle and Olivier had a son, Maceo, in late 2013.
ALL THIS READING IS MAKING MY HEAD HURT. ME WANT PICTURES. ME WANT PICTURES. GIMME PICTURES. PLEASE?
Well, if you put it that way, it's so hard to say no. Luckily, with a subject as photogenic as Halle, it's very easy to find countless sexy images.
Want another? Sure you do.
More? We thought you'd never ask.
.