Real Life Hamburglar Breaks Into Five Guys To Cook Up Some Tasty Burgers
How much do you love hamburgers? Probably a lot, and possibly way too much (we'll leave our vegan friends out of the equation for now), but it's incredibly unlikely you love hamburgers as much as one dude in Washington D.C.He's being referred to as a real-life Hamburglar, and his crime is one that burger fans won't have much of a beef with. 
[[contentId: 3013781| allowfullscreen: | frameborder: 0| height: 360| width: 640]]
It seems he followed a delivery guy into a Five Guys Restaurant after hours, waited for him to leave, and decided to have a very unique party.
How unique? Well, he grabbed a drink, turned on the griddle and started talking on the phone. Once the griddle was ready, he made two cheeseburgers (we tragically don't know exactly what toppings he put on them) and we can only assume he eventually ate them as well. He then finally takes a bottle of water before he leaves.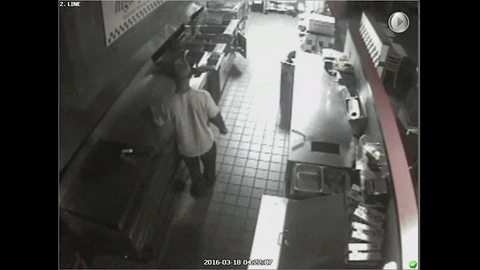 Could this have been a publicity stunt for Five Guys? If so, it's kind of genius. A statement like "Our burgers are so good they are worth going to jail for" would have had some real meat to it.
There's a $1000 reward for information leading to his arrest from DC Crime Stoppers, although tossing in a large order of fries or at the very least a chocolate milkshake might be even more useful in this case.  Then again, if you feel he is the Robin Hood of grilled meat, perhaps you should salute him by saying in a language any burger fan might appreciate –  "Well Done."
Source: KTLA