Gina Gershon: Bound to Get Naked
Every celebrity has their own unique tale, but the sex kitten we will be peeping at today has an especially interesting story. Before we get to her name, see if you can guess who she is. At age 52, she is still smoking hot, is fantasized by straight men as much as by gay women, has done sexy scenes in movies in four different decades, and can sing, dance and set the heart racing. Yep, the sultry Gina Gershon has had a fascinating career, and it is still going strong nearly 30 years since she first hit the silver screen. Her full lips, dark eyes, wicked smile and superb body are of course part of her appeal, but she also has that rare ability to play both a sexpot and a girl next door, as well as nail a comic line as well as pull off a strong dramatic turn. Of course though, much of her fan base can't and won't forget the fact that she is smoking hot and worthy of checking out in any costume, clothed or otherwise. This brings us to our question of the day, and it is indeed a fine question.  Buckle up, strap in, grab your hat and prepare to find out exactly
WHERE CAN I SEE GINA GERSHON NUDE?
The multi-talented Gina Gershon has been kind enough to do several nude scenes, including ones in two of the more famous erotic mainstream films of the past 20 years. Her first on-screen nudity was in one of her earliest films, 1987's "Sweet Revenge." Perhaps the film's biggest revenge would be making anyone actually see it, but for Gina's fans, this clip of her swimming naked next to a waterfall is more than worth checking out.
Next on our tour of naked Gina movies is 1988's cult classic "Cocktail," which starred Tom Cruise in a movie that is one of the definitive 80's films. Don't believe us? The soundtrack, clothes and haircuts alone could serve as a time capsule of that decade, and whether that makes it a good movie or just a fun way to revisit a different era is in the eye of the beholder. This clip features her rolling around on Mr. Cruise, who seems to be enjoying both the terrible music and Gina's rather silly moans and groans.
She was asked years later about her work in the film. "I was looking at myself, and Oh my God, I had baby fat. I was so young. We were all babies. I have to say about Tom Cruise, he was pretty awesome. I always thought, what a great guy, he's worth everything he gets. He was so nice to me -- such a sweetheart. I loved working with him."
Gina's first graphic sex scene was in 1993's "Love Matters," a largely forgotten made for cable film with the rather apt tagline "A Revealing Look at Love and Sex in the Nineties." It might not have revealed much about the nineties, but as this scene shows, it definitely revealed how hot Gina could be when hooking up with a male co-star.
THANKS FOR THOSE CLIPS. THEY ARE NICE, BUT CAN YOU BREAK OUT THE BIG GUNS PLEASE?
Gina does indeed have some rather big guns, but if you mean can we get to the two most famous (or infamous?) nude scenes of Ms. Gershon's career, we most certainly can. No discussion of Gina Gershon would be complete without examining the legend that is 1995's "Showgirls." Widely considered one of the most ridiculed movies ever made, it is much more fun to watch then most bad movies. Not only does it have tons of sex, nudity, ridiculous dialogue and a strange sense of self-importance, it has the dubious distinction of turning lead actress Elizabeth Berkley into a permanent punch line. Plus, Gina is either naked or nearly naked in almost every scene, making it the cornucopia of naked Gina that can never be topped . Want to see her make out with Ms. Berkley? Sure you do:
The film is definitely worth watching if you are in the right mood, but if you just want to check out some of the many nude scenes, you'll appreciate this compilation.
Not surprisingly, Gina has been asked many times about her work in the cult classic. "I decided to make my part campy because I initially thought that it was going to be really dark and really intense and then it just turned out to be completely different. So instead of going in that direction, I decided to make it so that drag queens would want to dress as my character on Halloween."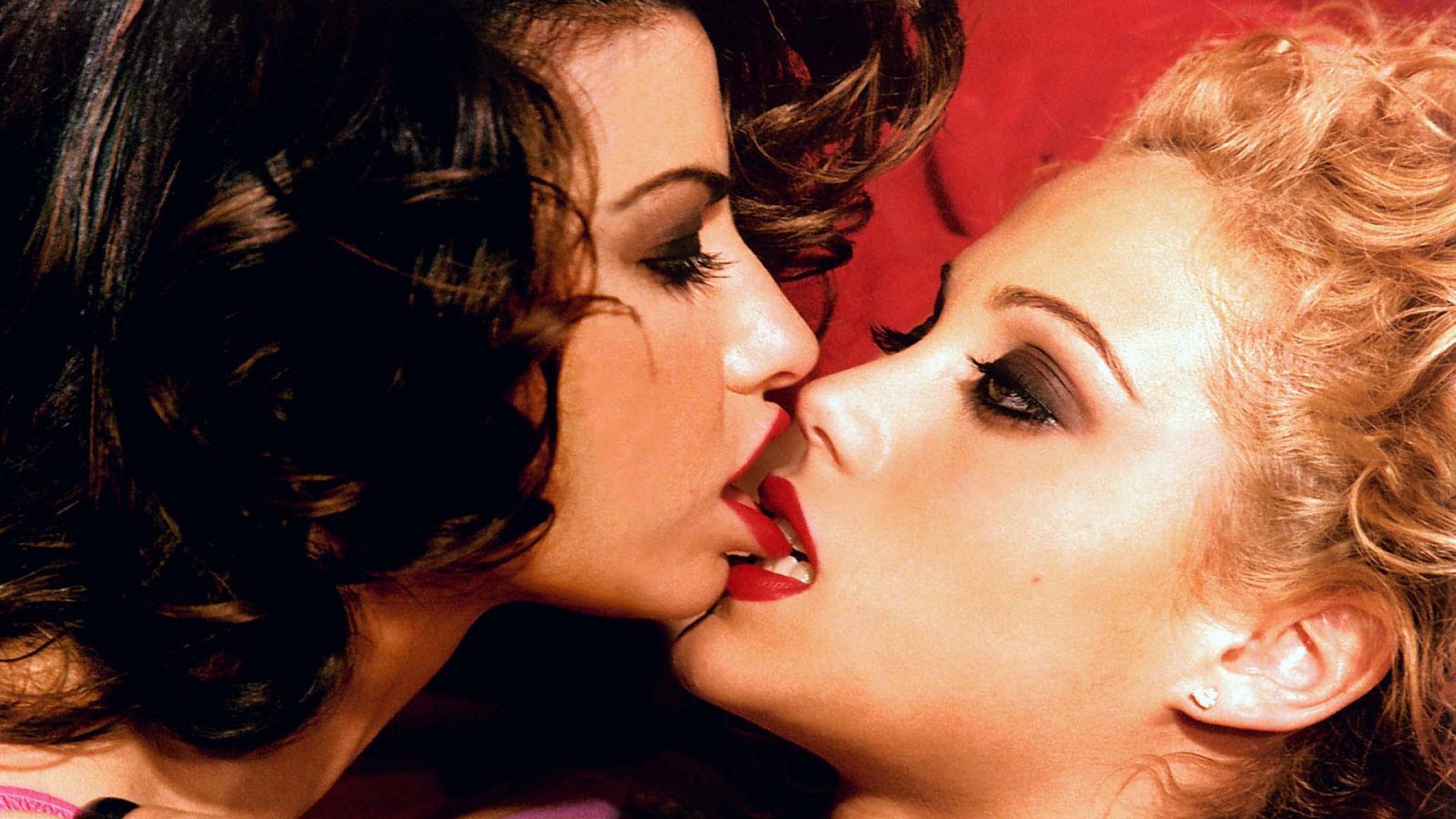 The other seminal sex scene in Gina's career was in 1996's "Bound," which offered some of the most explicit lesbian scenes in a mainstream film that had ever been shown up to that point. Her scenes opposite Jennifer Tilly instantly made her an icon in the gay community, and the excellent film was miles away in quality from the stinker that was "Showgirls." This clip showcases just how amazing the chemistry was between the two actresses.
For those of you who want to see even more explicit moments from the film, we are only too happy to oblige.
The film instantly generated controversy. Gina discussed the hypocrisy of the rating system when they first screened the film.  "There's a scene between me and Jennifer, our love-making scene, or our sex scene, and that all had to be done in one take. And the take that we did, that Jennifer and I loved, and the brothers loved - it was obvious, this is the scene. It was so beautiful."
She continued by saying "You see me and Jennifer, our characters, falling in love with each other. You don't see any parts of our body, you don't see any naughty bits here or there, but it was a real love-making scene. The board was like 'Oh no, you can't use that. If you use that it's going to be NC-17. Don't you have a different take?' So we used one, where it was more of a sex scene, and you actually saw bits, and they're all, 'Oh yeah, that's fine.'"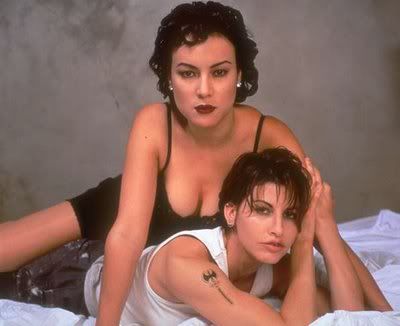 Not surprisingly, she had thoughts on becoming so beloved in the gay community. "I love that fan base. Life might have been a little bit easier had I actually been a lesbian. Maybe my love life would have been easier. Although that's probably not true." She also mentioned that "I don't mean to be sexist but the lesbian fans do give me the best presents."
ARE THERE OTHER STEAMY LESBIAN SCENES WITH GINA GERSHON YOU CAN SHOW ME?
There are indeed. In 2003's "Prey for Rock & Roll," Gina gets to show off both her musical skills and her lesbian skills. This very graphic clip doesn't show any of Gina naked, but you'll definitely appreciate what she is doing to her female partner.
WHAT DOES GINA GERSHON HAVE IN COMMON WITH MONICA LEWINSKY?
At least according to Vanity Fair, they both had an affair with Bill Clinton. Gina denies the story, but Vanity Fair stands by their version. The magazine discussed how aides of the former President had concerns about his lifestyle. The article mentioned "recent high-end Hollywood dinner-party gossip that Clinton has been seen visiting with the actress Gina Gershon in California." The magazine's spokesperson said that "Todd Purdum's article does not indicate that former President Bill Clinton had an improper relationship with Gina Gershon. The story merely examines the concerns of some of Clinton's aides about reports of his behavior. We don't believe that any correction is warranted."
Gina said that "It is such a crazy, outrageous lie... I met him three times at events. [These rumors] disturbed me on so many levels."
HOW CAN YOU FIND GINA GERSHON'S LADY BITS?
Oh, get your mind out of the gutter! In 2012, Gina released a book entitled "In Search of Cleo: How I Found My Pussy and Lost My Mind" but the pussy in question was her cat. Obviously, the double entendre was intentional, but the book garnered decent reviews and showed her to be a promising writer. What did it all mean? "At the end of the day it's all about what we do in order to find love. And it's all symbolized by my looking for my cat. It's a metaphor for relationships."
I LIKE CHICKEN AND I LIKE GINA GERSHON. HOW CAN I COMBINE MY TWO INTERESTS?
That question is not half as weird as it may sound, especially as Gina's work in 2011's "Killer Joe" offers a genuinely unforgettable scene where she is forced to give a blowjob to a piece of chicken that is between Matthew Mcconaughey's  legs. Feel free to re-read that sentence, but that is exactly what happens. The film itself is one of the darkest films you will ever see, and is genuinely disturbing on many levels.