Giada De Laurentiis: Hot Chef or Hottest Chef?
The De Laurentiis name has long been known to be connected with the movie business but today, the most famous name in that family is associated with cooking thanks to Giada De Laurentiis, an international celebrity chef, Emmy Award winner and bona fide star who has graced the cover of numerous magazines with her signature smile. Giada means jade in Italian and is pronounced "jah-duh."  Her Italian heritage is what has helped built her culinary empire since her entre into stardom began in 2003 as the host of the Food Network show, "Everyday Italian" which focused on quick, healthy and satisfying Italian dishes.   After the show's debut, the network received mail accusing them of hiring a model or actress to host the show instead of a real chef due to Giada's good looks.  A rare combination of beauty, a unique personable charm and a trained chef with a great chest, Giada is not a typical cooking talent.  Dubbed a "petite powerhouse" Giada is "just under five foot two" and has a slim body that makes people wonder if she ever eats what she cooks. 
Giada's signature smile and cleavage:
With most chefs, the most appealing thing to look at is the food they cook but with Giada, it's equally as enjoyable to watch her cook especially since she likes to wear low cut clothing as she chops and sautés, showcasing her cleavage.  The success of her Food Network show has spawned a lucrative culinary empire for Giada beginning with the success of her cookbooks, "Everyday Italian" and "Giada's Family Dinners" in addition to her multifaceted spokesperson contracts with a variety of products including Clairol hair products, Barilla pasta and Pyrex Glassware among others.  She was also a correspondent for NBC during the 2006 Olympic Games in Torino, Italy and continues to be a contributing correspondent for the show reporting on current trends in cuisine, travel and lifestyle.  Oddly, the only hot list Giada has been on is website CafeMom's "Sexiest Moms Alive" list in 2010 in which she ranked #6.  You would think Maxim and FHM would cut her a little slack and rank her on their hot women lists even though she hasn't come close to doing nudity just for the simple fact that she can cook a dish and be a dish.
Come on, Maxim, she looks great in a bikini.  That's gotta count for something:
See Giada's breasts jiggle as she cooks. Sorry Julia Child, you can't hold a candle to this:
WHO IS GIADA DE LAURENTIIS?
Giada Pamela De Laurentiis was born in Rome, Italy to actress Veronica De Laurentiis and actor-producer Alex De Benedetti.  She is the oldest child and has a sister Eloisa and two brothers Igor and Dino Alexander II who died in 2003 of melanoma. Giada's grandfather is the famous film producer Dino De Laurentiis.  Following her parent's divorce, Giada moved with her mother and siblings to Los Angeles and graduated from Marymount High School.  She went to college at the University of California, Los Angeles and graduated in 1996 with a bachelor's degree in social anthropology.  Giada openly admits that she never wanted work in the "family business" of show business and instead wanted to be a pastry chef.  She studied pastry and cooking at Le Cordon Bleu in Paris and after returning to Los Angeles, she worked at several restaurants including the Ritz Carlton Fine Dining Room and the famous Spago restaurant owned by Wolfgang Puck.  She also started a catering company, GDL Foods.  In addition, Giada was a food stylist and after seeing her work featured in a 2002 Food & Wine Magazine piece, Food Network contacted her about doing a show for them.  The show eventually became "Everyday Italian."  Giada said at first she was uncomfortable in front of the camera but relaxed into her signature style of over-enunciation of Italian words and wearing clothes that prominently feature her cleavage.
In 2006, Giada starred in another Food Network show, "Behind the Bash" which featured   the catering process behind big event extravaganzas such as the Grammy Awards etc.  Giada teamed with Bobby Flay against Rachael Ray and Mario Batali in November 2006 on an episode of "Iron Chef America" but ultimately lost.  In January 2007, she started hosting "Giada's Weekend Getaways" in which she traveled to various cities to visit her favorite local culinary destinations.  Giada hosted a two-part Food Network special in June 2007 called "Giada in Paradise" where she traveled to Santorini, Greece and Capri, Italy.  She also appeared several times as a guest judge on "The Next Food Network Star."  Giada won a Daytime Emmy Award for Outstanding Lifestyle Host in 2008. That same year, Giada's new show "Giada at Home" made its debut and featured Giada preparing meals for family and friends.  In 2009, Giada ventured into doing voicework for the animated children's show Handy Manny and played the character of Paulette.  In 2012, she was inducted into the Culinary Hall of Fame. 
Giada definitely looks good on camera:
Even though Giada never wanted to be in show business, ultimately, she did wind up in the family business.  At first her famous grandfather Dino (who died in November 2010) didn't approve of her choosing to be a chef but finally came to accept it. When asked what her grandfather, Dino thought of her career, Giada said, "Over the years, I think he became quite proud and maybe even a little shocked, at my success. You have to understand that coming from a Neapolitan family, men head up the empire. I think from time to time he had his own thoughts about the way I created recipes, that they were too easy, maybe too dumbed-down. I remember him once saying to me, 'How can you tell people to open a jar of prepared pasta sauce?' Those were the kinds of debates we would have."
A branding juggernaut, Giada partnered with the Barilla Group in 2008 and launched their first-ever gourmet celebrity product line called Academia Barilla.  She also entered into a deal in 2010 with Target Stores to produce a line of kitchen products including pots and pans, cooking tools and food items.  Giada is also the spokesperson for Pyrex Glassware who brought her on to widen the appeal of their brand to a younger generation.  Giada is also a successful cookbook author; her books, "Giada at Home" and "Weeknights with Giada" was number one on The New York Times Best Seller list.  Giada has been married for over 20 years to her college sweetheart, Todd Thompson, a fashion designer for the Anthropologie company.  On March 29, 2008, Giada officially became a M.I.L.F. when she gave birth to her daughter, Jade Marie.
CAN YOU BELIEVE NOT EVERYONE THINKS GIADA IS HOT?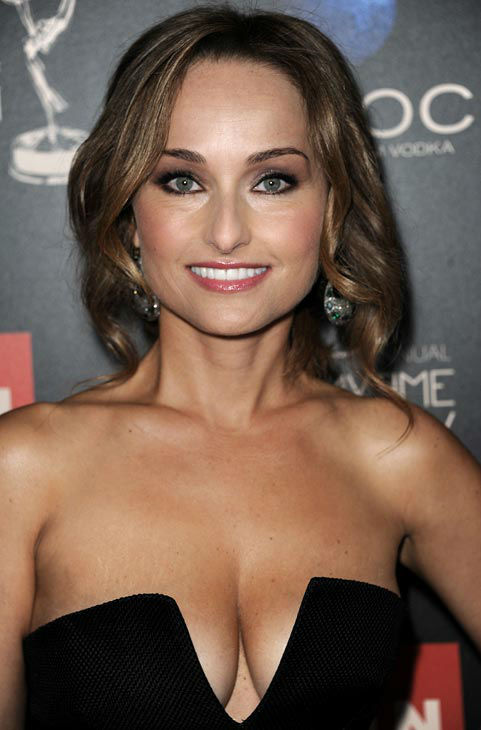 As the resident Food Network temptress, Giada De Laurentiis knows her fan base, "Appealing to men is something that's happened over time," she says. "I know I have a large male audience."  Of course her male audience watches her shows to learn more about cooking and if she happens to be wearing something low cut to showcase her breasts, well, then what a bonus.  However, not everyone appreciates Giada's assets. Some hardcore cooking enthusiasts feel that although a woman should be allowed to be pretty and attractive and still be taken seriously at her craft, Giada's penchant for plunging neck lines definitely detracts attention from her cooking talents. 
People say never trust a skinny chef, well, is it really Giada's fault she's got a great body and can cook?
It's interesting that Giada chooses to incessantly showcase her cleavage since she's said that her breasts were actually a cause of childhood trauma for her. In an interview, she talked about a time when her breasts were not helpful, "I developed breasts when I was 9 years old and I was the only one in my class. I would literally sit in class hunched over because I was so embarrassed about my body. I think I still carry some of that around with me."  She added, "I didn't want to be known as the sexy cook. I wanted people to think I really had some cooking chops. It's almost ingrained in people that just like you can't be a smart model, you can't be a good-looking cook."  You can see why statements like these confuse audience members when Giada says she wants to be taken seriously yet she's clearly gotten comfortable with accepting her God-given gifts since she displays them often.  When referred to as cooking's sex symbol, Giada said, "It's only been the last five years that I've become comfortable with that. A lot of it has come with age and being a mom. I felt like I had to show Jade that her mom is proud of who she is."
Another complaint about Giada is that some feel that although she pretends to be just like everybody else, on her shows, she's traipsing around the world staying in five star hotels and doing things that a normal, everyday Walmart mom would never get to do. (Oops, oxymoron; normal and Walmart in the same sentence).  Giada's even been called a bobblehead due to her wide face and big smile which sits on top of a tiny body.  However, one of the biggest criticism about Giada is that way she over pronounces and stresses Italian cooking terms; not only do audience members find it annoying but they feel she's talking down to them. 
No wonder people hate her; she looks great even after giving birth:
However, haters will be haters and for those who can't stand Giada's seemingly perfect life, Giada wants people to remember that nothing is perfect, "I come from a place where I think life is never perfect. If we look deep inside, there are issues everywhere." She acknowledges that she's been blessed but she has also dealt with pain.  Giada explains how it was to deal with her brother's death to cancer, "I lost my brother when he was 30 and that was devastating for me. I don't know if I will ever get over it. Plus, I had a very tough childhood. I came here from Italy in the '70s and didn't speak a word of English, so the kids at school tormented me. Truly, it was horrifying the names they called me, and the teachers never really did a thing to stop it."
Recently Giada had to deal with that John Mayer incident when the tabloids reported that she and Mayer were having an affair.  Not only is it untrue, Giada said she's met Mayer briefly and only chatted for five minutes.  Giada said she thinks the rumor was started because she and Mayer were staying at the same hotel.  However her husband Todd was also staying with her at the hotel which made the rumor even more disturbing.  Giada said she was more concerned for Todd and his family then for herself.  She said, "My family is used to that sort of thing. But my husband's family is not. Todd was embarrassed that his family in Michigan would see it and think, "What is going on over there in Hollywood?" Well, guess Todd ultimately couldn't put up with the rumors since the couple's divorce was finalized in Summer 2015. So a hot woman who can cook is back on the market!
Giada and family in happier times: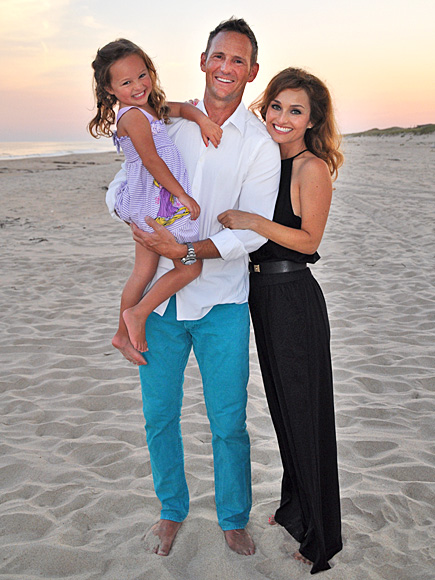 Too bad for the haters; Giada looks good from all angles:
More Giada in a bikini…how can anyone complain about this?