Jessica Simpson: The Daisy Duke Queen
When Jessica Simpson first burst onto the scene in 1999, her label carefully marketed the fact that this minister's daughter had taken a vow to remain a virgin until married. Imagine then if a sex tape of her was released. Would it be scandalous? Would it be juicy? Would it feature Jessica's juicy fun bags swaying to music? More to the point, you can ask a question that we actually will be able to answer for you today.
WHERE CAN I SEE A JESSICA SIMPSON SEX TAPE?
The simple answer is that the only place you will be able to see one is in your dreams. Despite a simple google search teasing that one may exist, there simply isn't one. However, there are lots of interesting sexy images and stories about Ms. Simpson in circulation, and we are only more than happy to give you this guided tour. If seeing her perform oral sex is on your bucket list, you may never see the real thing but this video of her simulating it on an ice cream cone should more than offer a tantalizing taste.
Maybe the closest you can get to actually seeing her naked is in this series of nip slip pictures. Then again, even when wearing some clothing, this is a woman that pretty much oozes sexuality. Not that anyone's complaining.
WOULD JESSICA SIMPSON WANT TO LOVE YOU LONG TIME?
She probably wouldn't phrase it quite like that, as she isn't playing a Vietnamese character in a Kubrick film, but the song that first brought her to the world's attention may provide an answer. "I Wanna Love You Forever" might not have the most poetic lyrics of all time, but in its defense, it does get right to the point. Here's the young Jessica offering her first hit.
WHAT WAS IT LIKE WHEN JESSICA SIMPSON LOST HER VIRGINITY?
There were cameras following Jessica and husband Nick Lachey, who was the guy she lost it with as per her famous desire to wait until marriage,  everywhere during their reality show "Newlyweds: Nick and Jessica," but they weren't privy to that specific moment. Luckily for those who truly want at least some specifics, Jessica released a song called "Sweetest Sin" to address the topic. Here are some of the key lyrics in case you can't stomach actually listening to the video:
"All night I lie awake
Cuz' it's too much to take
Dreaming about the love that we could make
All day I think of schemes 
To get you next to me
I want you so bad that i can barely breathe
It's a sign of my obsessioin
That I can't stop thinking 'bout

Your lips upon my lips
(Can you envision it)
Temptation I could never resist
Your skin upon my skin
Would be the sweetest sin, yeah

It would feel so good
To be so bad
You don't know how bad 
I want that
I would do anything 
To feel"
Once again, not exactly lyrics that would cause Shakespeare to lose any sleep over, but still plenty for a fan to think about. Here's the video, which also features Lachey. It also features her being sexy near a waterfall with her boobs prominently on display, so even if you need to mute the sound, it does have its merits.
WHEN JESSICA SIMPSON PLAYED DAISY DUKE IN "THE DUKES OF HAZZARD," SHE TOTALLY TRANSFIXED ME WITH HER BOOBS IF NOT HER ACTING STYLE. ISN'T THERE SOME WAY I CAN SEE DAISY DUKE NAKED?
While it is true that Meryl Streep didn't feel threatened by Ms. Simpson's work as Daisy, she also couldn't have filled out a bra like the younger actress. The actress who played Daisy in the original TV series though did have a very sexy scene in one of her films, and though not a blonde like Jessica, she was at the time preposterously hot. Like seriously dangerously radically and massively hot. Yep, here is the original Daisy, Ms. Catherine Bach. You're welcome. 
Of course, our more recent Daisy was hardly a slouch herself.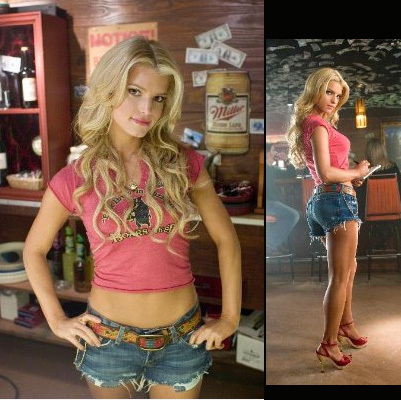 Here's a compilation of her from the film.  Maybe it's not fresh as a daisy, but it sure beats the typical clichés about flowers. Roses are red likely won't turn you on nearly as much.
Not enough? This clip of her being incredibly sexy at the car wash will forever change your views about cars, car washes, the song in the video and likely several other things.
I DEFINITELY HAVE A THING FOR JESSICA SIMPSON, BUT I'M EVEN MORE INTO HER SISTER MARGE. ANY SEXY IMAGES OF HER AROUND?
Jessica's sister is actually named Ashlee Simpson, and she too has quite a body. Although she has never done any official nudity either, there are these nip slip photos that are worth checking out here.
WHAT WOULD JESSICA SIMPSON BE LIKE IN BED?
Besides the many song lyrics she has sung that may offer tantalizing hints as to her prowess, there was one very high profile affair that she had that gives us a heck of a good guess. John Mayer is probably as well known for dating a mind blowing assortment of hot celebrities as he is for his skills on guitar. His comments on Jessica were rather unforgettable. "It wasn't as direct as me saying 'I now make the choice to bring the paparazzi into my life. I really said, 'I now make the choice to sleep with Jessica Simpson.' That was stronger than my desire to stay out of the paparazzi's eye. That girl, for me, is a drug. And drugs aren't good for you if you do lots of them. Yeah, that girl is like crack cocaine to me. … Sexually it was crazy. That's all I'll say. It was like napalm, sexual napalm."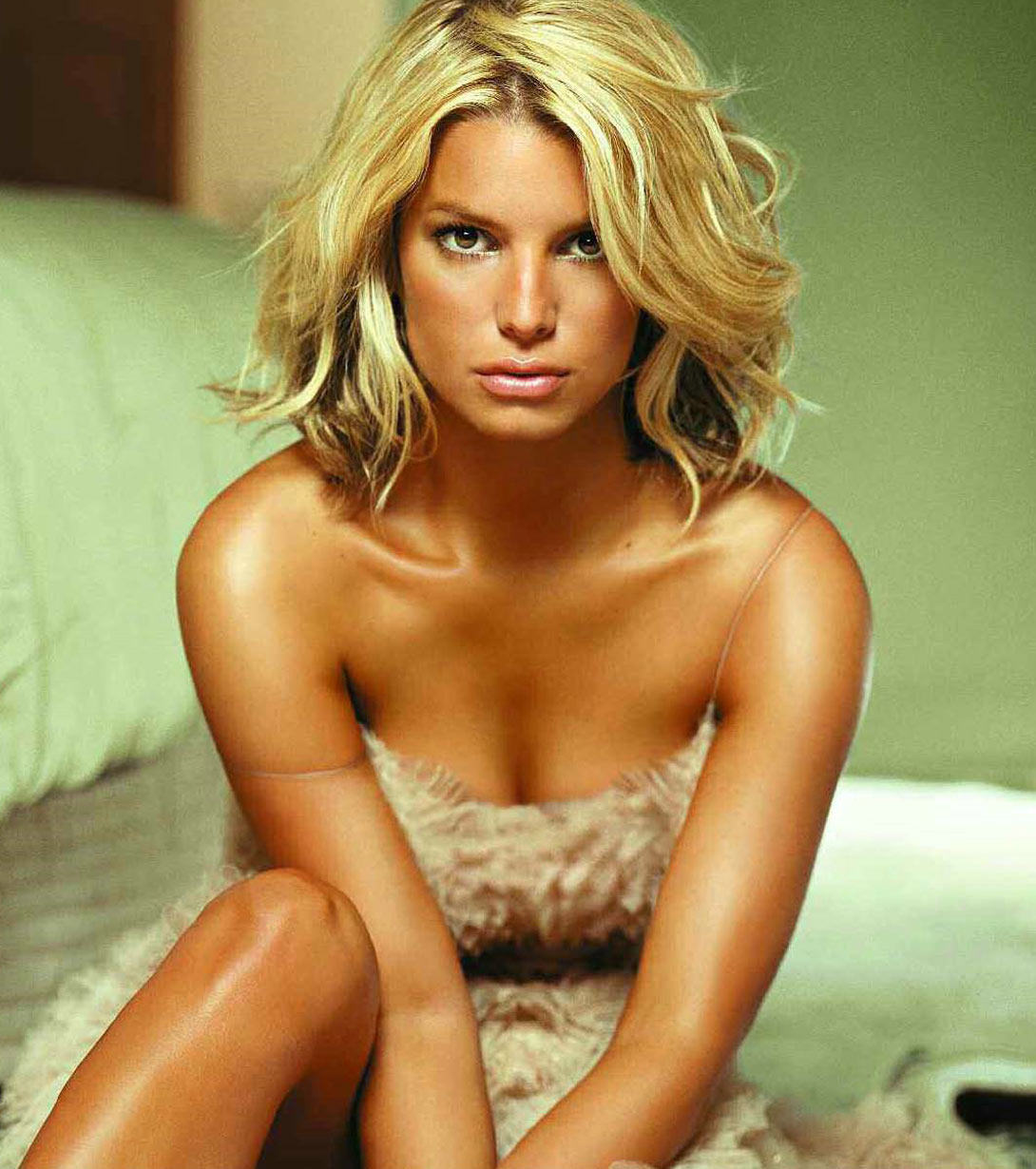 That's right. Sexual napalm. Pretty amazing to think about. Not surprisingly, Ms. Simpson was not pleased with Mayer's public comments. She told The View that "Yes, my phone has been ringing. It's more embarrassing 'cause I'll walk into a restaurant or something and I'll notice more men are looking at me. And he'll never have this napalm again. Well, [I don't need to curse him out], that's why I do shows like this!"
She continued by discussing the dumb comment he made to her while they were together, which was that they should break up. "He did apologize, but I mean, at this point it doesn't really matter. I mean, I only thought he was stupid for breaking up with me."
Years later, Mayer said "I was just a jerk" to explain his actions. Here is a picture of her with the jerk in happier times.

WHAT OTHER SEXY PICS OF JESSICA SIMPSON CAN YOU SHOW ME?
There are literally dozens and dozens of really hot Jessica jpegs available, but let's start with a pair that offer her wearing a see through dress with no bra. That's always a fun place to start.
Need more? Of course you do. This time she is wearing a see through white top top.
In search of some Simpson side boob? Look no further than here:
I THINK JESSICA SIMSPSON IS SUPER HOT BUT JUST CAN'T STAND HER MUSIC. OTHER THAN STUFFING COTTON BALLS IN MY EARS, WHAT OPTIONS DO I HAVE?
Her movies aren't very good either, so perhaps your best bet would be to check out this video from a far lesser known singer named Adam Green. Green, whose band The Moldy Peaches had the terrific song "Anyone Else But You" become a surprise hit due to its inclusion on the "Juno" soundtrack, wrote and sings a really interesting song entitled "Jessica." It is both beautiful and surprising, and will cause you to rethink anything you think about her. Other than how hot she is. That won't change. Check out Green's tune here: