Football Fights; The Best in America's Game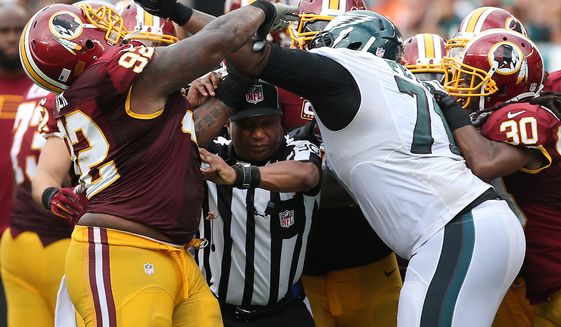 Fighting to football is like eating to pizza. One doesn't exist without the other. It's impossible to expect that in testosterone sport like football, fights between players are not going to happen. Football fights are one of the reasons we hate to admit we love to watch America's favorite sport since there's nothing like watching huge ballers brawling with each other. It taps into our basic human fascination with seeing which gladiator will win the beat down. Our football stadiums are the modern day Roman Coliseum. The NFL knows that football fights between players are inevitable so they have set up a penalty system of fines and suspensions. The amount of the fine imposed is dependent on the severity of the fighting. Based on the league's 2014 fine chart, the fine for starting a fight is $27,562 and $5512 if a player who is not involved in the initial confrontation unnecessarily enters the fighting area. And if a player wants to use some excessive profanity while he's fighting, he will be fined an additional $11,025. Depending on how you view money, there's two ways to look at the only way the NFL can police their players when it comes to fighting. Either you feel these piddly fine amounts don't mean jack to multi-millionaires or hey, 27 Gs can still buy you some cool stuff. Or help someone who is impoverished in a big way. Regardless on how the fans feel about the fines, everyone still enjoys a good football fight every now and then even if they won't admit it.
Remember, in most parts of the world, soccer is called football and boy, they sure do like to fight:
WHAT ARE SOME OF THE BEST FOOTBALL FIGHTS IN NFL HISTORY?
There's been numerous football fights since the NFL's founding in 1920 but in the NFL's entire history, a few interesting skirmishes come to mind. A football fight that always makes the "best football fights" lists played out on live TV on November 28, 2010 when the normally calm Andre Johnson, a wideout for The Houston Texans went postal against Tennessee Titans cornerback Cortland Finnegan who had a reputation as an instigator. In the 4th quarter, Johnson unleashed a can of whipass on Finnegan, pushing him to the ground and punching him twice in the jaw. Although neither player was suspended, both were ejected and fined $25,000. See the brawl here. Keep in mind football fights don't just occur between players, they also can happen on the sidelines.  In 1993, the Houston Oilers' defensive coordinator, Buddy Ryan was often critical of the team's offensive coordinator, Kevin Gilbride. During the last game of the regular season as the Oilers played the New York Jets, the two coaches started to argue after a fumble by backup QB Cody Carlson. Ryan punched Gilbride in the jaw and their own players had to separate them. Well, if the coaches can set a good example, how do you expect players to behave?
Ryan vs Gilbride: It's not a great example when your own players have to break up your fight:
The most recent notable football fight was the ending of the 2015 Super Bowl XLIX between the Seattle Seahawks and New England Patriots. Understandably, if you were a Seahawk, you too would feel the need to take out your frustration after the unbelievably stupid call by your coach just minutes before the end of the game to cause you to basically hand the Super Bowl title to the Patriots gift-wrapped and topped with a bow.  Talk about a dumb football move. So it's no wonder a couple Seahawks got into a scuffle with a couple of Patriots with only seconds remaining in the game.  Later, Linebacker Bruce Irvin and defensive lineman Michael Bennett of the Seahawks were fined $10,000 and $8,268, respectively for "unnecessarily striking an opponent." Patriots tight ends Rob Gronkowski and Michael Hoomanawanui were both fined $8,268. Both these men probably happily wrote the checks as they admired their Super Bowl rings.
HOW MUCH DID THE NFL FINE PLAYERS FOR FOOTBALL FIGHTING IN 2015?
The highest fines and suspensions levied in the NFL are not aimed at football players fighting.  Violating the NFL's substance abuse policy, taking performance enhancing drugs and deflating footballs is seen as worse behavior. In 2015, the Miami Dolphins lead the league in suspensions and fines, totaling around 5 million dollars, followed by New England at almost 2 million, then Cleveland Browns at just over 1.5 million dollars. The highest penalized player was defensive end, Dion Jordon of the Dolphins who was fined for the third time for violating the NFL's substance abuse policy. He was given a 16 game suspension and fined $5,267,276. Quarterback Tom Brady of the Patriots comes in second for his role in the notorious DeflateGate. He was suspended 4 games and fined $1,882,352.00.  Browns wide receiver Josh Gordon rounds out the top three for substance abuse violations and was fined $1,682,521.00 with a 16 game suspension. Tight end Antonio Gates of the San Diego Chargers ranked #4 with a 4 game suspension and a $1,567,646.00 fine for PED use. In 2015, a total of 16 NFL players were fined $12,855,161 for 87 games. So you see if you're going to break the rules in the NFL, it's cheaper to just fight.
By Vicky Choy