Famke Janssen: Jean Grey "Taken" it All Off
If you asked us what we know about The Netherlands, we'd tell you that we think there's a good beer made there. Or maybe that's Belgium. They're both basically the same place, we think. But we'd also tell you that it's most famous export is the super leggy and sexy, Famke Janssen. The ex-model and now actress has been in blockbusters like the X-Men and Taken films, as well as some indie stuff no one really cares about as much.
You probably remembered her first as Kamala from "Star Trek: The Next Generation"…if you are a huge geek. Sadly, the closest we got to nudity on that show was Patrick Stewart's bald dome. But have no fear. Famke Janssen has, in fact, shown some skin. Let's begin…
WHERE CAN I SEE FAMKE JANSSEN NUDE?
Settle down, pups, momma's teets are here to feed you. At first glance, it might seem that she has not flashed much flesh over the years, but that's just the simple Google search way of thinking. In fact, the beautiful Bond Girl has dropped her cover-ups throughout the years and we'll walk you through this wonderful journey of discovery since we left no stone unturned to answer this — and several other questions.
DOES FAMKE JANSSEN GET FREAKY WHILE GETTING NAKED?
The answer is…possibly. She's at least very good at pretending she gets freaky and we have video proof that she's very good at acting it out. She first really made her name by straddling Pierce Brosnan's hairy and untoned body as the appropriately named Xenia Onatopp in GoldenEye. That crazy chick loved body scissors like James Bond was a walnut and inside him was the nut to eternal life.
Yeah. She definitely got off on the rough stuff, which gets an 'A' in our book. If you've ever needed an excuse to not manscape and not stay in shape, it's to get a chance to be crushed by Famke as a Bond Girl. Just like this dude:
And if you're at all curious, we did find some lost audition tapes, and the chick that lost out to Famke for the role of Xenia Onatopp can be seen auditioning here.
Excuse us while we go get a tall glass of ice water…
ARE THERE PICTURES OF FAMKE JANSSEN CASUALLY POSING NUDE FOR A PROFESSIONAL PHOTOGRAPHER?
Praise God, yes there are. Famke Janssen can be seen flashing a nip here and revealing more than one naughty bit here. There are reportedly several others of these wonderful pics floating around out there somewhere, and we can only hope that one day the photographer that took those will blow all his savings, be evicted from his pretentious loft, and be forced to work in the fast food industry until he cracks and sells the lot of these pictures for grocery money.
And then they will be ours to view online. For free. That's the world we look forward to living in.
WHAT KIND OF UNDERWEAR DOES FAMKE JANSSEN WEAR?
The lace kind, appears to be the answer. What better than a woman that likes to pull on a short skirt and go for a bike ride around town? Give us a second…we're thinking…
But wait, there's more…
She also has been photographed and filmed in her undies on several occasions, which deserves a healthy round of applause.
DOES FAMKE JANSSEN LIKE THE FEEL OF LEATHER ON HER BARE SKIN? LIKE, HER NAKED BARE SKIN?
It seems she most definitely does. She has showcased her long legs on more than one occasion in short leather skirts and did a lot of leather-wearing as Jean Grey/Phoenix in the X-Men films.

YEAH, I LOVED HER IN X-MEN, BUT MY FRIENDS AND I ARE DEBATING IF SHE IS THE HOTTEST CHICK EVER IN A SUPERHERO/COMIC BOOK-THEMED MOVIE?
Nerds — and pretty much every man living — will debate you on this one, but she rates up there with the best of them as the leather-sporting Jean Grey/Phoenix in X-Men. Sure, Halle Berry and Michelle Pfeiffer looked super hot in leather, as did Scarlett Johansson in The Avengers. Actually, maybe this has nothing to do with comic book films and more to do with super hot chicks in leather. Either way, Famke Janssen might be the hottest of the group, but we won't fight you on it…basically because we're too lazy to fight and would probably get our ass kicked.
DID SHE EVER STRIP DOWN NAKED IN ONE OF THOSE X-MEN MOVIES?
Given their PG-13 ratings and her straight-laced character, the answer is sadly no, although she did appear in a sexy nightgown in The Wolverine. While PG-13 flicks will give us some naked scenes on occasion, like some of these here, the closest to a chick getting naked in the X-Men movies has been Rebecca Romijn and Jennifer Lawrence, both wearing spray paint while playing Mystique (at different ages).
That and Professor Xavier's bald dome.
ANY CHANCE FAMKE JANSSEN FLASHED SOME SEXY FLESH WITHOUT KNOWING IT?
If you're like every other man on earth, the only thing better than seeing the thong of a woman when she bends over is a few inches of the prize. Famke was snapped doing just that when she knelt down in church. Okay, maybe we just made up the church part, but the point is that you get a glimpse of what this sexy woman has to offer.
HAS FAMKE JANSSEN DONE MANY SEX SCENES ON CAMERA?
More than a few. The 007 scenes aside, she's done some legit stripping down for some knocking boots on the big screen and the small screen.
While none are of the X-rated variety — and we are none-too-pleased about that — they are still sex scenes featuring Famke Janssen after all.
And what's even better than a good 'ol fashion sex scene starring Famke Janssen? A sex scene featuring Famke Janssen in a public place.
DOES SHE LIKE TALKING DIRTY?
Well, yeah, sort of. She certainly didn't bat an eye when verbally picking apart Josh Harnett in The Faculty, but of course, she was acting. Regardless, she was pretty convincing. Whether her filthy mouth translates to naked bedroom romps remains unknown, but we think combining that mouth with her Xenia character is a mixture of someone we like to call "the perfect woman".
FAMKE IS 49 AND LOOKS HOTTER THAN EVER. IS SHE GOING TO CONTINUE GETTING NAKED AT HER AGE?
Time will tell and she's not very open about these sort of important issues that plague our minds 23 ½ hours a day. We decided to turn to Twitter to see if she would shed any light on this, but out of the few accounts associated with her name, one has zero tweets and the others seem to be tweeting in Dutch — or the accounts are run by a gecko that just enjoys running back and forth across a keyboard a few times a day. But whether or not she drops her clothes for us again, at least we still have some team players that are around her age that are still willing to show us what we deserve to see.
Madonna just recently did a topless photo shoot which one might be able to find here. Okay, spoiler alert, you can. Rene Russo dropped it all (like, big time) on film when she was knocking on the door of 50. Drool over it…er, check it out here. And Cindy Crawford has been known to pop the boobs out and even did it on screen in that horrible movie with one of Alec Baldwin's brothers. And she also apparently loves lathering up with soap while being photographed.
Here's to seeing more from Famke in the very near future.
DOES FAMKE JANSSEN HAVE FAKE BOOBS?
Let's pretend to care if they are fake or real for a second, because it's not like that'd be a deal breaker for 100% of men alive. She has been vocal about being against plastic surgery or enhancements before, saying, "There is something about plastic surgery that doesn't make people look younger. It just makes them look stranger."
Yes, but strangers with nice, big boobs are hot (see what we did there?). She also has a below average bra size of 34B, we think, because our binoculars were a little steamed over that evening. And then there is the picture evidence. Her boobs may not be on the large side, but at least they are perky. And then there are those legs…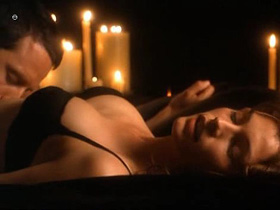 EXACTLY HOW LONG ARE THOSE LEGS OF HERS?
To quote Lt. Frank Drebin from The Naked Gun, she has "the kind of legs you'd like to suck on for a day." She's got possibly the best pair of legs in the business and they can wrap around you two or three times like she displayed here. The exact measurements are not available — and exactly how the hell do you measure the length of a leg anyway? Where do you start? And do you end at the ankle or the floor? And really, who cares, because her legs are amazing either way. Basically, the answer is, they are very, very long. She is almost six feet tall and unless she had a torso that belongs to a circus freak, her legs must be perfectly long.
DOES SHE LIKE SHOWING A LOT OF CLEAVAGE?
Admittedly, there are not a ton of these pictures online, but there are enough to make your day go from zero to sixty in mere seconds. She's certainly not shy when she does let the line dip further south, we all just wish she'd do it way more often. Perhaps if we all write letters to our local Congressman requesting some sort of a Famke Janssen Cleavage Day?
ARE THERE FAKE OR DOCTORED PHOTOS OF FAMKE JANSSEN NUDE THAT I CAN SEE?
Really? It's the internet. If you want to see pictures of Queen Elizabeth's head on Angelina Jolie's body riding a unicorn, you could find them. There are several nude shots of Famke Janssen floating around out there and they are obviously fake, but does that really matter all the time? Nay, we say, it does not.
How do we know they are fake? Take a look and you'll know why. You can check out a couple of them here and here.
HAS SHE EVER DONE ANY GIRL ON GIRL SCENES?
This is a very, very important question and one that had us typing the question into google smiling like that cat in that story about Alice. Turns out, there are more than one scene where Famke Janssen gets together with another chick. Now while they are not full on romps – which is obviously our preference — she does do some making out with chicks. One glorious moment was in "Nip/Tuck" which you can ogle over here, and another was with Travolta's wife, Kelly Preston, who herself has never been shy about sex on camera — like that scene in Jerry Maguire.
"It was great. Kelly's a good kisser, but the scene got cut out. I don't know why, maybe it was just too hot," Famke said. "Kelly was hot. She's fun, beautiful, sexy and very open…. We look hot together."
She went on to say that she was excited about it because, "I'd never done that before."
There's a first time for everything, you little minx.