Expensive Weddings Before Expensive Divorces
These days a wedding costs an average of around $30,000 give or take a few Chiavari chairs. Some brides have really embraced the phrase, "It's your day," or in Kim Kardashian's case, "It's your day…again" and made their wedding all about what they want no matter what it costs. Granted that only works if you have the deep pockets to pay for an expensive wedding or at least, can get someone else (such as daddy, a country, the E! Network) to pick up the tab. But can you really blame common fold who succumb to the idea of an expensive wedding when there are wedding magazines, Martha Stewart, and a billion dollar wedding industry constantly telling them that, "This is all about you." This is exactly the kind of dangerous message that so deeply drives and influences consumer behavior and subsequent spending. Here's a look at the some of the most expensive weddings in history in case you want to see what to strive for when planning your own. Most of the people on this list is either royalty, celebrities or billionaires or celebrities marrying royalty or billionaires marrying celebrities. However, if you don't have any of the above in your wedding party, never fear, that's what credit is for.
WHO HAD THE MOST EXPENSIVE WEDDING OF ALL TIME?
You got some serious dough if you can outspend real royalty. And that's exactly what billionaire tycoon Lakshmi Mittal did when he spent $78 million dollars on his daughter's wedding. The bride, Vanisha Mittal married investment banker, Amit Bhatia on November 18th, 2004 in front of 1,000 guests from around the world who received invitations in real silver boxes. Where else did all the money go? Well, it ain't cheap to rent Versailles and Vaux le Vicomte, a 16th-century French chateau, plus they had to pay pop star Kylie Minogue to sing. The event lasted for five days and top Indian chefs were flown in to prepare 100 different dishes. The wine cost $1.5 million alone and the designer gift bags were filled with jewels. Now, that's a goody bag.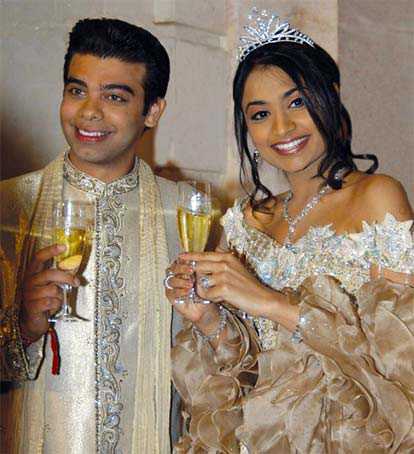 WHERE DO THE BRITISH ROYAL WEDDINGS RANK?
You can see why a British taxpayer may get a little ruffled after contributing their hard earned pounds to two expensive royal weddings. It's times like these American citizens are sooo glad for the revolution. First, Prince Charles and Lady Diana Spencer unwillingly and unwittingly married each other in 1981 at St Paul's Cathedral. The $48 million dollar wedding was witnessed in person by a church full of dignitaries and royalty and two million spectators. In addition, some 750 million people around the world got up in the middle of the night and watched it on TV. However, also as the world watched, the simulated fairy tale ended unhappily and Princess Diana subsequently died tragically. About 30 years after his parents racked up a huge wedding bill, Prince William married commoner Kate Middleton on April 29, 2011 in a $34 million dollar wedding.  Unlike his parents' wedding, the bridal party was small: Prince William's best man was his brother and Kate's sister was her only bridesmaid.  But just like her would be mother-in-law, Princess Kate instantly became a global celebrity and has taken over for Diana as one of the most photographed women in the world. This royal wedding sported 800,000 in flowers, a $80,000 wedding cake and the same list of royal and distinguished guests along with a worldwide audience of millions.
IS THERE ANYBODY WHO HAS HAD AN EXPENSIVE WEDDING TWICE?
In a word, Kardashian. In what may go down as the most expensive short-lived wedding in history, Kim Kardasian's 72-day-marriage to former NBA player Kris Humphries reportedly cost $10 million which isn't hard when the cake alone cost $20,000.  If one over the top wedding doesn't work out, have another and double the expense.  When Kim Kardashian married rapper Kanye West, the wedding celebration in Italy and France took over an entire weekend. The bride wore a custom Givenchy gown, the flowers cost $75,000 and with accommodations and transportation, the total cost of the wedding came to about $20-30 million. However, Kim's no-show brother may have saved them a few pennies.
WHAT ARE SOME OTHER EXTREMELY EXPENSIVE WEDDINGS?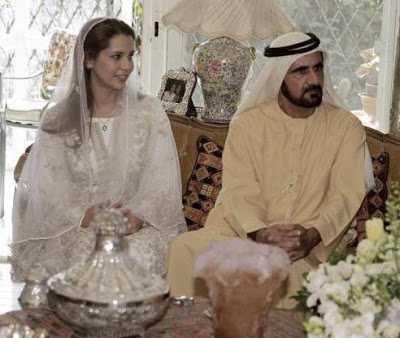 When the ruler of Dubai, Sheikh Mohammed bin Rashid Al Maktoum married Princess Salama in 1981, their $44.5 million dollar wedding extravaganza held the record for the most expensive wedding in modern times.  A stadium was built especially to hold the 20,000 guests for 7 days of celebration and fun.  After the Soviet Union collapsed, somebody got rich and that somebody was billionaire and founder of MDM Bank who married former Miss Yugoslavia, on September 3, 2005 in Cote D'Azur, France. The price tag for their nuptials was $30 million dollar with $3.6 million going to singers Christina Aguilera and Whitney Houston each to perform. Bill Clinton is a frequent name on the guest list for many high profile weddings and once again, he was invited to the wedding of New York hotel magnet Sant Singh Chatwal's son in Udaipur, India. In 2006, Vikram Chatwal married his bride, Priya Sachdey in a lavish $20 million dollar wedding. The festivities took place over 10 days in 3 cities, Mumbai, Udaipur and Delhi. Chartered jets flew 600 guests from 26 countries around to the various events. It probably took 10 days for the bride and groom just to greet everybody. In October 2015, actress, singer, and model, Angela Yeung, aka China's version Kim Kardashian reportedly spent 31 million dollars on her wedding when she married actor Huang Xiaoming. Clearly, communism is over in China.