Emily Browning: See Emily Play
If you thought the only sexy thing to come out of Australia was the kangaroo, you have certainly come to the wrong place today. Kangaroos are definitely not sexy, no matter how you slice it. However, Australia has turned out plenty of heartthrobs over the years, from Olivia Newton-John to Nicole Kidman, plus names like Naomi Watts and Kylie Minogue for good measure. Add to the list today's cutie, Emily Browning, who in a relatively short number of years has put together a rather impressive body of work in addition to having a body that seems to work impressively while nude. And we will indeed tell you how to check out some of her sexiest screen work. So toss another shrimp on the barbie and get ready to find out
WHERE CAN I SEE EMILY BROWNING NUDE?
The first real adult leading role that Emily Browning did was in 2011's "Sleeping Beauty," which in no possible way could be confused with the Disney cartoon of the same name. This odd hybrid of art film and sex fantasy polarized critics, but is chockfull of her in various states of undress. If you want to see her asleep having simulated sex with some creepy old men, this is the film for you.
Naturally, the high profile film garnered lots of reactions, but the intelligent Ms. Browning had some interesting thoughts on the film. "I mean, look: It's not a film for kids to see. It's adult content. I personally think that's because of the nudity. There's the other dark content. Maybe you don't want your children exposed to strange sexual fetishes at a young age."
"In terms of the nudity – obviously, I'm not a mother – but when I am, I feel like I'd much prefer for children to see a normal, naked human body than people getting killed. I've never understood that. I find it so strange."
"People come up to me and say, "Oh, the nudity is so intense." It wasn't the nudity that was difficult for me. It's the content and the themes. I just don't get why that's a problem. Everyone's got a body. I do understand, but that's how I feel."
DID EMILY BROWNING ALMOST HAVE SEX AND GET NAKED WITH A VAMPIRE?
There are countless Hollywood stories about people who were almost cast in roles that became iconic, and early chatter for the "Twilight" series had Emily on the radar to play the role of Bella that made Kristen Stewart a superstar. "To be honest, if I had gone on to do the film straight after 'The Uninvited,' I would not have been a good Bella. I was exhausted, and I needed to come home and hang out with my family for a little bit. And I'm hoping people realize that now. I haven't actually seen the film, but I'm sure Kristen did a billion times better job than I would've done."
DID EMILY BROWNING GET HER NAKED BODY COVERED IN HOT LAVA?
Like pretty much everyone else in 2014's "Pompeii," the end was in sight as soon as that damn volcano blew its proverbial top. She doesn't take her top off in the film unfortunately, but it's safe to say that her clothing would have gotten smoked in the process.
CAN EMILY BROWNING BE SEXY AND KICK ASS ALL IN THE SAME MOVIE?
In the underrated 2011 action/comedy/girl power epic "Sucker Punch" from director Zack Snyder, Emily was one of the crew of young sex kittens who also were total badasses. There was one scene in it that didn't make the final cut, and would have shown more of her hooking up with everyone's favorite mad man, Jon Hamm. "It was hardly a sex scene… I think that it's great for this young girl to actually take control of her own sexuality. Well, the MPAA doesn't like that. They don't think a girl should ever be in control of her own sexuality because they're from the Stone Age."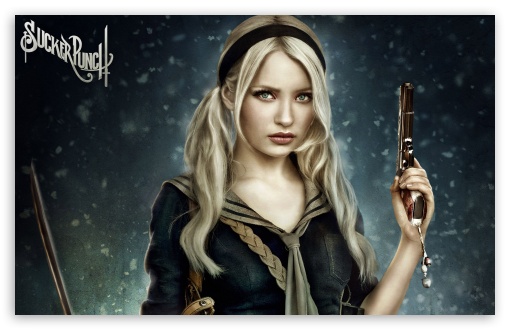 "I don't know what the f**k is going on and I will openly criticize it, happily. So essentially, they got Zack to edit the scene and make it look less like she's into it. And Zack said he edited it down to the point where it looked like he was taking advantage of her.  That's the only way he could get a PG-13 and he said, 'I don't want to send that message.' So they cut the scene!" 
WERE THERE NAKED PHOTOS OF EMILY BROWNING PUT ONLINE AS PART OF THE MASSIVE ICLOUD LEAK OF SEPTMEBER 2014?
Like literally dozens and dozens of other celebs, Emily Browning's photos were hacked and leaked as part of the notorious Fappening. In addition to the photos, there was even a brief video of her naked on the phone ordering room service. Honestly, her ordering corn flakes isn't particularly sexy but even less sexy is the fact that the Fappening itself was a series of crimes committed against tons of people. You want to see her naked? Just track down a copy of "Sleeping Beauty" and you'll be all set.