Emily Blunt: A Smoking Blunt
Oh those silly Brits. Sure they might have given us The Beatles, but they do have some weird words in their version of English. Sheesh, they act like they made up the language! For example, if someone told you they had pictures of Emily Blunt without her knickers on, you might be surprised to learn that that means she's not wearing any pants. Whatever the words in question are, we think the simple fact of bluntly seeing Emily without clothes might be plenty enticing enough to get you to take a look. She's clearly among Great Britain's most attractive exports, and her ability to tackle both comedy and drama make her among the most interesting actresses of her generation. Let's not get ahead of ourselves though, shall we? There's probably one main concern on your mind right now, and it does relate to that silly knickers word. The question of course is:
WHERE CAN I SEE EMILY BLUNT NUDE?
If you think that Emily Blunt is royally hot, it may not surprise you that she has played royalty on multiple occasions. In fact, it was as Catherine Howard, the fifth wife of legendary glutton and douchebag Henry VIII, that Emily first got naked in film. Here's a nice clip of some queenly cleavage unbared from the program. Audiences can be thankful for several elements for her work in this BBC mini-series, perhaps chief among them that she didn't play Anne Boleyn, another of Henry's doomed wives. Boleyn, so legend has it, had three breasts, so unless that's your "thing," you should likely be thankful that Ms. Blunt played a dual-boobied monarch. Helena Bonham Carter played Boleyn, and whether or not she got into character off-screen by donning an extra boob, it seems possible that Tim Burton might have appreciated the extra nipple.
THANKS FOR THAT. IS THERE A WAY I CAN SEE EMILY BLUNT NUDE AND GETTING IT ON WITH ANOTHER CHICK?
Did you say "getting it on"? Dude, time to update your language clichés, as getting it on is no longer the appropriate terminology. Let's not quibble too much, because some steamy girl on girl action with a naked Emily is indeed our next stop on the Blunt boobage bus. In 2004's "My Summer of Love," Emily offered multiple nude scenes, as well as the requested lesbian action.
Several years later, she was asked if she regretted her sexually charged scenes in the film. "No. I mean, it's kind of a drag when you know that your boobs are now all over the Internet. But I felt in really safe hands with Pawel Pawlikowski, who I do believe is one of the greatest filmmakers. I knew that the nudity wouldn't be gratuitous. I knew the emotionality wouldn't be theatrical. It was very daring. It was a very daring film. We all just had to dive in head first. And it was made clear before we started the film that it was going to be about a relationship between two girls, that it was going to require a lot of ourselves."
IS IT POSSIBLE TO RESIST SEEING MORE PICTURES OF EMILY BLUNT NAKED?
It might be possible, but it seems dumb, especially considering her work in 2006's "Irresistible." Her nude scene in the film is brief, but pretty steamy. Try to resist watching this clip.
I DO AGREE THAT EMILY IS A GREAT ACTRESS, BUT AS OF LATE, ALL I CAN THINK OF DAY AND NIGHT IS SEEING HER SIDEBOOB. CAN YOU HOOK ME UP?
You're not the only one to think she's a real talent, as she has been nominated for 4 Golden Globes (winning once) among her many critical accolades. As to the aforementioned side boob, she does offer her many fans a peek in a truly rotten movie that unfortunately brought howls from the critics. 2010's "The Wolfman" may have needed a silver bullet through the heart, but for those of you hunting down Emily's sideboob, it definitely hit the spot. Check out a brief peek here.
HOW ABOUT A LOOK AT EMILY BLUNT IN SEXY UNDERWEAR HANGING OUT WITH THAT DUMB DUDE WHO SAID SOMETHING ABOUT LIFE BEING A BOX OF CHOCOLATES?
First of all, that "dumb dude" was of course Tom Hanks, one of the most beloved movie stars to ever grace the silver screen. Second of all, we are only to happy to share a clip of the two of them together, with Emily bending over to show some major cleavage and a pretty impressive pair of panties.
HOW ABOUT EMILY STRIPPING DOWN TO BLACK BRA AND PANTIES?
We can fulfill that request as well. In 2010's "Wild Target," she is kind enough to grace the screen with precisely what you asked for. The film itself is likely best forgotten, especially if you want to avoid movies with that dweeby ginger from the Harry Potter movies who co-stars in it with her. For a glimpse of her underwear though, it is a definite winner.
DID EMILY GET HER LAST NAME FROM SMOKING LOTS OF FAT DOOBIES?
Now that's just plain silly. She was born years before the term "blunt" became a synonym for a marijuana cigarette. However, if it turns you on to think that that was how she got her name, go for it.
DOES EMILY LIKE GETTING NAKED AND TAKING ORDERS FROM PUPPETS? HOW ABOUT ORDERS FROM PIGS?
In real life, we have to assume that the answer is a definite no on both accounts. However, in 2011's "The Muppets," she did play Miss Piggy's receptionist. We can only guess that whoever was working the pig's puppet might have also enjoyed sticking their arm up Ms. Blunt's skirt even more.
[[contentId: 2890677| ]]
DID EMILY BLUNT TAKE TOM CRUISE TO A SEX CLUB?
According to a recent interview on "Jimmy Kimmel Live," the answer is yes. She told Kimmel that "It was the disgusting Matt Damon's birthday party. What a loser," she said referring to Kimmel's long standing mock feud with Damon.  "I don't know if you've heard of this club called The Box? It's kind of a burlesque sex club. There's weird things that go on and make you cringe. Tom loves Matt and Tom wanted to come. He thought it was going to be a nice, civilized dinner. So I emailed him and was like, 'Tom, change of plan. We're now gonna go to this club called The Box. Just wanted you to know, you may not be comfortable with this. It's kind of like a sex club.'"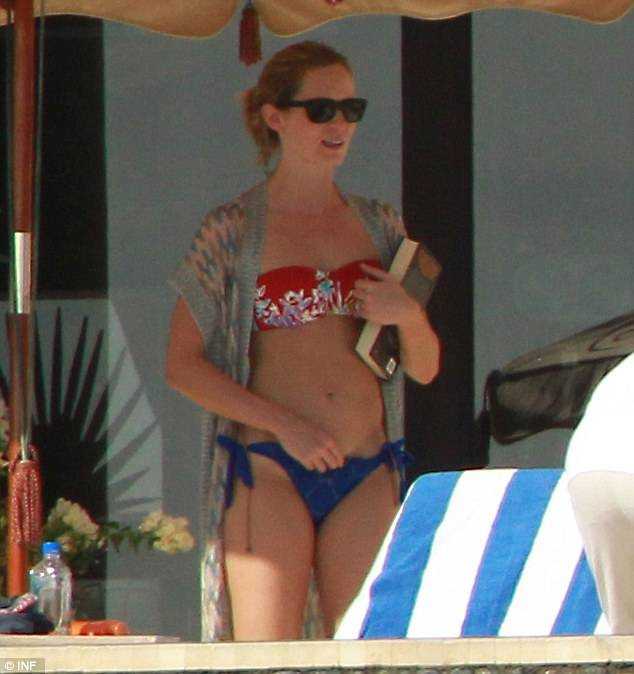 We may never know exactly what happened at the sex club, but it likely didn't involve Mr. Cruise jumping up and down on any couches.
I USED TO TOTALLY HAVE A CRUSH ON EMILY BLUNT BUT THEN I FOUND OUT SHE WAS A HOME WRECKER AND BROKE UP MY FAVORITE COUPLE OF ALL TIME, JIM AND PAM. I DON'T CARE IF SHE IS NAKED, I THINK SHE'S ROTTEN. DO YOU AGREE?
We here absolutely do not agree. It seems you have confused real life human beings with television characters, much as a recent United States President did when thinking a war was over and declaring "mission accomplished" because "MASH" was no longer on the air. John Krasinski played Jim and Jenna Fischer played Pam on "The Office," but in real life were only friends. Krasinski clearly has a lot of luck with women, as since 2010, he has been married to the gorgeous Ms. Blunt.
DO EMILY BLUNT'S BOOBS HAVE THOUGHTS?
Now that's a truly interesting and perhaps even metaphysical question. We don't have the time, resources or advanced degrees to properly answer that question though, so we can only use the person who owns those boobs as our source. To that end, Ms. Blunt had some thoughts on the matter a few months after giving birth to her first child. "I found breast-feeding to be 'the thing.' My boobs also thought I had 12 children."
She continued "I remember the morning the milk came in. It was like something out of a horror movie. It was like 3 a.m. in the morning and John woke up to me creeping towards the bathroom. He goes, 'What's wrong?' and I go, 'It hurts.' And he goes, 'What?' And I go, 'THESE!'"
"I could've been the wet nurse in medieval times. I could've fed the village while they all went to work."
HOW DIFFICULT WOULD IT BE TO BREAK UP WITH EMILY BLUNT?
It would be extremely difficult of course, especially as to break up with her, you'd have to be with her in the first place. Then again, Canadian singer Michael Buble was in that situation, with his three year relationship ending with her in 2008. He had this to say. "'What happened to me after the ex was probably the most important time of my life. When we were done I was devastated. I had to do therapy, I had to. I knew if I didn't change I'd never be happy in my own skin. It was the worst thing that ever happened to me and the greatest thing. It ended through both of us being young and naïve and making silly mistakes. I did so many things out of insecurity."