Hot and Sexy Diora Baird: Playboy and Beyond
AM I IN THE RIGHT PLACE TO SEE VIDEOS OR PHOTOS OF DIORA BAIRD NUDE?
If you'll indulge me, I'd like to answer that question with a question of my own – is there a wrong place to see videos or photos of Diora Baird? Sorry, I know what you meant – you want to know if you can see Diora Baird nude in this blog post. As a matter of fact, you can, and just to show you I'm not jerking you around I'll go ahead and skip any additional preliminaries and get to the good stuff. Here it is, and enjoy:
That video is titled Diora Baird Hot Tamale Scene, which is one of those grammatically ambiguous phrases that attorneys have nightmares about. Is this a scene that involves tamales in some way that's being described as hot? Or is it the tamale that's hot? Actually, the answer is "neither," because what you just got watching is a sex scene (featuring a naked Diora Baird, naturally) from a movie called Hot Tamale, from back in 2006. Aren't you glad I was here to clear that up for you?
IS IT TRUE THAT DIORA BAIRD HAS POSED NUDE FOR MAGAZINES?
She has! Back in August of 2005, in promotion of what is now seen as her breakthrough role in Wedding Crashers, Diora Baird posed nude for Playboy. Here's a small taste – but the rest of the photos can be found online, if you can believe that NSFW content can even be seen on the internet:
Speaking of Diora Baird's nude photo spread in Playboy, there's also a video that connects up with this period of her career. In it, Diora Baird "The Guess Model" gives an interview to some lucky guy with a camera. And when I call him lucky, I'm not being presumptuous; he says in the video description that "This could have been the best day of my life." Hopefully for Dave's sake he was exaggerating just a tiny bit, but in any case his interview with Diora Baird is probably worth watching for any fan of the actress. Here it is:
HAS DIORA BAIRD DONE ANY EXTENSIVE NUDE WORK ON THE BIG SCREEN?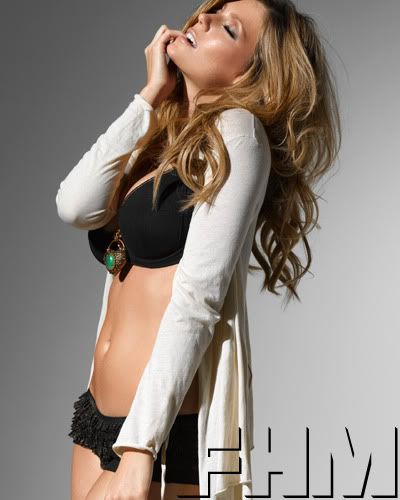 Actresses nowadays tend to shy away from nudity, particularly once they get even just a little bit famous. But Diora Baird has a more old-school approach to onscreen nudity, and as a result she's appeared nude in a surprising number of big-screen movies, even now that she's accumulated a wealth of high-profile parts. It started in 2005 with Wedding Crashes, but it's continued into at least 2012 and hopefully beyond. It even includes an infamous FHM commercial from 2010, which shows the actress and model at her nude best. Here it is:
Also, and this is just sort of a public service announcement, some have claimed that the commercial above, despite its ostensibly SFW nature, contains a nip slip at around the 0:22 mark. I'll leave it up to you to break out the magnifying glass and see for yourself if this is true, but I will wish you good luck in your quest for the truth.
Another important piece of Diora Baird's nude film work is the movie YPF, which is short for "Young People Fucking," if that gives you any idea of what kind of content you can expect from this movie. Here's a pretty awesome yet safe for work photo of her in the movie, to give you an even better idea of what kind of content you can expect from this movie:
And believe me, unlike most of the actresses written up around here, there's really no shortage of Diora Baird nude scenes – all you have to do is fire up Netflix and chances are you'll run across one. In fact, a better question might be:
ARE THERE ANY MOVIE IN WHICH DIORA BAIRD DOES NOT APPEAR NUDE?
Well, yeah. But it's funnier if I pretend that the only time this happened the scene got deleted:
DO YOU HAVE A GOOD VIDEO OF DIORA BAIRD NUDE OR ALMOST NUDE FOR A BLOG POST CLOSER?
I've had some time to think about this subject, and I think the best way to close a blog post like this one is with a video that sums up everything that came before, and yet leaves the audience wanting more (this also rhymes but whatever, it was an accident). As it happens we do have a good video (it's more of a slide show, really) like this involving Diora Baird so kick back and enjoy!