Diane Lane: Superman's Soaring Mom
If your kid comes up to you begging to a be an actor, remember that by saying yes you're letting them into a proverbial crap shoot as to what their lives will be like. We all know the casualties, dead ends, horror stories and weird events that can happen, but there are a precious few who seem to make it out relatively sane, sound and successful. The gorgeous and talented Diane Lane seems to fit in the latter category, and we have uncovered several of her most steamy nude scenes for you within this article. This Lane is a street you won't mind getting lost on, an alley you won't mind meandering down and a thoroughfare that has plenty of highlights to entertain you. So buckle up your seatbelts as we drive down this lane of Diane's on our journey to discover
WHERE CAN I SEE DIANE LANE NUDE?
Diane Lane has been kind enough to grace the screen several times with some nice flashes of her full breasts, the first time being in 1987's "The Big Town." She not only offers a pretty steamy strip tease, clearly staying in character as she is playing a stripper, but then has simulated sex with Matt Dillon.
To see her show a bit more flesh, you'll have to click here. 
Her next big nude scene was in 1987's "Lady Beware," proving once and for all that 1987 was a fantastic year to check out Diane's terrific rack. It's loaded with nudity, and was filmed during the period between when she was a teen star and when she was finally taken seriously as an adult actress. That period was categorized by her appearing in a lot of bad movies, with this definitely among them. So, beware of actually seeing the movie, but enjoy this sexy clip.
Another key visit on our stop through the land of Lane is in 1990's "Descending Angel." Like most of her films from this period, this one is far from angelic and the descent isn't worth the trouble. Watching clips like this from it are definitely worth your time though.
CAN YOU PUT A PRICE VALUE ON SEEING DIANE LANE NUDE?
To paraphrase her 1988 film "Priceless Beauty," the answer is clearly no, as she is indeed priceless. This film though is among her ones better left forgotten, except of course for her nude scenes.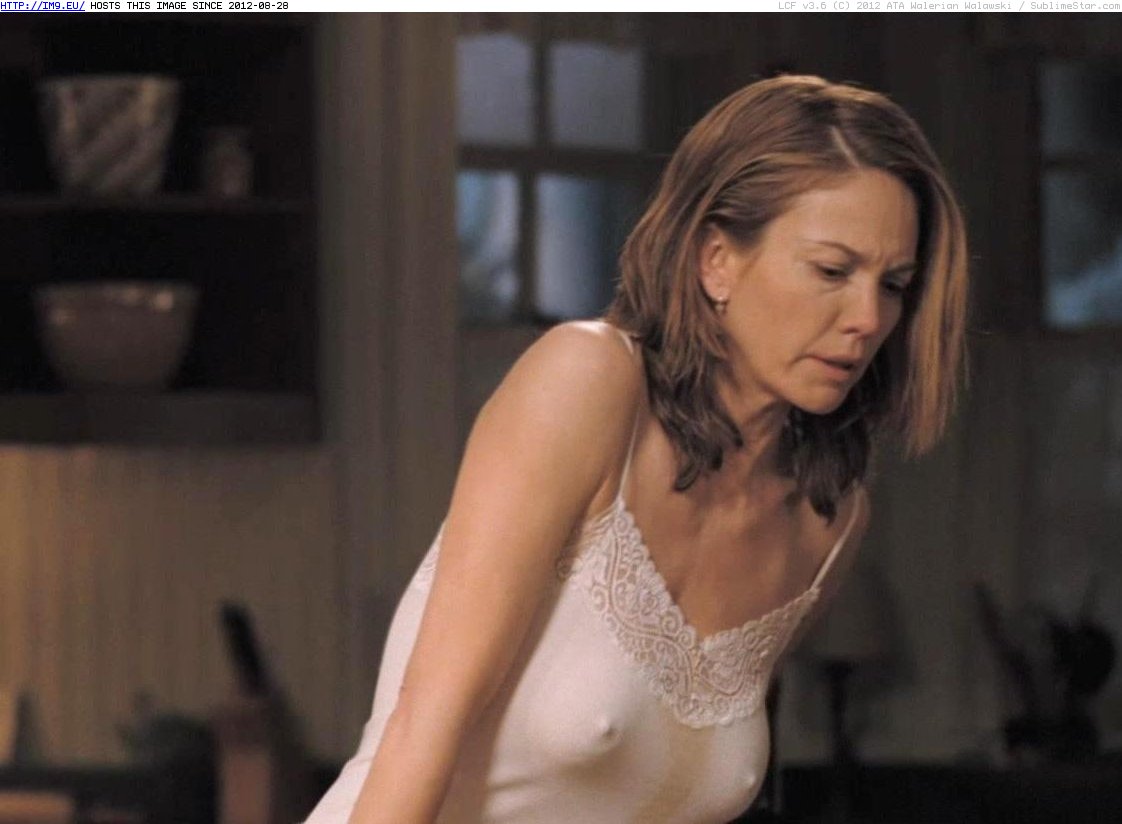 One person who did get even more value out of seeing her nude than the rest of us was one-time husband Christopher Lambert, who starred with her in another mediocre film from that era, 1992's "Knight Moves." As this clip proves, they clearly had on-screen chemistry as well as off-screen. Again, count on us to rescue you and save your precious time by letting you skip the dud flick and jump right to the good stuff.
WOULD IT TAKE A LOT OF FAITH TO SEE DIANE LANE NUDE?
That's not an answer we can properly give you, but it does of course bring up her arguably most famous nude scene. In 2002's "Unfaithful," Diane Lane emerged from becoming just another working actress to jump back into the ranks of the A-list, in a role that earned her nominations for Oscar, Golden Globe, SAG and many other top prizes. She is terrific in the film, and often naked and grinding, as in this steamy clip.  You probably will appreciate this this one too.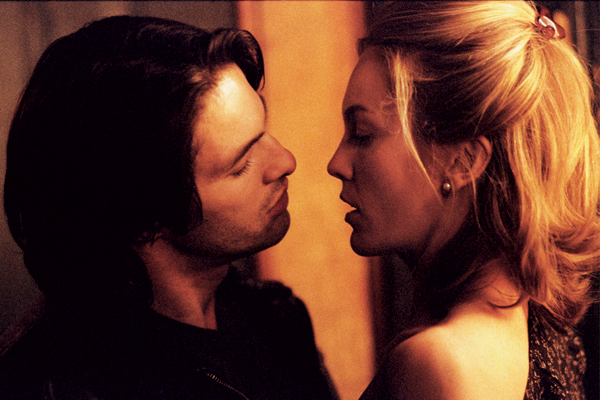 Was it difficult to shoot so many intimate scenes? She says it was. "Difficult? Oh my God, yes. You see, Adrian's [director Adrian Lyne] a yeller. Stuff like, "That's it! Great! Go! Go! Do it again!"
"I had to ask him to stop. His other trick was to shoot a whole magazine of film, so one take was as long as five takes. By the end, you're physically and emotionally shattered' It took a lot out of me – it was like having a baby."
She didn't mind discussing the film though. "It's all part of the job. And believe me, talking about it is easier than doing it!"
Many films are accused of using nudity just to drive box office, but Diane has her own thoughts on how it was used in the film. "I think in this story it's so necessary.  There is no way of telling or making a sexy movie without sex in it, without it being sexy or whatever; it's part of the context of what it's about: sexual infidelity and its repercussions."
Of course, not all of the steam on-screen could be expressed in the script. "The sex scenes weren't visited upon with descriptive dialogue in the screenplay, but I did know Adrian Lynne was going to be filming it, so I could fill in the blanks. It felt like a dare to say yes to this job. So I said to Adrian, "You want me to trust you a hundred percent? Okay. I'll film everything for you, but if I'm not comfortable with it when you show it to me, then I have the right to say no." He never showed me anything that was gratuitous."
WHAT'S THE OLD EXPRESSING ABOUT AN APPLE AND A TREE, AND HOW DOES IT RELATE TO DIANE LANE NUDE?
The phrase goes "an apple doesn't fall far from the tree," and whether or not it is a truism, Diane Lane's mom, Colleen Farrington, was rather gorgeous herself. In fact, she was a Playboy centerfold in 1957. "To this day my mother is judged for doing that. It pigeonholed her. And back then, they didn't even show nipples! They show more on the covers now than my mother showed in the centerfold."
Well, the centerfold might not have shown her nipples, but the pictures inside certainly did. Feel free to go enjoy them here.
WHAT ABOUT HER OWN DAUGHTERS? HOW WELL CAN THEY HANDLE THEIR MOM'S SEXY SIDE?
How is Diane dealing with her teenage daughter becoming a woman? She said it's "Humbling. Poignant. Challenging. Frustrating. Sometimes I think opposable thumbs were invented so teenage girls could use text messaging. And now boys are coming into the picture. I'll get questions on that that just knock my socks off. I'll pretend to be cool about it………. but, hey, bring it on! I can answer that question about sex and try not to sound insane!  These are girls, you must remember, who are growing up watching Gossip Girl and movies like Sex and the City. My daughter saw Sex and the City and said, "Mom, don't go. You can't handle the sex.""
DOES DIANE LANE HAVE SEX WITH LOTS OF SUPERHEROS?
Here's where it gets tricky. In 2006's "Hollywoodland" she slept with Ben Affleck, who was playing the actor who played Superman on TV, George Reeves. In 2013, she played Clark Kent's mother in "Man of Steel." Affleck is now Batman in the upcoming "Batman vs. Superman" movie, with Diane also appearing in that one. The fact that her last name is the same as that of Lois Lane is only a coincidence (we think).
With us so far? Ok. Until recently, she was married to Josh Brolin, who played Thanos in "Guardians of the Galaxy." Brolin also played George W. Bush in "W", and though he wasn't a superhero in that one, it took super human intelligence to make one of the dumbest men to become President seem like a real human being. No wonder he got to have sex with Diane Lane.
WHAT WAS THE STORY ABOUT DIANE LANE AND BON JOVI?
In the 80's, Diane Lane was known as a party girl, and dated Jon Bon Jovi. According to a tell-all book from Bon Jovi's tour manager Rich Bozzett, he dumped her because of her increasing closeness to guitar player Richie Zambora. Did she give love a bad name? Was she wanted, dead or alive? Was she living on a prayer? If she was a cowboy, what kind of horse would she ride? The book might not have answered all those questions, but it shed some insight into the affair.
Bozzett wrote that "The very thing that made Jon feel so passionate toward Diane Lane in the first place ended up being the reason for their sudden, unceremonious breakup. Diane was young and wild and loved to party. But she loved to party so much that Jon caught her partying with Richie Sambora. That wasn't a good day for Jon's relationship with Diane, to say nothing of Jon-Richie relations."
When Diane was asked for her side of the story, she responded by saying "My publicist said I could use a little edge, so I'll let others be quotable." She also mentioned it was "a quarter of a century ago, so I'm a little fuzzy."
"Some people will just try and sell a book, and I can't blame them. They can make up what they like. What was that line from the Cars' song, 'Let the Good Times Roll'? 'Let them say what they want, baby!'"