Darth Vader and 4 Other Star Wars Inspired Criminals
Image Source: First Coast News
During a robbery attempt in Jacksonville Beach, Florida, a would be robber was stopped when he was hit by a jar of salad dressing.
The criminal was dressed in a Darth Vader costume.
The Star Wars enthusiast used a silver pistol to hold up the 8 Til Late convenience store. The clerk then struggled with the man — identified as Jacob Jeremy Mercer – before throwing a jar of blue cheese salad dressing at him (some reports say it was ranch dressing, but blue cheese seems to be the sexy choice).
The jar smacked Mercer in his Darth Vader helmet, causing him to run out of the store. While attempting his getaway, he took off his helmet so he could drive and allowed several people in the lot to see him.
Cops traced the vehicle and quickly arrested Mercer after witnesses ID'd him – and he had a nice cut on his face from the salad dressing. That must have been the crappiest helmet ever made.
Image Source: KTLA
He was also found to have several other guns in his backpack and was charged with armed robbery.
One might think it'd be bizarre for someone to dress as the Sith Lord to commit a crime, but it's happened before. And it's not the only Star Wars character to be arrested either.
Here's a look at four other felons from a galaxy far, far away:
Darth Vader: Bank Robbery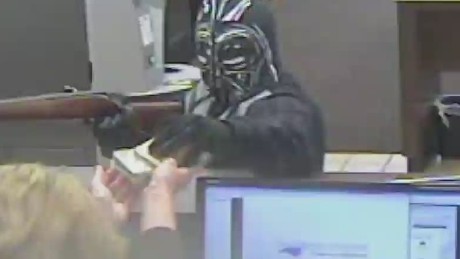 Image Source: CNN
Earlier this year, a man dressed as Vader robbed a Pikeville, NC bank using a rifle instead of the usual subtle handgun method. He was arrested months later.
Chewbacca: Election Mischief
Even Chewbacca has been arrested. During this year's Ukraine elections, a man was arrested while driving another man dressed as Darth Vader to the polls and campaigning for him… as he himself was dressed as Chewbacca.
He was nailed for illegal campaigning and not having a proper ID.
Darth Vader: Drunken Assault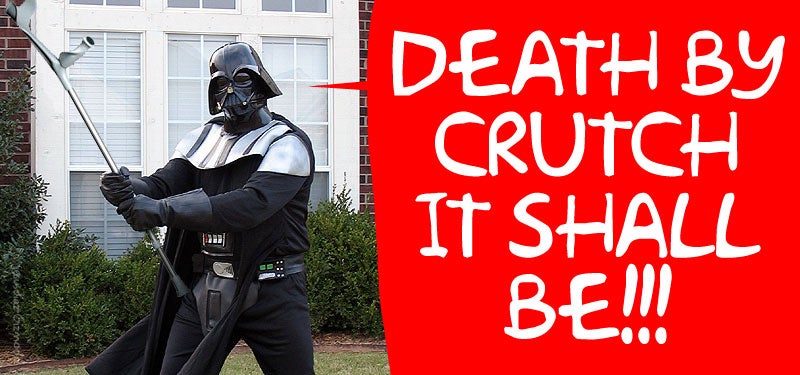 Image Source: Gizmodo
It was Wales in 2008 and the local Church of the Jediism was having a meeting where they basically just fake fight with fake light sabers. A man reportedly drank "the better part of a box of wine", then entered the church and attacked the Jedis with a metal crutch — while dressed as Darth Vader.
Storm Trooper: Loitering
Earlier this year, a man in Boston was taken to the slammer for wearing a full Storm Trooper outfit and hanging out in front of an elementary school. He was surprised he was arrested. The police should have known the gun was not real, right?
Source: UPI