Danielle Fishel: Girl Meets World
Giving Kelly Kapowski aka Tiffani Thiessen, another sweet 90's female teen heartthrob a run for her money, Topanga Lawrence aka Danielle Fishel has evolved from every teenage boy's fantasy of the nice but hot girl next door to now just the woman you wish was next door.  Danielle Fishel's Topanga character from the iconic teen show Boy Meets World was named after a street sign that the executive producer saw when forced to come up with a name.  The show was a part of the famous ABC TGIF Night line up of shows that almost every tween growing up in the U.S. watched on Friday nights because, well, what else could a pre-teen do on Friday nights in the 90's?  Along with her castmates, Danielle grew up right before our very eyes and has evolved from the cute spunky teen we remember to a voluptuous woman in all the right places,  With her big eyes and full lips, Danielle probably was a first of many sorts for a whole generation of adolescent males whose thoughts about seeing her nude got them through many a Friday night.  And if those fantasies aren't enough to get you going, Danielle once said that even though she's never met Tiffani Thiessen, "Kelly Kapowski was my first-ever girl crush. I re­member watching her and thinking, nobody in the world could possibly be as beautiful as she is. She's still stunning." How'd you like to be the meat in that sandwich?
Definitely grown up now
WHERE CAN I SEE DANIELLE FISHEL NUDE?
Even though Topanga aka Danielle is now all grown up, perhaps the ghost of Mr. Feeny still hovers around since Danielle has never done nudity.  However, she is quite buxom and not afraid to show how much parts of her have grown.  Danielle did an interview and lingerie photo spread for the April 2013 issue of Maxim and appears on the cover.  She tells Maxim that what initially attracted to her husband was the Mortal Kombat tattoo on his calf and that she herself has two tattoos, "one on the back of my neck, and a tramp stamp."  The tattoos don't show up in the Maxim photos but her full breasts make several appearances albeit encased in lacy clothing.
Behind the Scenes at the Photo Shoot
Danielle definitely has a curvy, mature woman's body and at times, she's battled with her weight. She became a spokeswoman for Nutrisystem in 2006 after she talked about being an all time heavy 140 pounds and using Nutrisystem to lose 27 pounds on the Tyra Banks Show. But by 2010, some of the weight came back and Danielle realized that it was impossible to maintain such a huge weight loss.  She admitted that when she was on Boy Meets World, she was starving herself to be thin, "I was terrified to eat," she said.  When she was 16 years old, Danielle weighed only 89 lbs. and after fainting on the set, she said, "I realized this was not a game."  Today, Danielle says she is finally happy with her body and is "I'm as healthy as I've ever been.  She adds, "I've learned to be comfortable in my own skin."  See her show some skin here.
WHO IS DANIELLE FISHEL?
Danielle Christine Fishel was born on May 5, 1981 in Mesa, Arizona and her parents are Jennifer and Rick Fishel.  She has a younger brother, Christopher and when Danielle was 3 years old, the family moved to Yorba Linda, California where she grew up.  Danielle started acting as a child and she was 10 years old, she did community theater in plays like The Wizard of Oz and Peter Pan.  She then started to appear in commercials and was a Barbie Girl for Mattel.  Her acting career began when she guest starred on the sitcoms, Full House and Harry and the Hendersons.  Danielle's big break came in 1993 when she was 12 years old and cast as Topanga Lawrence on the ABC series, Boy Meets World which followed the life of Cory Matthews (Ben Savage) and his friends from elementary school to adulthood.  Topanga is a spunky, smart girl wise beyond her years and is Cory's childhood friend and sweetheart, eventually becoming his wife. 
Danielle also was first cast as only a guest on the pilot but was then asked to read for the role of Topanga when the original actress wasn't working out.  She won the part which at first was only small but became recurring.  The show made Danielle a teen favorite and GQ named her one of the hottest stars to watch in their 1997 October issue.  She made the December 1998 cover of Seventeen and also won the 1998 Young Star for Best Performance by a Young Actress in a Comedy TV Series.  She's also been nominated several times for a Young Artist Award for Best Performance by a Young Actress in a TV Comedy Series.  Teen People named her one of "The 21 Hottest Stars Under 21" in June 1999.  Danielle also graduated from Calabasas High School in 1999.  Boy Meets World ran for 7 years on ABC and the series ended in 2000.
WHERE ELSE HAVE I SEEN DANIELLE FISHEL?
After the show ended, Danielle appeared in various film projects such as Longshot (2001), a teen movie about boy bands, the comedy, National Lampoon's Dorm Daze (2003) and a thriller, Gamebox 1.0 (2004) in which she played two roles.  In 2006, Danielle reprised her role as Marla in the sequel, National Lampoon's Dorm Daze 2.  She also continued to do TV projects and was in the TV movie, Rocket's Red Glare (2000) in addition to guest starring in several TV shows such as Nikki (2001) and the children's anthology horror series, The Nightmare Room (2002).  She also voiced the lead female character in The Chosen One, an independent animated comedy and appeared in the music video for "Until You Loved Me" by Canadian music group The Moffatts. 
Danielle talks about life after the series ended:
Perhaps as part of her own personal growing pains, in December, 2007, Danielle had a little situation when she was arrested for drunk driving in Newport Beach after police stopped her car.  She was released from jail soon after her arrest.   In 2013, Danielle starred in her most serious role, Boiling Pot, a controversial drama about the events of racism that happened on college campuses during the 2008 Presidential election. Co-starring with Academy Award-winner Louis Gossett Jr., she played a college student, unaware and naive about the existence and effects of racism.  When the student gets engaged to a non-white man, she has to fight for acceptance from her parents.  Danielle also was in the short film, Clapping For All the Wrong Reasons for Childish Gambino's new album, Because the Internet  (2013).  Danielle also worked as a TV host and in 2003, she co-hosted a MTV show, Say What? Karaoke.  She hosted The Dish for the Style Network from 2008 to 2011 and became the host of MSN TV's Last Night on TV in 2012.  She also is a reporter for PopSugar and PopSugar Girls Guide, their channel on YouTube.  In 2014, 14 years later after the original show ended, Danielle resurrected Topanga and now plays her as the mother to two kids, a son and 13-year-old daughter, Riley (Rowan Blanchard) in the Disney Channel spin-off show, Girl Meets World which premiered on June 27, 2014.  This time the show focuses on Riley as she navigates pre-teen life. The rest of the cast includes other familiar faces such as Ben Savage as Cory and now father to two kids. 
When asked how she felt playing an adult now Danielle said, "Cory and Topanga have obviously matured. If you look back at some of the old episodes and envisioned what they would look like as parents, I don't think people are going to be shocked by what they find."  Danielle also commented on how this show is different from the original, "The world is completely different now than it was in the '90s, so we've had to adjust our storylines and what kids are really dealing with."  Danielle had never expected to play Topanga again, ""I had gotten used to my quiet little life in Orange County and now everything is so out there," she said.  When she was 27, she started college at California State University, Fullerton and graduated with a degree in psychology in 2013. During college, Danielle tutored math and met fellow student, Tim Belusko. After several years of dating, the couple got married on October 19, 2013 in Los Angeles.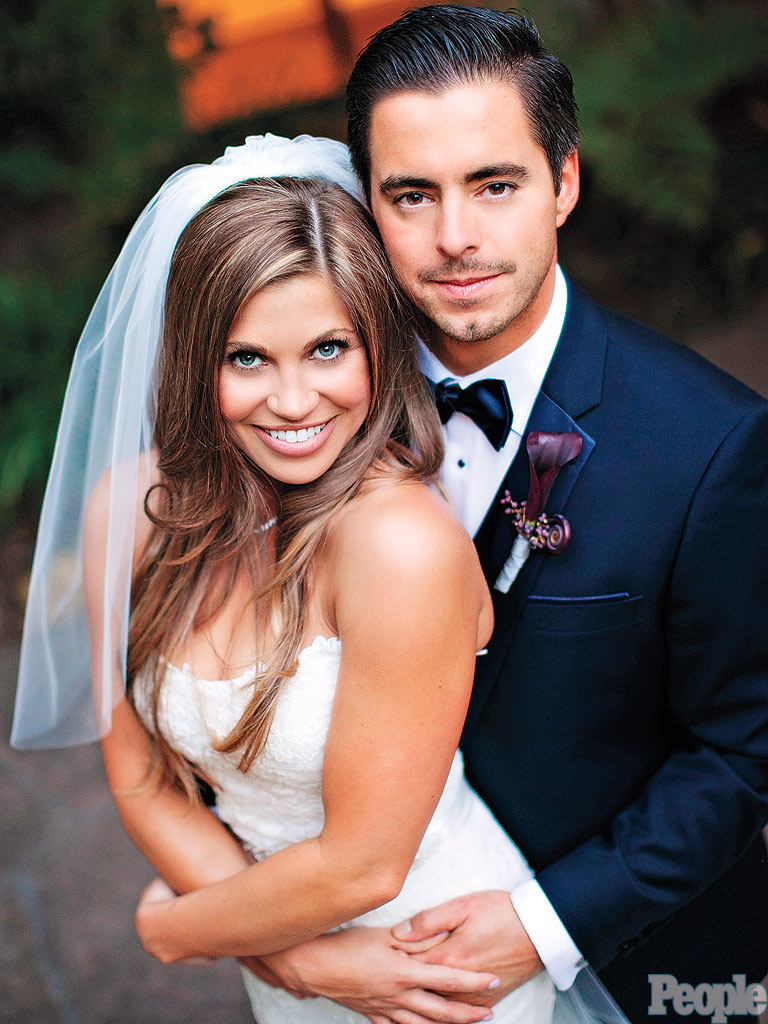 WHO HAS SEEN DANIELLE FISHEL NUDE?
Now that Danielle is married, it's safe to say that we know for sure at least one guy has seen her nude. And it's also safe to say we know there are at least two guys who didn't.  One of them is her co-star Ben Savage even though rumors abound that the two were an item.  Danielle admits that it was probably she herself who might have started the rumor when she told Tyra Banks that she and Ben went on a date when they were 15 years old but "by the time the dinner was over we realized mutually that we were more like family than lovers."
Another not for sure thing is former NSYNC band member Lance Bass who revealed he was gay in 2006.  Danielle and Lance dated from 1999-2000 after meeting at an ABC party.  She even took him to her high school prom. 
Danielle said the two are very good friends and she said when she found out that he came out of the closet, her reaction was "all right, cool. I'm happy for you. I'm happy that you were able to come to this realization." Danielle said she never suspected Lance was gay because at the time she was 17 years old and naïve.  She told OK Magazine that, "We never had sex or anything. I was a virgin all through my relationship with Lance.  It was more like a kissing, high school-style relationship."  Although apparently they had plenty of opportunities.  Danielle revealed, "The funny part about it is that we traveled a lot together, so we were staying in hotel rooms together.  So we spent a lot of time together where that stuff could've happened, but it never really did."  She said she found out that Lance was gay after they broke up and shared that she "wished he had felt more comfortable at that time to be honest with me then but I respect his decision and the way he handled everything. He was nothing but a great boyfriend and an incredible gentleman."