There are some celebrities who just seem like they should have a sex tape and bad boy actor Colin Farrell is one of them.  Well, he doesn't disappoint since Colin did make a sex tape in 2003 with his former girlfriend, Playboy Playmate and model Nicole Narain. The two met in Los Angeles where Colin was shooting a film.  The sex tape was leaked to the public in 2005 and there was so much buzz at the time of the leak that the video itself spawned  a couple of its own websites.  Colin sued Nicole claiming she released it to make money but she denied leaking the tape said she didn't know how the tape got out.  They wound up settling out of court. Colin appeared on BBC talk show host Jonathan Ross's show when asked about the tape he said, "At the end of the deposition…the man in charge said, 'I hope you've learned your lesson, Mr. Farrell,' and I said, 'Absolutely, next time I'll take the tape with me.'"  He added, "It seemed like a good idea at the time" and, "I think I was high."
WHO IS NICOLE NARAIN?
Nicole Narain is an American model who was chosen as a Playboy Playmate in January 2002.  She has also been in several music videos including  LL Cool J's "Luv You Better," Mario Winan's "Don't Wanna Know" and R.L. Stine's "Got Me a Model."
Her parents are from Guyana, South America and she is of mixed heritage. Her mother is black and her father is of half Asian East Indian descent and half Chinese. After the sex tape leaked, Nicole went on the show, "Sex Rehab with Dr. Drew" and said she was a sex addict.  It was revealed she was was molested as a child and raped in her teens.  Nicole talked about her fear of letting people close to her and her issues with abandonment.  She said after the infamous sex tape, she went into a downward spiral and turned to drugs and alcohol.  Then in an interview with Joy Behar, Nicole claimed that one day she couldn't get out of bed or eat because she felt the need to masturbate constantly.  She said sex was her food and masturbating so much was "exhausting."  Nicole said she is doing better although she admits, "I'm still human – don't get me wrong. We all have to clean the pipes once in awhile."
Nicole interviewed on "The Joy Behar Show":
WHAT WAS COLIN FARRELL SEX TAPE LAWSUIT ABOUT?
Colin has called the sex tape "an expensive 14 minutes," alluding to his 2005 lawsuit filed in Los Angeles Superior Court against Nicole Narain, David Hans Schmidt and the Internet Commerce Group (ICG) prohibiting them from releasing the sex tape to the public. In the suit, Colin said that the tape was "strictly private and confidential" and that the release of the video would cause irreparable damage to his reputation and career.  Colin also stated he would vigorously prosecute anybody that published the tape.  Court papers said Colin's representatives was contacted by David Hans Schmidt saying he was authorized to sell the tape and claimed to represent Nicole.  Schmidt reportedly offered Colin $5 million dollars for the right to distribute the tape which he turned down.  Colin's lawsuit said about him "Defendants' outrageous attempt to capitalize on the celebrity of plaintiff Colin Farrell…through their unauthorized commercial exploitation of the highly private and confidential videotape exceeds all bounds of common human decency."  The actor asked for general and compensatory damages in addition to a temporary restraining order and injunction prohibiting the sale and exploitation of the videotape.  In response, Nicole denied selling a copy to the adult entertainment publishers or attemped to publish the video herself.  Ultimately, the two parties settled out of court.
.
WHAT WAS THE REACTION TO THE COLIN FARRELL SEX TAPE?
The general consensus among media writers who have seen the tape is that it's not all that sexy.  Whereas it's interesting for women and gay men to watch Colin have sex, there's not much appeal for heterosexual males.  Colin himself has been honest and forthcoming in interviews regarding the sex tape saying it took place during a period of his life when he was doing drugs and abusing alcohol.  He's also admitted that it wasn't one of his proudest moments but what terrified him the most was that his mother might see it. "The whole thing was horrifying," he said, "I was deposed for four hours explaining why I didn't want it to be released. God forbid, it's an on-demand movie in a hotel room  and my mother says, 'Oh, I haven't seen this work of my son's,' and hits purchase."  He went on to joke, "God forbid, she'd tell me something like, 'Oh you remind me of your father at certain angles.'"
In recent interviews, Colin revealed that the sex tape and the desire to be a good father to his son, James Padraig Farrell whom he had in 2003 with American model Kim Bordenave is what prompted him to go into rehab in 2005.  Colin has a second son Henry Tadeusz Farrell, born  in 2009 to his "Ondine" co-star Alicja Bachleda-Curus.  He talked about how sobriety affected his sex life.   "I made love to a woman about two and half years after I got clean, and it was one of the most terrifying moments of my life," he revealed.   "It was lovely. But it was terrifying. Because I was just used to drunkenness and dark rooms and clubs and toilets and wherever." He added, "I worried I wouldn't be able to talk, full stop. I hadn't uttered a word sober in about 15 years."
Colin and his son, James Padraig Farrell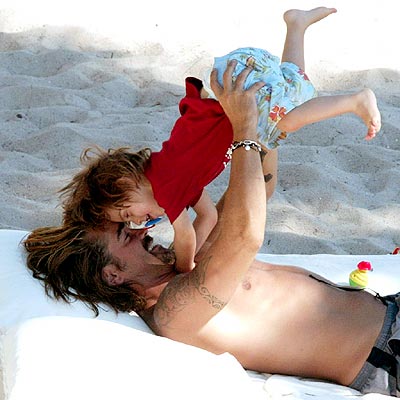 And as for Nicole, the self-confessed sex addict hasn't been in the public's eye much since her stinct on "Sex Rehab."  Maybe time to make another tape?
Nicole on Dr. Drew's "Sex Rehab" 
WHAT IS ON THE COLIN FARRELL SEX TAPE?
The 14-minute video takes place in a simply decorated apartment, not something we would imagine a famous actor to inhabit so perhaps it was Nicole's place.  The footage is somewhat grainy and definitely not shot in HD.  In interviews, Colin said they used a video camera.  He's completely shaved bald and has a goatee and looks like a Neo-Nazi or a prison felon.  It's because the tape was made during the shooting of the Marvel Comics film, "Daredevil" in which Colin played Bullseye, a villain who has a bullseye target tattooed on his forehead.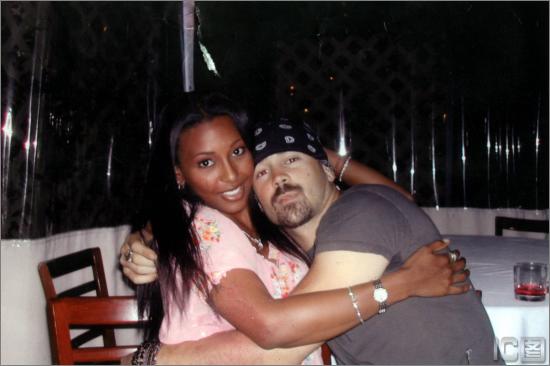 The video starts with full frontal nudity of Nicole who goes over to Colin and gives him oral sex with her pierced tongue.  There has been talk in the media about how well endowed Colin is which he has demonstrated in various nude scenes in his movies.  In the sex tape, it seems the talk is true.  The video takes a non-sexy turn when Nicole constantly stops and complains about getting pubic hair caught in her teeth. 
Throughout the video, like a gentleman, Colin tells Nicole, "You are so f-ing beautiful."  
As a fluffy white cat disdainfully observes them, a camera-wielding Colin focuses in on the kitty and comments, "Baby, you have the most beautiful p—y."  Colin and Nicole have unprotected sex which is interesting considering Colin has a reputation for promiscuity, dating among many others, Carmen Electra, Elle MacPherson, Britney Spears, Demi Moore and Angelina Jolie.   As the couple changs positions, you see Nicole's horseshoe tramp stamp.  Finally, it's Colin's turn to reciprocate and there's a highly comedic moment when Colin looks at Nicole's crotch and and says, "Breakfast, lunch, and f*cking dinner."  Nicole indicates that she's enjoying herself, they once again change positions and the video ends.  
See for yourself here.