Cobie Smulders: How I Met Your Sexy Mother
When you think of the word "Cobie" you might well be imagining a type of fancy beef or a basketball player, each of which are spelled "Kobe." If you're thinking of a sexy brunette though (not counting if you think the Lakers' star is sexy, or if you're attracted to nicely marbled cuts of Japanese beef), all roads lead to the gorgeous Cobie Smulders. She is best known for her nine year stint on CBS' blockbuster hit "How I Met Your Mother," and for her many fans a chance to meet Cobie is something that dreams are made of.  After all, she's gorgeous, funny, brainy enough to be want to be a marine biologist, and a seemingly down to earth star. Therefore, there are many parts of her one might want to meet. If perchance the parts you'd like to meet are her unclothed parts, you have come to the right place. For today's quest into celebrity sexuality, we'll be turning our eye towards a question that has kept many a fan up late at night. The question today is:
WHERE CAN I SEE COBIE SMULDERS NUDE?
Cobie's most revealing nude scene was filmed shortly before she was to become better known for her work on "How I Met Your Mother," and is the only real chance she's given fans a chance to see how they can meet Cobie's boobs. In 2005's "The Long Weekend," she shares the bed with an actor for a love scene and flashes a quick nipple in the process. The film itself is likely best forgotten, but the smoldering Smulders is worth a peek.
How About Some Cobie Smulders Side Boob? How Can I Meet Some of That?
Well, you can't exactly meet it but you can enjoy this clip from the TV series "Tru Calling," which has Cobie sitting up in bed showing her bare back and a lovely glimpse of the aforementioned side boob. The show starred Eliza Dushko, certainly no stranger to being a total hottie herself, and while it wasn't exactly the greatest show in television history, it might be worth your while if in need of watching a drama with hot girls and Zach Galifianakis.
How About a Shot of Cobie in the Shower?
We'd be happy to oblige. This image is from "How I Met Your Mother," and you can be sure that whatever is happening below the edge of the frame is even more exciting.
Is it True that Cobie Was On that Sizzling Lesbian Series "The L Word"? If So, There Must Be Some Awesome Girl On Girl Stuff With Her On that, Right?
While it is true she did appear on several episodes of "The L Word," she didn't really do any graphic scenes. Pretty much almost all of the other women on the show did, and this montage of lesbian kisses from the show might have to serve your interests for the time being.
If you do really want to see her kiss a woman, and you likely do if you've read this far, here's a shot of her kissing co-star Alyson Hannigan on "How I Met Your Mother."
The kiss proved so popular that James Lipton got them to reenact it on "Inside The Actor's Studio."
What Are Some of the Other Sexy Things Cobie Did On "How I Met Your Mother?"
Does the thought of her wearing some sexy lingerie hold any appeal to you? If so, you'll certainly appreciate this clip.
There's a good chance you'll appreciate this skin tight black leather outfit from the show as well. Unless you don't wear or appreciate leather, in which case you are free to imagine her wearing nothing. We are nice that way.
We aren't gamblers by nature, but if we were, there's little doubt we'd bet you will appreciate this clip of her in black lingerie. Yowsa!
I THINK COBIE SMULDERS IS MARVELOUS. AM I RIGHT?
Well of course you are. She's so marvelous in fact that she has on a few occasions played a character in the Marvel Universe known as Maria Hill who works with S.H.I.E.L.D., putting her smack dab in "The Avengers" world. This compilation shows some of her work as a bad ass and while it might not be as funny as her former TV series, it does have a lot more of Samuel L. Jackson and his eye patch in it.
ANY OTHER COMIC BOOK BAD ASSES COBIE COULD PLAY?
None other than Joss Wheedon, her director in "The Avengers," considered her to star as Wonder Woman in a film of that name that never came to pass. The idea still came to fruition though, as Cobie voiced the role of Wonder Woman in "The Lego Movie." So, if somehow you find yourself attracted to a blocky shaped piece of plastic, you might not be crazy after all.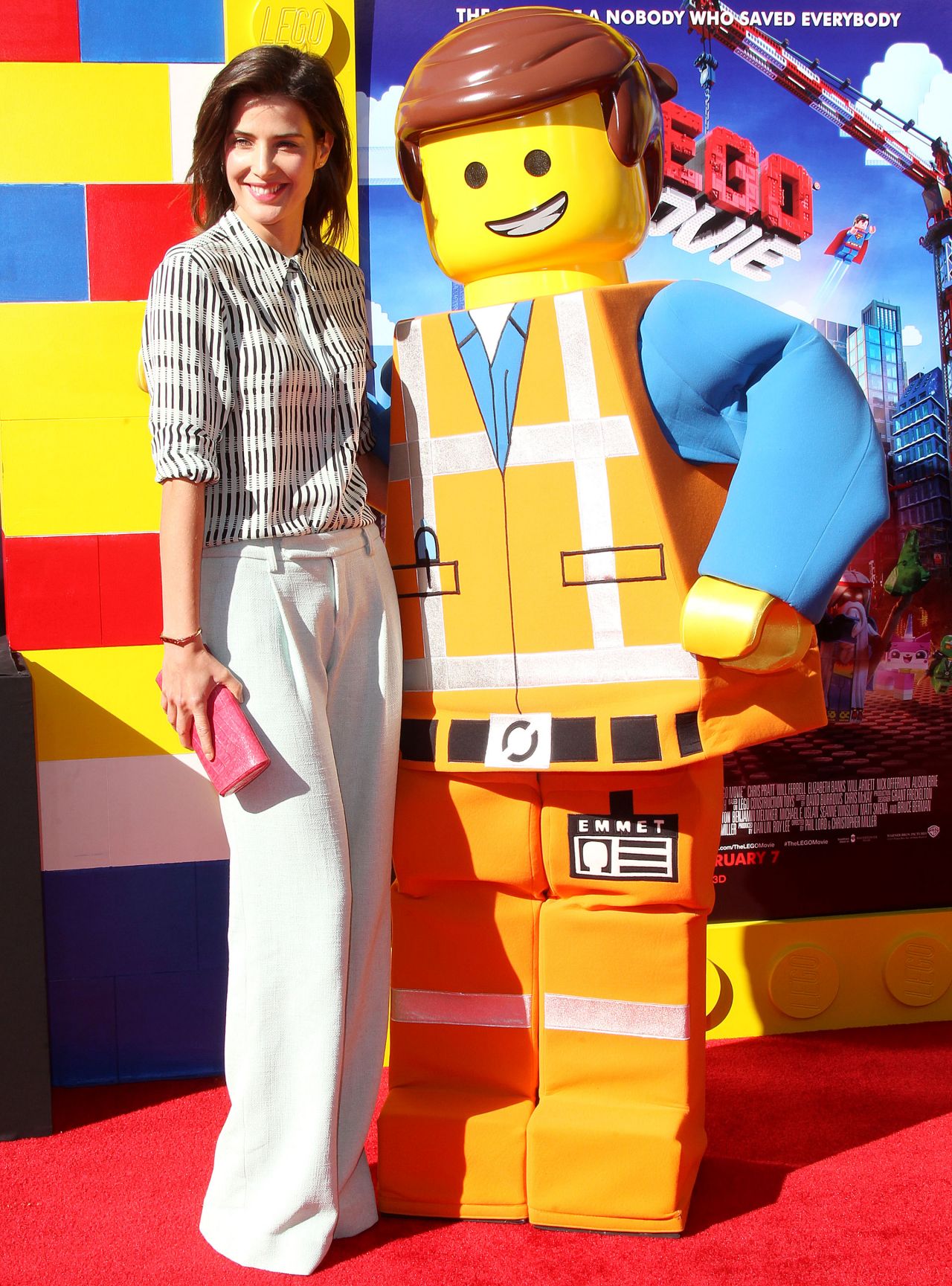 Here she discusses what it was like to bring the iconic character to life in the Lego world.
Who Would Cobie Rather See Naked – Her Co-Star Who Later Played a Transvestite Or Her Co-star Who Wrote a Movie With Muppets?
She famously had some great scenes opposite both Neil Patrick Harris, who later rocked Broadway as German transvestite and would-be rock star Hedwig in "Hedwig and the Angry Inch," and Jason Segal, who helped bring The Muppets back to prominence. Here's her response to which she'd rather see in the buff. "I've already seen them both naked, but they're like my brothers, so I'd rather not see either of them naked."
Does Cobie Smulders Have a Dirty Mind?
We may not get to know the precise answer, but she certainly can and does have a wild imagination. She said that "I can be sort of filthy on the show, like in-between shooting. We sort of have a running a joke, and sometimes I take it a little too far with the…dirty sort of sexual acts we talk about. Josh [Radnor] is always shocked by what I can come up with."
Does Cobie Like Funny Men in Real Life Too?
It certainly seems that way, as she has been married to Taran Killam of "Saturday Night Live" since 2012. She had this to say about dating in her early 20's and what advice she would give to other young women. "In my early twenties, I had no idea who I was. And I think that's one reason you should try different relationships. I've had good and bad ones, but I took away things from them that helped me become who I am."
She met Killam about a week before she shot the pilot for "How I Met Your Mother." "We met through a mutual friend at a birthday party, and sparks flew. It was one of those kismet things where you meet someone and you're immediately like, Oh! Now we're dating exclusively."
The lucky and talented Killam is known for his many solid impressions. Here he discusses their marriage, and also does the impression that turns Cobie on the most. 
HOW DOES COBIE SMULDERS FEEL ABOUT HER FEET?
One truly weird feature of the internet is that when you type in a famous woman's name into google, one of the suggested answers when it tries to autocomplete it usually tends to be about their feet. Go ahead. Try it. It can't be that that many people have a foot fetish, can it? Anyway, Cobie was asked about this apparent obsession with her feet.  "My sister-in-law told me about that. It's so odd to me, because I hate my feet. I think they're ugly. I make it a point to hide them when I go out publicly."
[[contentId: 2886919| | style: height:756px; width:668px]]
 "Yes, it's a mystery. America wants to see them." When told that she seemed to have nice and normal feet, she said "That's very kind of you. I don't understand the foot-fetish thing. I don't know what you're supposed to do with feet. They're just to get you from one place to another."
HOW DOES COBIE SMULDERS KEEP HER BODY IN SUCH GREAT SHAPE?
She incorporates a basic but smart routine into her life. "I know my body's limits. I've never enjoyed Spin classes, where they're like, 'Push it further!' I'm like, 'No. If I pull something, I can't work tomorrow.' That's why I gave up Bikram yoga."
So what did she start doing instead? "One day I basically found myself in a split, and I was like, 'Oh! I'm so flexible!' The next day: 'I can't move.' So I started doing Yin yoga. It's 90 minutes of intense stretching. You hold each pose for five minutes. It's a stress reliever. The warrior poses are great for building muscle."
As to keeping her face at its best, she offered this. "I treat myself to a facial every few months. It's like getting your car washed. They get in there and get stuff out. I've also started using a Clarisonic exfoliating brush a couple of times a week. It sounds and looks like a sex toy, so when I use it, I'm like, 'I'm doing something for my face, honey! It's for my face!'"