Christina Aguilera: You Are Beautiful
Hard to believe sexy songstress Christina Aguilera was once a Mouseketeer in the new Mickey Mouse Club along with other pop idols like Britney Spears and some 'N Sync members.  Christina's sexy public persona and provocative pictorials definitely would not fit Disney's much protected wholesome image.  Christina first found fame in 1999 as part of a teen pop craze and had the talent to back it up with her powerful voice.   However, she was unhappy with her sweet, picture-perfect image which made her miserable.  She felt it wasn't the real Christina saying, "The label (RCA Records) wanted to push the cookie-cutter, kind of play-it-safe almost virginal kind of imagery that wasn't me."  So for her 2002 Stripped album, Christina used it as a platform for people to finally "see the bare me" and boy did everyone get an eyeful.  She's topless on the album cover with her breasts covered by long, dreadlock type hair.  Then in the music video for Dirrty, the album's first single, Christina is grinding against other dancers wearing only a tiny bikini. During this time, Christina also posed completely naked on for the cover of US Rolling Stone magazine with a guitar strategically placed to cover her lady parts.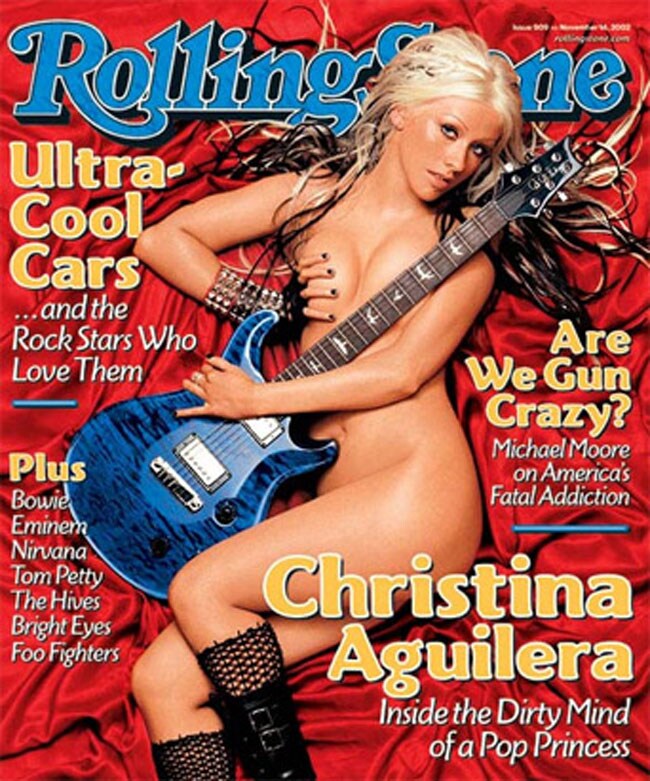 The little girl with the big voice was definitely telling the world she was now all grown up. Christina then posed nude or semi-nude in other magazines such as Maxim, FHM and various international magazines.  Then 21 years old, Christina said, "I don't see anything wrong with being comfortable with my own skin."  During this time she referred to herself as "Xtina," and got several piercings and a tattoo of her nickname on the back of her neck.  In response to backlash about her provocative new image, Christina responded by saying, "We're so labeled. If you're too sexual, you're slutty. If you're not sexual enough, you're a prude. I like to put it out there as a topic of conversation. Why does it bother you? What's your problem with it? Am I really hurting you?" Her sexual goddess makeover must have worked since Fashion house Versace hired her as their muse and model and she landed number one on top of Maxim's Hot 100 list in 2003.  Since then, the "Burlesque" star and coach for "The Voice" has shown off quite a lot just how comfortable she is in her skin since she's exposed a lot of it in various ways. 
WHERE CAN I SEE CHRISTINA AGUILERA NUDE?
From risqué, artsy magazine covers and barely-covered photo spreads to sexy music videos, Christina has appeared semi-nude or she naked but is covered up in all the right places.  Many of those published pictures she posed for but for some she didn't give her consent for them to be released.  Although Christina hasn't been photographed fully nude with all her private parts exposed, there's a plethora of pictures of her that give you a pretty good idea of what she looks like naked as demonstrated in the January 2003 Maxim Hot List issue.  There's a reason the issue set record sales as Christina explains it, "We had fun working with certain clothes or the lack thereof."  In the photospread, Christina is nude wearing a thin, see through wet shirt so you can see her breasts.  In other pictures she's floating backwards in a swimming tube so you can get a great look at her behind but she's wearing a thong so technically she's not totally nude.  Technically Christina is not nude in many of the pictures she poses for because her hands are covering her breasts but why get so technical about it.
In June 2006, Christina shed her clothes for a photoshoot for the American edition of GQ.  Shot in New York City by fashion photographer Michael Thompson and channeling Marilyn Monroe, in a couple of the pictures, Christina is naked in bed with her arm and a bedsheet covering her breasts.  In another picture, she's topless, holding her breast as she bends over, showing off her underwear and Christian Louboutin shoes.  See the pictures here
Christina Aguilera Behind the Scenes at the GQ photoshoot.
And if you think pregnancy is beautiful, Christina shows just how lovely she is when she stripped for the January 2008 issue of Marie Claire.  She had not announced her pregnancy before this and explained why, "People thought I was trying to keep it this big, bad secret and that's not the case at all. I'm not being like, 'Hey, everybody, I'm pregnant!' I'm not that girl." Well, she wound up announcing it in a big way as these pictures can attest.  Christina had a son, Max with her ex-husband, Jordan Bratman.
Then for the June 2010 cover of German GQ, Christina is naked except for a pair of gloves and skin-tight Christian Louboutin thigh-high boots.  She told an Atlanta radio show that since becoming a mother, she's "more confident and comfortable with what my body can do" and described herself as a "very sexual person by nature."  Well, that's certainly clear.
WHAT PICTURES DID CHRISTINA NOT CONSENT TO?
In December 2010, along with other celebrities like Scarlett Johansson, Christina was the victim of hacked emails that had nude and semi-nude pictures that wound up on the web.  Christopher Chaney, an unemployed Jacksonville, Florida man was arrested in October 2011 after a year long investigation into celebrity hacking.  Chaney obtained celebrities' emails by going through publicly available data to figure out their password and security questions and then combed the hacked celebrity's contact list to find emails of other stars.  He posed as Christina's stylist Simone Harouche and sent the singer an email from Harouche's account asking Christina for sexy shots.  Chaney then sent the pictures to gossip websites.  Christina's rep said in a statement, "The photos were taken in the privacy of Ms. Aguilera's home and were used only in a personal exchange between the star and her stylist. We find the actions of the hackers and the press who purchased and/or obtained these photos to be irresponsible and actionable." Although Christina is not totally nude in any of the pictures, in one, she's wearing a costume made only from strings of beads that covers very little. There are pasties over her nipples which Christina is holding with her hands but nothing covering her female parts.  See the rest of the pictures here. Chaney ultimately pleaded guilty to nine counts of hacking including wiretapping and unauthorized access to a computer.
WHERE CAN I SEE CHRISTINA'S PRIVATE NUDE PHOTOS?
In March 2011, RadarOnline.com reported that a man sent them a photo memory card that had provocative images of Christina including candid pictures time-stamped from June to November 2010.  The pictures are of the vocalist in bed with her boyfriend Matt Rutler and partying it up at Nicole Richie's bachelorette party in Cabo San Lucas.  Radar reported the man said the memory card was supposedly "found" in a French hotel in the trash can in Christina and Rutler's hotel room.  The man was attempting to sell the website the card Radar who said that they saw all 109 pictures on the card.  Some highlights included Christina with two naked male strippers at Nicole's party and Christina pretending to be performing oral sex on a man while he's holding a sex toy.  Other pictures include Christina and Rutler lying in bed and kissing passionately in various places.  However, since Radar was too cheap to buy the pictures, nobody else got to see them except their staff and no one there even had the courtesy to leak them to the public. Yet.
 ARE THERE MORE PLACES I CAN SEE CHRISTINA SHOWING SKIN?
In MTV's show, Diary, a documentary series that gives audiences a chance to experience an artist's day-to-day life, Christina is seen in a photoshoot in which her breasts are peeking through her hair as she poses.  Here's the photo still.
For her seventh album, Lotus which was released on November 13, 2012, Christina is nude on the cover although once again, that long hair of hers is covering her breasts and her lady parts are conveniently faded in the light of the artwork.  Christina talked to Billboard magazine about why she chose this picture for the album cover, "To me the lotus has always represented this unbreakable flower that withstands any harsh weather conditions in its surroundings. [It] withstands time and remains beautiful and strong throughout the years."  The artist knows a little something about withstanding harshness. During this period, Christina had to remain strong amid rumors and snarks about her weight gain so appearing naked on an album cover proved she's still as daring as she's always been.  Christina commented, "Now I'm at a place at 31 where the last time I felt this way was when I was 21. I had a lot to say and a lot to express."  It's a good thing she feels the need to express her lack of need for clothing.
The 32-year-old superstar did lose weight, getting back to her pre-baby shape and appeared on the cover of Maxim's October 2013 issue of the magazine looking as sexy as ever.  She's wearing a white men's button-down shirt and a black push-up bra with no bottoms. At least none that we can see. Inside the magazine, the 32 year-old singer changes into a skintight red satin dress and looks every bit the vixen she did during her younger days. 
However, Christina doesn't view herself as a vixen sex goddess. She says, "Trying too hard to be sexy is the worst thing you can do. Sexiness should be effortless." When discussing the creative control she has over her music, she shared, "The only place I don't need to be in control is the bedroom. Sometimes being sexual with my partner is a great way to blow off steam at the end of a hard day's work. I'm not the girl who's going to be too tired."
For the woman who was once voted the hottest woman in the world, Christina takes her sex appeal in stride. She once said, "I'm such a down-to-earth girl, I'm comfortable in just a jersey and boy's underwear."  However, this diva retains the right to be who she is when she wants. When asked about her choice to promote a sexy image, she said, "Sometimes I want to feel empowered in my sexuality and my vulnerability. I want to put all that out there." And the world thanks her for it.