Chloe Dykstra: The Nerd Queen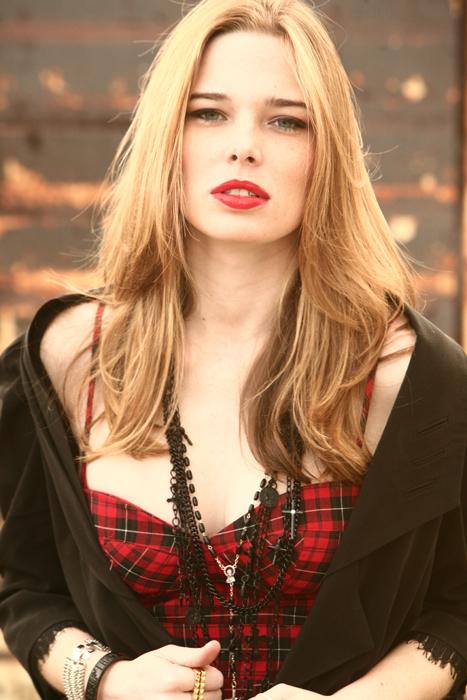 Who is Chloe Dykstra? Her name has been coming up in the list of Hollywood actresses victimized by The Fappening but since she's not really a household name, one generally will say "Who?" whenever her name comes up. Is she related to former baseball player and now notorious lawbreaker, Lenny Dykstra? No, actually there is another famous Dykstra but he's more celebrated as a movie production superstar. Chloe is the daughter of visual effects wizard, John Dykstra, famous for his work on little film franchises like Star Wars, Spiderman and X-Men.  Chloe is an actress and model and her current claim to fame (besides The Fappening) is that she is a member of the cast of the Syfy channel reality television show, "Heroes of Cosplay." The show is about the experiences of nine cast members who compete in cosplay events at various conventions. Cosplay is short for costume play and is considered a performance art in which people called cosplayers wear costumes based on fictional characters usually from comics, film and TV and role play at conventions. They are basically the people who attend Comic-Con.  Chloe also writes for a number of gaming websites. Her appearance in The Fappening took place in the first round of pictures that were released around August 31, 2014. Her fappening pictures include photos of her clothed and posing with friends in addition to one nude and several topless shots. Chloe dispels the myth that chicks with glasses are not hot since she looks pretty sexy especially when she's showing off her nice rack. There are a few pictures of her behind but she's wearing underwear. The one full body nude photo is almost artsy and there is no full frontal nudity. Although some of the pictures seem like selfies, most of them look like they were taken by someone else. In one particular interesting picture, Chloe is posing with what appears to be a yellow dildo. Or a banana. But it's probably a dildo.
WHAT IS CHLOE'S REACTION TO THE FAPPENING?
Chloe seemed to have taken it all in stride and laughed it off when her pictures were released. On September 1, 2014, she tweeted, "Yes, I'm aware my name is on that list. Even if they've got something, NBD. You can't exactly get mono twice. #TitHappens." When the second wave of The Fappening happened the weekend of September 20, 2014, Chloe tweeted that following Monday, "The Fappening 2.0 came and went- no new Chloe boob pics for the internet! HELL YEAH." A comment like that seems to suggest that she was pretty happy that the hackers didn't find any additional pictures. She definitely seems to have a good sense of humor about the whole thing. After all, when you look that good topless, you don't mind as much showing it off. However, other hacked celebrities like Meagan Good, Gabrielle Union and Hope Solo are not as lighthearted about the situation. They all made statements condemning the hackers and promising legal action. After her initial statement threatening legal action right after the first fappening, Jennifer Lawrence told Vanity Fair that the fappening, "Is not a scandal. It is a sex crime. It is a sexual violation. It's disgusting." Jennifer is one of the biggest stars to be hacked and she had one of the largest number of pictures in the leak.    
WHERE ELSE CAN I SEE CHLOE DYKSTRA NAKED?
Chloe may not be naked but when she's dressed up in one of her cosplay costumes, she can look pretty hot since some of the characters wear pretty skimpy clothing. Among the various characters she's played, Chloe has dressed as Aela the Huntress from Skyrim, Lara Croft from Tomb Raider and Clara Oswald from Doctor Who. Chloe has also modeled so she is capable of looking good in normal clothes as well. Chloe is also known for having an open attitude (clearly!) regarding sex. She once tweeted funny stories about traveling with a vibrator and pizza-and-porn night with the girls. So if she continues to act, you just might see her doing nudity in a future film or web project.
Chloe as Aela the Huntress 
WHO WAS CHLOE POSING NAKED FOR?
Chances are Chloe's topless pictures were taken for former boyfriend, Chris Hardwick who she dated from 2011 to July 2014. Hardwick is best known as the host of MTV's Singled Out. The multi-hyphened actor is also a stand-up comedian, screenwriter, musician and podcaster. He is also the CEO of Nerdist Industries, the digital division of Legendary Entertainment where he hosts The Nerdist Podcast, a weekly interview show "about what it really means to be a nerd" focusing on subjects like stand-up comedy and pop culture. What a coincidence, a devout gamer, Chloe produces and co-hosts Just Cos, a web series for the Nerdist Industries' YouTube channel. When they broke up in mid-July, Chloe and Hardwick took to their Twitter accounts to announce their de-coupling. She said, "Hey guys. As you might have heard, @nerdist and I are no longer together. I am eating lots of pizza. It's all going to be fine." He said, "Hey gang sorry for the awkward tweet but @skydart & I have decided to part ways. It's very fresh so please be respectful during this time." Miss Manners would be horrified but who doesn't tweet their break-ups these days?