Nip Slips: A DVR's Best Friend
It all started with a nipple, Janet Jackson's nipple to be exact.  Ever since the singer's 2004 Super Bowl halftime show appearance and the infamous wardrobe malfunction in which Janet's breast was exposed for barely a second, nipple slips or "nip slips" have become a common occurrence not just in the U.S. but worldwide.  The root for the word "nipple" most likely comes from "neb," an Old English word meaning "beak," "nose," or "face." These words share a Germanic origin with the words "teat" and "tit."  Nip slips happen when a wardrobe malfunction causes the exposure of a female nipple either partially, fully or exposing the areola.  A related wardrobe malfunction is the boob slip which is when one or both breasts are exposed.  This shouldn't be confused with sideboob which happens when clothing covers the breasts but offers a generous but dangerous side view of the breast without revealing the nipple.  Pokies are when a woman's nipples can be seen through her top.
Another related wardrobe malfunction is transparency which happens when a nipple can be seen through the garment or opaque clothing becomes transparent when exposed to sunlight, photography flashes or spotlights.  However, a nipple slip is not a downblouse. The difference between the two is that during a downblouse, the woman's nipple is still covered by her top and is only visible from a certain viewing angle or from a gap between her top and body. During a nip slip, her nipple is not covered at all and is visibly seen. 
Actress Miranda Kerr; well, when you wear something like that, what do you think is going to happen?
HOW DO NIP SLIPS HAPPEN?
Nipple slips are so common they happen to almost every female and certainly to celebrities.  The most common cause is obviously the lack of wearing a bra. This makes sense if a woman is swimming which is why nip slips happen frequently at the beaches or in pools.  The chances of a nip slip happening rises if the woman is wearing a string bikini which has little cup support and at the end of swimming season when bikini tops tend to be more lose after being frequently worn.  In swimming, nipple slips happen most often when the woman is exiting the water or playing in the surf.   On dry land, nip slips occur more often during hot months when women are wearing lowcut sexy tops that make wearing a bra difficult. Physical activity such as dancing or sports also cause nip slips since the person is moving around.
Actress Brooklyn Decker's nip slip while swimming:
It happened to Pamela Anderson while she was on "Dancing with the Stars." It happens to Pamela Anderson a lot:
In the past real nipple slips happened due to wardrobe issues but with the explosion of the internet, pictures of celebrity nipple slips became widely circulated and sought-after especially when showing someone who generally did not do nudity. Nowadays, they happen with more frequency leading to the theory that many nip slips are intentional and designed to garner publicity.  This spawned the creation of whole websites and videos dedicated to tracking celebrity nipple slips and other forms of nudity.  Nips slips have become so common that comedian and 2013 MTV Movie Awards host Rebel Wilson satirized the topic at the awards ceremony.  She removed the left top part of her dress to reveal two prosthetic nipples.  "I thought I'd take it down for a moment, and talk about a very serious issue and that's of body issue shame," she said, "Thinking negatively about your body is nothing positive," she said. "I've learned to love myself."
WHAT ARE THE MOST NOTABLE NIP SLIPS?
In recent history, nip slips became such a frequent topic of celebrity blogs and websites that there are a plethora of photo compilations and lists of celebrity nip slips.  So many actresses, models and celebrities have had nip slips that it's impossible to list them all. However, there are some notable ones due to their time in history, the magnitude of the slip or the place the nip slip happened.  In addition to Janet Jackson's precedent setting incident in 2004, one of the most famous nipple slips in Hollywood history happened in April 1957 during a dinner party honoring Italian star Sophia Loren at Romanoff's restaurant in Beverly Hills.  Photographers Joe Shere and Delmar Watson captured the event in iconic photographs.  In one of the pictures, American actress Jayne Mansfield who is famous for her cleavage leaned over a table in a low cut dress exposing one of her nipples. 
In another photo, Sophia is seen sitting at the table and checking out Jayne's cleavage with a somewhat disapproving look.  Various other pictures show Jayne leaning over Sophia and standing between Sophia and her date, Clifton Webb.  The notorious story behind the pictures turned out to be that Jayne was doing a publicity stunt intended to deflect attention from Sophia.  The stunt was successful as the pictures were published worldwide and cemented Jayne Mansfield's place in Hollywood folklore.
Another infamous incident happened on November 4, 2004, when actress Tara Reid became the victim of an entire boob slip.  The strap on her loose-fitting dress fell completely off and revealed her left breast while she obliviously posed for pictures on the red carpet at Sean P. Diddy Combs's 35th birthday party.  The Academy Awards is one of the last places an actress wants to experience a nip slip but that happened in 2012 to Jennifer Lopez when she, along with Cameron Diaz, was ironically presenting the Oscar for Best Costume Designs and Make-Up.  Dressed in a lowcut Zuhair Murad gown, a small portion of JLo's areola could be seen slightly peeking out during the presentation probably due to the fact that the top was a bit loose.  It wasn't a huge nip slip but still, it was the Oscars.  Doesn't anybody do a wardrobe check before going out on stage?
On a historical side note, one of the most odd designs in fashion history is the "The Nipple Bra" created in the 1970s, a weird time in fashion period.  During this time, it was fashionable for men to have tight perms and polyester was the most popular material for everything.  The nipple must have been considered an appropriate focal point for a woman's outfit because why else would someone invent "The Nipple Bra" so you can show off your nipples while wearing a bra when most women wear a bra to prevent their nipples from showing? Perhaps the idea that one even needs a nipple bra may be the most disturbing fact of all. And this vintage product was not cheap; it sold for $20 which back in the seventies was quite a pretty penny.
Why???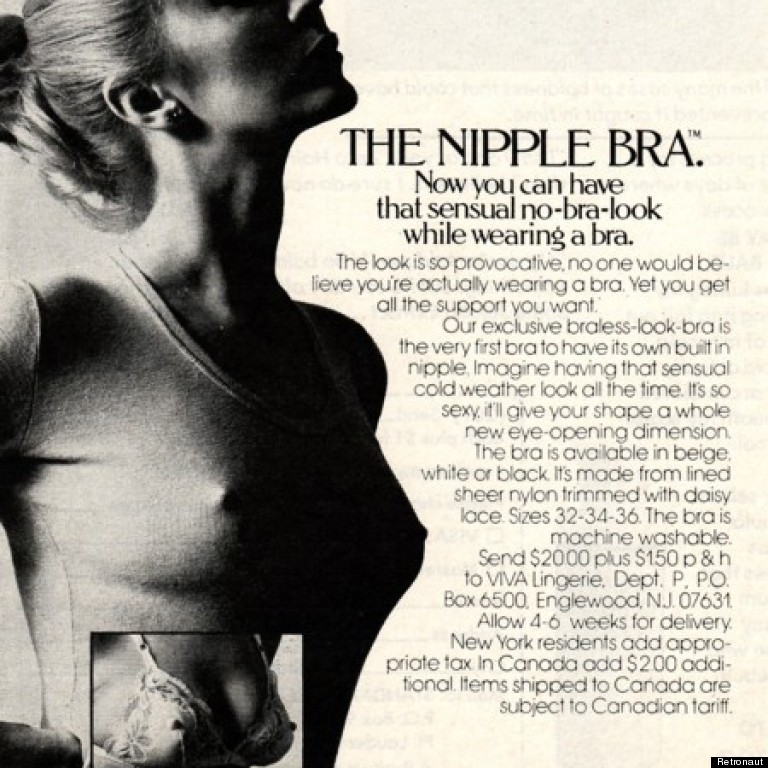 WHERE ELSE DO NIP SLIPS HAPPEN?
Wardrobe malfunctions can happen anywhere including the Olympics.  During the London 2012 Olympic games in a water polo match between the US and Spain, American Kami Craig grabbed her opponent's suit and accidentally exposed her breast. Twitter followers and viewers complained about the nipple slip to NBC since the game was aired live…like the network could have predicted the faux-pas.  
Another nip slip happened in the Games during a women's 48kg judo bronze medal quarter-final match.  Paula Pareto of Argentina grabbed at Urantsetseg Munkhbat of Mongolia's shirt exposing her nipple.  Pareto won the match but lost the bronze medal to Charline van Snick of Belgium.  No nip slip was recorded during that match.
HOW DO YOU AVOID NIP SLIPS?
The biggest way is to wear a good support bra, however, that's not always possible given certain fashion designs.  When wearing a backless garment or one with a plunging neckline, many women choose to go bra-less which leaves them at risk for a nip slip.  
Do what Sandra Bullock did below and WEAR A BRA!
However, there are various options for women who want to undertake daring clothing.
There are bras out on the market nowadays that convert to various necklines, low cut backs and strapless clothing.  Another fashion stylist secret is using double-sided tape, preferably one made for sticking to the skin so you can tape down any revealing parts of your garment. Something that might put you in the side boob category but prevent you from entering into nip slip land are pasties, a covering for the nipples.  They're particularly useful for women with perky nipples that need toning down. 
Even small chested women like Keira Knightly can have a nip slip:
If you know you will be photographed, especially by a professional, have someone take pictures of you with a flash to make sure your clothing isn't transparent. You don't want your private parts to be forever memorialized in wedding or other special occasion pictures.  Another suggestion is to get your clothes tailored to fit your body which cuts down on the chances of the girls making an unwanted appearance.  If attending a public event, always bring safety pins for emergencies. Above all, consider your body type and be realistic about what you can pull off. If you're a C cup or above, going bra-less can not only painful but is a very tough look to pull off for the mammary blessed.
Jennifer Love Hewitt; one look at the dress and you know it's going to be trouble: