Carmella Decesare: Playmate Goes Wild
When you've been Playboy's Miss April 2003 and the 2004 Playmate of the Year, chances are a little leaked nudity isn't going to be a big deal, however, there's a difference between choosing to posed naked and having your naked pictures posed for you on the internet without your consent. This is what happened to Carmella DeCesare, former Playmate, Mrs. Jeff Garcia and currently, one of the victims of the September 2014 celebrity nude photo leak that went viral on the internet.  For those who are not football or 49er fans, Jeff Garcia was the heir apparent to the quarterback dynasty of the San Francisco 49ers. He followed in the footsteps of Super Bowl winning and Hall of Fame quarterbacks, Steve Young and Joe Montana. A native of the Bay Area, Garcia never took the Niners to the promised land as was expected despite much expectation. An acrimonious relationship with his number one receiver, Terrell Owens ended with both of them being released after the disappointing 2003 season. Owens even went so far as to suggest in a Playboy interview that Garcia was gay. Well, if Owens is right then Garcia got himself one hot beard in Carmella.
IS CARMELLA REALLY JEFF GARCIA'S BEARD?
That would be a no. Since Terrell Owens is known for his bull poopy comments and not so bright intellect, Garcia should pretty much feel vindicated despite having his manhood challenged since he ultimately wound up with a hot chick. Their coupling must make red-headed, balding men everywhere feel their chest swell with hope that they too may someday land a former Playboy bunny. And it must be love.  Carmella became Garcia's wife on April 21, 2007 but by now, his football career was on a downhill slide. Garcia never got to the Super Bowl; the closest he ever got was the Philadelphia Eagle's QB in the 2006 NFC Championship in which they lost the New Orleans Saints. He then bounced around the NFL and went from starter to back-up after one year contracts with several teams. Garcia retired in 2012. Garcia is now the quarterbacks coach for the CFL team, Montreal Alouettes and he and Carmella have four children.
ENOUGH ABOUT JEFF GARCIA, WHERE CAN I SEE CARMELLA NAKED?
Besides being Playboy's Miss April in 2003, Carmella was also their October 2002 Cyber Girl of the week and in February 2003, she was named Cyber Girl of the Month. She began her Playboy career when the "Who Wants to Be a Playboy Centerfold?" competition came to Cleveland in 2001 and was selected as a finalist. However, Carmella got cold feet about posing nude and withdrew from the taping of material for a Fox Network special about the contest that eventually aired in the summer of 2002. Carmella clearly changed her mind about posing naked as you can see here in her graphic Playboy pictorials. Now that's an eyeful. See why a few leaked nude photos isn't going to mean much? But when Carmella's four kids are old enough to surf the internet, now that's when mom will have some explaining to do. Carmella also modeled for Playboy's 2005 version of the Sports Illustrated Swimsuit Issue which they call Playmates at Play at the Playboy Mansion swimsuit calendar but she wasn't totally nude. Carmella later appeared in the real thing in 2008 when she posed for the Sports Illustrated Swimsuit Issue.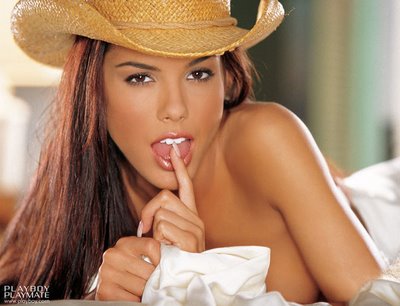 WASN'T CARMELLA DECESARE ARRESTED ONCE?
Technically, Carmella wasn't arrested but in August 2004, charges were filed against her by Kristin Hine who stated in court documents that Carmella assaulted her and kicked her in the head while both women were in a Cleveland, Ohio bar. Carmella had to turn herself in to Cleveland Police to avoid misdemeanor assault charges. Since Carmella was a contestant in the 2004 World Wrestling Entertainment (WWE) Diva Search, girlfriend probably knows how to fight. Apparently, the women's little tousle was over the fact that Hines had an affair with Carmella's boyfriend at the time, Jeff Garcia and then Cleveland Browns quarterback. On January 12, 2005, Carmella was found guilty of violating a restraining order but acquitted of the assault charge. She was fined $150, given one year probation and sentenced to do twenty-four hours of community service. Geez, even Tom Brady hasn't had hot women literally fight over him. What do you have to say now, T.O.?