Candice Swanepoel: Truly Heavenly
Candice Swanepoel is best known as a Victoria Secret lingerie model and Angel. She's from Mooi River, South Africa and her family is Afrikaner which are people of Dutch origin. Candace was discovered when she was 15 years old walking around a flea market. Most people pick up second hand crap at flea markets but this lucky lady was picked up by a modeling scout.  She joined a modeling agency and her career skyrocketed from there. One of Candace's famous attributes is her behind which she shows off often in swimsuit. Another place she shows this is in a selfie that was leaked online along with a plethora of other hacked nude photos that was released as part of hacked photo scandal in late September 2014. Even Candace appreciates her own butt as she is seen taking a picture in the mirror of her butt wearing a pair of thongs. In another picture, her pair butt is seen and from the angle of the picture, somebody else must have taken it. In one picture, her bare breasts are seen through a mesh and leather outfit. Candace is showing full frontal nudity in two pictures; one that is a selfie and in the other, she's lying on the bed. You can see everything except her head. In one odd pic, she's wearing a yellow mesh dress, black leather belt and one black thigh high stocking. There seems to a post-it in the shape of a star covering her nipple. It looks like it could be a Halloween costume or a nice night of kink. Candace has had no response to these photo leaks and to her defense, none of the pictures except the selfie butt shot shows Candace's face. So if she really wanted to do some denying, she would just have to come up with a good story of why that one selfie is grouped in with the other nudie shots. The one secret the selfie does show is that even a hottie like Candace needs to dye her hair to keep it completely blonde.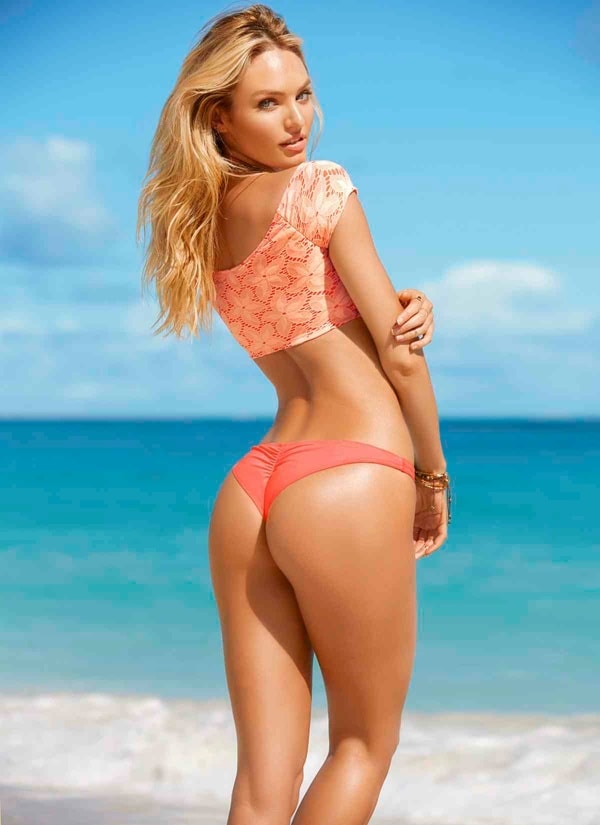 WHO IS CANDACE POSING NAKED FOR?
Candace has been dating fellow model, Brazilian Hermann Nicoli since 2005 when she met him in Paris when she was 17 years old so chances are the photos are for him. Since they are both models, they probably have busy work schedules so naked pictures like this tends to help keep the flames alive although with two models, it's easy enough to also just pick up a fashion magazine when one's heart grows lonely. Wonder when models are together do they just lie around thinking how fabulous they are. However, it seems that even supermodels don't always have a date on Valentine's Day. In February 2014, Candace revealed to E! News that she was, "Gonna be a lonely girl on Valentine's Day this year." Apparently due to conflicting schedules, Nicoli and Candace wasn't going to be able to be together. Candace got it covered though since she said she planned to spend the day with girlfriends despite probably a million offers. Candace confessed she's not so good with dating since "I haven't dated since I was 17 years old so I would probably be really horrible in that situation. I'd be a little teenager. Don't take flirting advice from me." It's a safe bet to say that all the flirting would be coming from the other party.
Candace and Hermann on vacation…kinda unfair, isn't it?
HOW LONG AS CANDACE BEEN A VICTORIA SECRET MODEL?
Candace has modeled for Victoria's Secret since 2007 and became a Victoria's Secret Angel in 2010 which is a spokeswoman for the brand. She also is a Runaway Angel which is a model who participates in the company's annual fashion show that is nationally televised. Candace also appeared in Victoria Secret commercials and was a featured model in the 2010 "SWIM" catalog. In 2013, Candace was chosen to be the cover of the Victoria's Secret Swim Catalogue and received the coveted position of wearing the "Royal Fantasy Bra" in the 2013 Victoria's Secret Fashion Show. The bra, named the "Royal Fantasy Bra." The bra was designed by Mouawad and is valued at 10 million dollars. The bra and matching belt is encrusted with 4,200 precious gems set in 18 carat gold and has a 52-carat ruby. It's the most expensive bra worn by a model since Gisele Bündchen wore the "Sexy Splendor Fantasy Bra" in 2005.
HOW HOT IS CANDACE SWANEPOEL?
This 33-23-34 beauty ranked No. 61 in 2010 and No. 62 in 2011 on FHM's annual "100 Sexiest Women in the World" list and in 2014, she was voted No. 1 on Maxim's "Hot 100 List." She ranked No. 9 in 2013 on Forbes' top models earnings list with estimated earnings of $3.3 million. When it comes to sex, Candace revealed she prefers her boyfriend's homeland country to South Africa – because she was "sexual from a very young age" and Brazil wasn't oppressive like South Africa. She added, "But Brazil brings out the real me. There's a raw sexual energy there that's intoxicating." She went on to say her perfect day in Brazil would include sex and a nap afterwards. That sounds like it would be a perfect day anywhere.