Cameron Diaz: Charlie's Sexiest Angel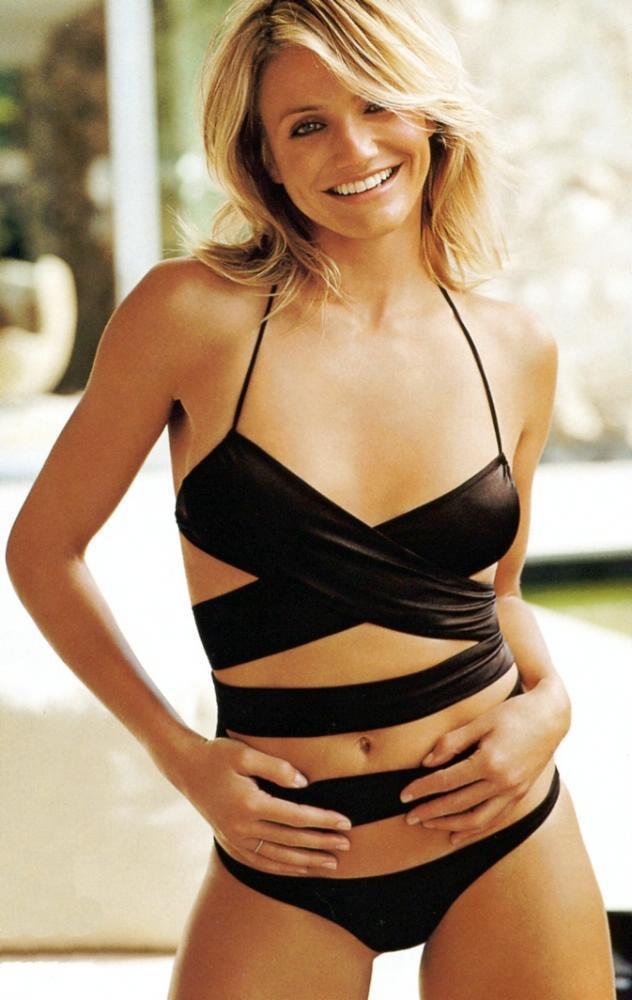 Human evolution has come a long way in certain senses of the word, but in other ways, it is still in its infancy. Case in point: any red-blooded heterosexual male who has seen "There's Something About Mary" can never possibly think of Cameron Diaz without remembering her with sperm in her hair. She could win 12 Oscars, steal Dame Judy Dench's Nobel Peace Prize, throw Meryl Streep out of a moving plane or be incarcerated for dwarf tossing but she'd still conjure up steamy imagery in the seemingly primitive abyss known as the male libido. So clearly the question at hand for anyone who dreams of having their own personal sperm on, in or near Ms. Diaz is:
WHERE CAN I SEE CAMERON DIAZ NUDE?
Besides the wonders of one's own imagination, there are lots of places one can gaze at Ms. Diaz in various states of undress. (Consider that Reason 121 of "Why The Internet Is So Much Better Than The Yellow Pages.") For some of her fans, a quick reveal without too much exposure is the way to go. For those, we recommend checking out 2001's "Vanilla Sky." It contains a quick "nip slip", which runs a total of less than a second. You'll need freeze frame or magic goggles to really appreciate it, but perhaps that's half the fun. When you're done with that, make sure to check out the film it was based on, 1997's "Open Your Eyes," which despite being Cam-less is pretty dang awesome.
IS THERE A CAMERON DIAZ SEX TAPE?
If you believe in unicorns, leprechauns and pink elephants, the answer is "yes." For the rest of us, an actual Cameron Diaz Sex Tape exists only in the realm of the make believe. However, in some wonderful quirk of cinematic fate, she recently made a film called (drum roll please.....) "Sex Tape." Co-starring Jason Segel, the comedy tells the tale of a married couple who make a sex tape only to have it disappear and then need to track it down. She told People Magazine "The whole movie is lovemaking between the characters. The crew was awesome and so respectful....There's such trust [with Jason]. We both had each other's backs. Our day was, 'My ass is going to be in your face and your package is going to be in my face!"
What can a Cameron Diaz fan think but, in the words of Robin, "Holy Toledo, Batman!" While how much actual nudity will be found in the film (to be released in July 2014) is to be determined, there's little doubt it will at least offer a slew of sexy moments. Feel free to add Jason Segel to your envy list. First he hangs out with The Muppets for a whole movie, and then weeks of naked Cameron Diaz's ass in his face. Sure beats Miss Piggy.
WHO MIGHT HAVE MADE A REAL SEX TAPE WITH CAMERON DIAZ?
Assuming that her film frolic with Jason Segel was only simulated, the list of her high profile exes is rather long. From 1995-1998, she dated Matt Dillon, her "There's Something About Mary" co-star. She was engaged to Oscar-winner Jared Leto in 2000, ending their relationship in 2003. From 2003-2006 she dated Justin Timberlake, and dated baseball pariah Alex Rodriguez from 2010-2011. Quite a slew of stars in that constellation, but the odds of the public ever seeing a sex tape with any of them are about as good as Alex Rodriguez getting elected to the Baseball Hall of Fame.
IS CAMERON DIAZ SUPER DUPER PROUD OF HER NAKED BODY?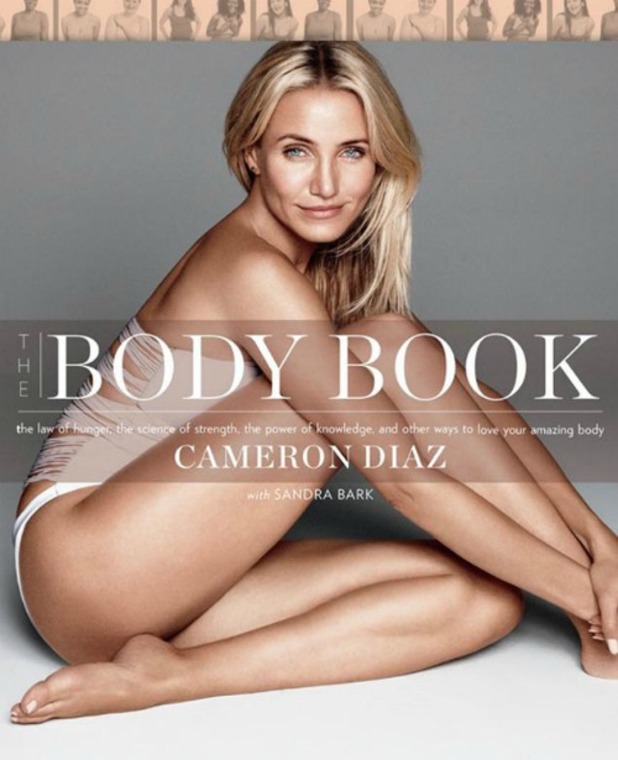 Ms. Diaz not only is proud of her body (and rightly so), but she has recently co-authored a book about it. "The Body Book", her book about "the law of hunger, the science of strength, and other ways to love your amazing body" offers several noteworthy tidbits of Cameron's tips. The one that garnered the most press involved the vagina, which she feels should be "fully dressed." According to the book, "I hear that there's a big fad these days of young women undergoing laser hair removal on all of their lady bits....I know you may think you'll be wearing the same style of shoes forever and the same style of jeans forever, but you won't. The idea that vaginas are preferable in a hairless state is a pretty recent phenomenon, and all fads change, people. All fads change. Twenty years from now, you will still want to be presenting it to someone special, and it would be nice to let him or her unwrap it like the gift that it is."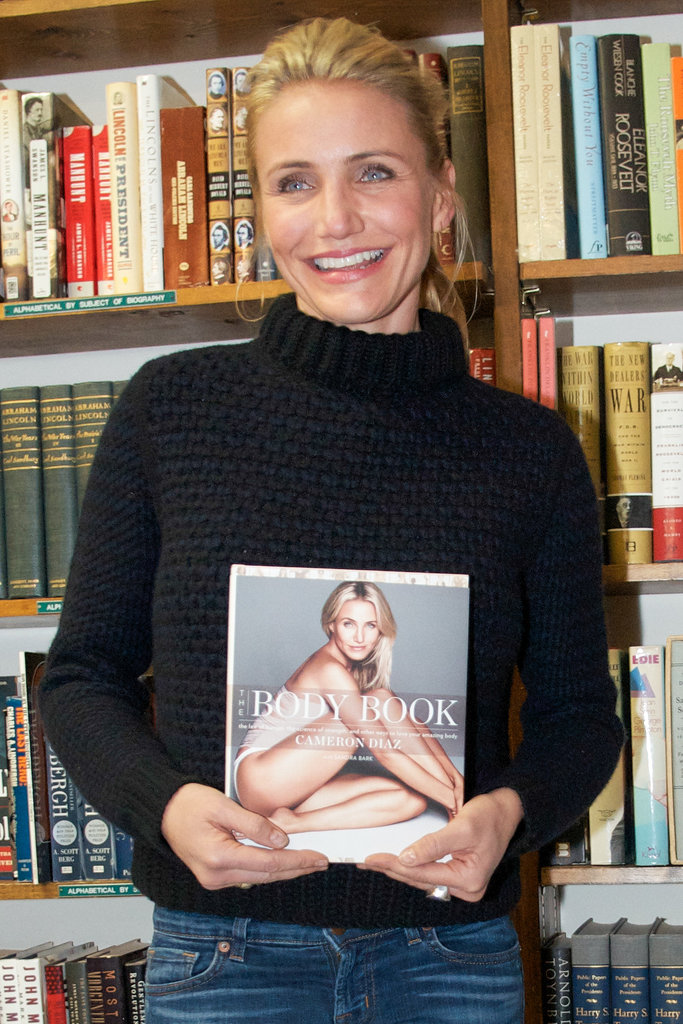 HAS CAMERON DIAZ DONE A NUDE PHOTO SHOOT?
For most young actresses in Hollywood, the early stages of their career can be brutal. Struggling to pay the bills, constantly rejected in auditions, unscrupulous agents and managers, etc. are often part of the story. Cameron experienced some tough early days, and like many of her peers, did take some quick cash to get naked. As seen here, she even did a rather explicit topless photo and video shoot that stands as the most graphic nudity she's done to date.
WHAT'S THE WILDEST SEX SCENE CAMERON DIAZ HAS DONE ON FILM?
In the history of weird Hollywood sex scenes, Cameron's work in 2013's "The Counselor" has to rank as one of the most bizarre. Sure, actresses have had sex on screen in a car, or near a car, but only one has had sex with a car. This incredibly graphic moment, as witnessed by a shocked Javier Bardem, is a jaw dropper. Whether the scene is erotic, hysterical or just plain insane is in the eye of the beholder, but suffice it to say that once witnessed, it's virtually impossible to forget. For those who found it tacky, at least it was a Ferrari rather than a Hyundai. Because seriously, who would have sex with a Hyundai?
IF I WANT TO SEE CAMERON DIAZ NUDE, SHOULD I GO TO THE BEACH MORE OFTEN?
Providing you use sunscreen, a day at the beach can be good for you. A little Vitamin D, a healthy glow and a chance to exercise can all be positive experiences. But if you're lucky enough to be at the right beach at the right time, you have a shot at catching Cameron having some topless fun in the sun. As recently as March 2014, she was frolicking in the Caribbean with some pals.