Sexy Horror Movie Scenes; Blood, Guts and Boobs
When it comes to creating a recipe for a hit movie, what are two popular ingredients a budding filmmaker should always mix together? Sex and horror of course! Horror is one of the most popular movie genres in the world and sex sells, simple as that. 
In honor of all the naked people who died so that we could be entertained and grossed out, let's take a look at the best horror movie nude scenes ever:
1-Anna Hutchison in The Cabin in the Woods (2012)
Director and co-writer Drew Goddard has been recognized for this gifted deconstruction of the horror genre that also features a great movie twist. Some rank this flick as one of the greatest horror-comedies of all time in addition to possessing one of the best horror movie nude scenes courtesy of hot, naked Australian actress Anna Hutchison who sits atop a then unknown Chris Hemsworth before being butchered.
2 – Natasha Henstridge in Species
For sci-fi fans who wonder about what it's like to bone an alien, Natasha Henstridge as Sil the breeding alien-woman fulfills every fan boy's fantasies. Natasha spends a good portion of the film naked and engaged in various sex scenes since her alien character's main purpose is to make alien babies. At one point, she morphs into an alien creature as she's having sex which is either rather frightening or erotic depending on where you stand on the idea of intergalactic poon-tang.
3 – Julianna Guill in Friday The 13th (2009)?
No wonder the films in this series were so popular; how can you go wrong with a lot of sex and a lot of hacking of body parts by a very sexually frustrated Jason Voorhees? The 2009 version is a remake of the classic and features one of the hottest girls of horror, Julianna on top and in control.  Her partner clearly appreciates her naked assets since he spews such great dialogue like, "Your tits are stupendous," and "You got perfect nipple placement, baby."
4 – Alyssa Milano in Embrace Of The Vampire
In the "child star proves she's grown up by getting naked" category, Who's The Boss? star Alyssa Milano not only goes naked but does full frontal nudity in this 1995 vampire movie. She plays a college co-ed whose sexual awakening is sparked by a ruthless vampire. Alyssa has a number of hot sex scenes throughout this movie which was interestingly directed by a woman, Anne Goursaud. A lot of sex must have ended up on the cutting room floor since a more graphic version of the film that is not rated was also released.
5 – Monika M. in Nekromantik 2
Now considered a cult classic, NEKRomantik 2 is a 1991 German horror film that's the sequel to director Jörg Buttgereit's 1987 film Nekromantik. The movie is about necrophilia and apparently the German government didn't approve of a movie about sex with corpses since the film was seized by Munich authorities 12 days after its initial release. What is so bad about a necrophiliac named Monika (played by an actress with the same name) who chops off the head of guy as she's on top of him and then puts the decomposed head of her dead boyfriend where the guy's head used to be? Maybe government officials drew the line when Monika rubbed the deceased's blood all over her body before she intensively orgasms while riding the corpse. The Germans clearly don't understand the meaning of cinematic art.
6 – Anna Falchi in Dellamorte, Dellamore (Cemetery Man)
Proving it's not only Americans that have sick minds, this Italian movie (directed by Michele Soavi, also a woman) stars Rupert Everett as a caretaker of a small Italian cemetery. He looks for love while battling annoying deceased people who keep rising from the dead. In another woman on top sex scene, Anna plays a widow who is bitten by her dead husband as she's boning Rupert near her husband's grave. But before she kicks the bucket, Anna's breasts are displayed in full view in this strangely erotic sex scene which kind of makes copulating in a cemetery even more creepy and taboo.
For vampire fans, The Hunger is a?1983 erotic horror vampire movie showcasing two MILFS in their heyday.  In addition to the hot lesbian scene between Susan and Catherine, there's a nice bisexual love triangle involving the two ladies and David Bowie who plays Catherine's vampire companion. Catherine is a female vampire who seduces Susan using the old spilled wine trick and before pouncing on her. The ensuing sensual sex scene shows the intensity of discovering another person's body for the first time and how it really sucks to be bitten by a vampire.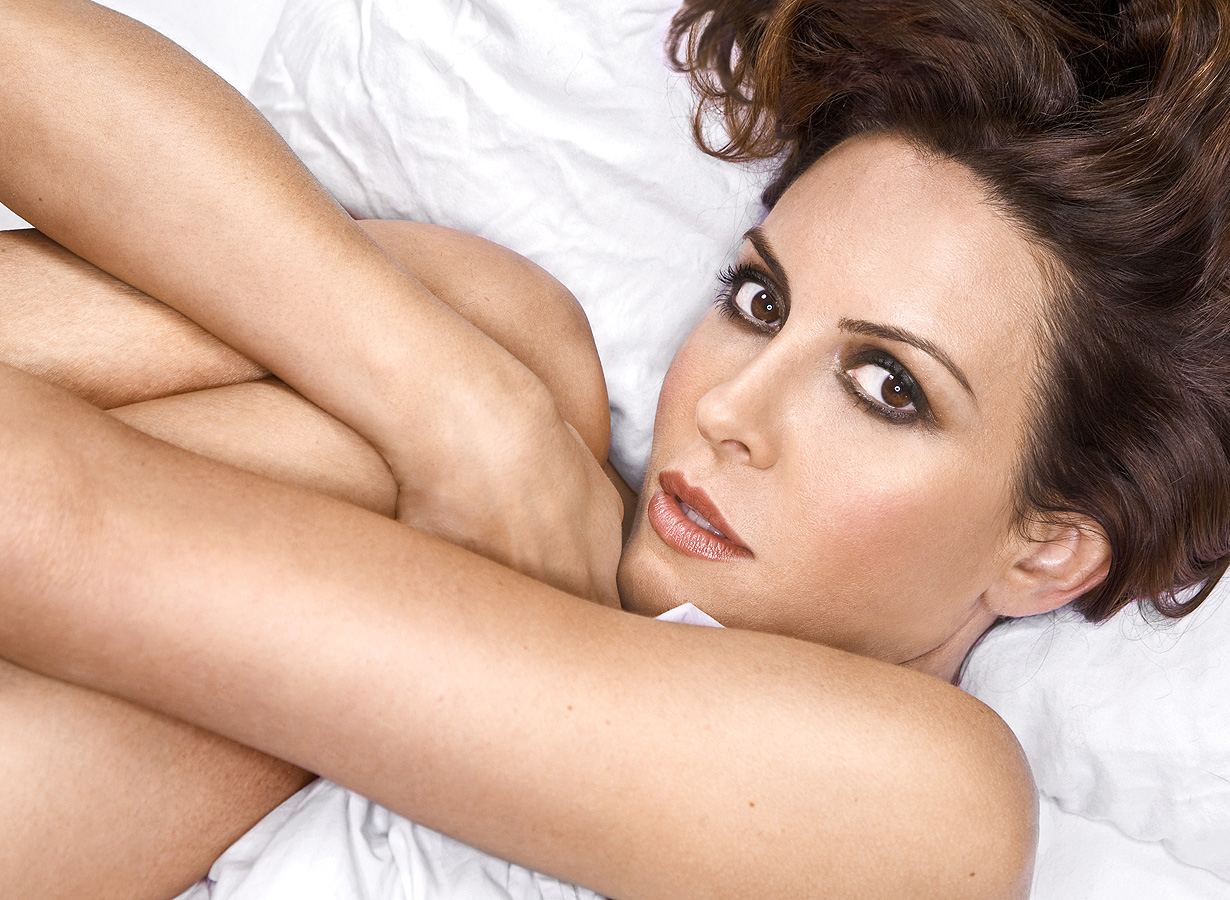 Sex has always played a major role in the Friday the 13th movies as evidence by Jason making our list twice. But none of the other films has a sex scene quite like 1993's Jason Goes To Hell. Michelle Clunie plays a camper getting her freak on in the middle of the woods in a tent with a guy. She's so horny that she actually has sex with a tent stake before climbing on top of her man. The couple are having steamy and at times, graphic sex when mid-coitus, Michelle gets hacked in two by Jason resulting in the ultimate buzzkill.
This 1987 film was made when Mickey Rourke could actually play the leading man instead of the monster in a horror movie.  Leaving The Cosby Show behind, this satanic thriller showcases Lisa Bonet in a sex scene with a normal faced Mickey Rourke in a leaky New Orleans hotel room. Things are getting steamy between the two nude lovebirds when blood starts to rain down on them. And we're not talking the monthly visitor type of blood. It literally starts to rain blood. Talk about gross and messy.
10 – Betsy Rue in My Bloody Valentine 3D  
The biggest gripe about this 2009 horror flick is that it doesn't fully capitalize on 3D technology in all its glory and disappointed moviegoers who were hoping for dismembered boobs, gushes of blood and body parts flying off the screen and into their faces.  However the film does get the 3D right in an early scene when after having sex in a motel room, a completely nude Betsy Rue chases the killer around. Pity the killer gets the best of poor Betsy and eventually kills her in all her naked glory.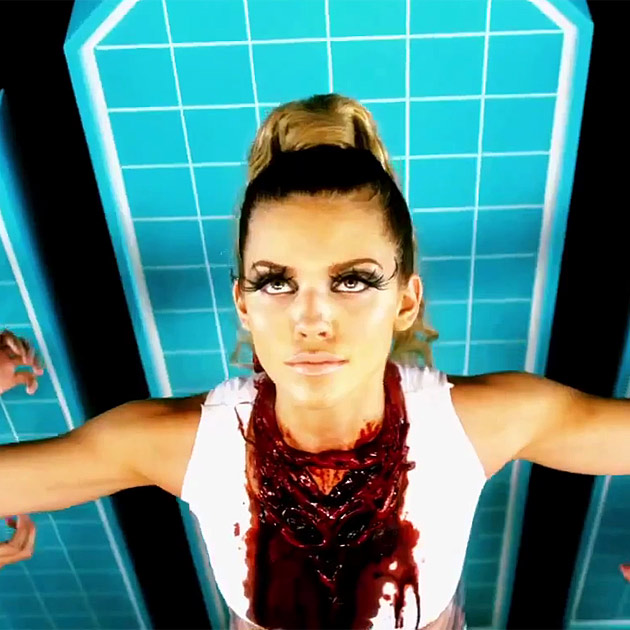 In this erotic horror film, Anna Lynne McCord plays the main character, Pauline who is often intensely aroused by violent and disturbing fantasies. Fans of filmmaking techniques rave about how well the fantasies are shot with contrasting colors and breathtaking angles. Fans of sexual techniques rave about how Pauline awakes from each blood-soaked sexual dream panting in an orgasmic state as she dreams about herself and others being mutilated with excessive amounts of blood.  
12 – Valerie Hartman in Sleepaway Camp 2: Unhappy Campers  
This 1988 film is the sequel to Sleepaway Camp (1983) which many consider to have one of the best shocker endings in the slasher genre.  Sleepaway Camp II (spoiler alert!) starts with the revelation of the transvestite killer from the first film who's been recently released from an insane asylum for criminals.  This is never good for anybody who is camping especially camp counselors who expose their breasts like slutty Ally played by Valerie Hartman.  At least Ally gets off courtesy of a fellow camp counselor in a bathroom stall before being offed by the Caitlyn Jenner wanna-be.