Ashley Tisdale: Sharpay Goes Cray Cray
Oh those crazy kids – they do grow up fast. One moment they are bullying around the musical geeks and flirting with Zac Efron, the next they are playing hookers in a world full of bikers. Yes, the talented Ashley Tisdale has packed a lot of diverse elements into her relatively young life. For her non kiddy fans though, and especially for those who see her as a sex symbol, they have likely come her to see her naked. While she has done several sexy shoots, she's always retained at least a bit of clothes. That said, there are a lot of fun and steamy places we can journey to on our voyage to life after High School. So, grab your dancing shoes, pack your "Phineas and Ferb" lunch box, and come along as we will answer the question
WHERE CAN I SEE ASHLEY TISDALE NAKED?
After several years of fame with the tween and slightly above crowd, Ashley took a definite attempt at spinning a new image for herself in 2011. She appeared in Allure Magazine's yearly issue celebrating nudity, and made quite a splash. Unlike many stars of her age, her "entourage" for the shoot was her mother. "I've always wanted to be sure my parents approve of what I do. Even with my tattoos, my mom went with me. The 'believe' tattoo is because my mom always told me to believe."
"I'm 25, almost 26, but people think of me as much younger because I look young. Being in this shoot was me saying, 'I'm not just the young girl everybody thinks I am. I'm actually a woman.'" Yes, that is true. A hot woman at that.
WELL, THAT WAS RATHER ALLURING. HAS ASHLEY TISDALE DONE OTHER NAKED PHOTO SHOOTS?
Two years after the celebrated shoot mentioned above, she got even more provocative with a spread in Maxim that generated lots of press and showed that her teen idol image was definitely a thing of the past. The cover shoot was accompanied by an interview that offered several insights into her sex life as well. She spoke about the kind of guys she is in to. "I just like guys who have an edge to them. But it could go either way. Like, I have been into the surfer blonde frat guys, and then there's definitely a thing where I like the dark, mysterious bad boy."
"I'm definitely old-school when it comes to dating. I'm not into the "game" so much. If I like you, I'll confront you and be open about it. Then I expect you to come after me."
WOULD IT BE SCARY TO SEE ASHLEY TISDALE IN A LESBIAN SCENE?
It wouldn't be scary, but you can easily find one in "Scary Movie 5." One of the things that separates Ashley from many of her one-time Disney co-stars is that Ashley can really pull off comedy, and in this scene, she also pulls off her top. Toss in some girl on girl action and, comedy or not, there's nothing scary here at all other than that this scene isn't longer.
THAT WASN'T SCARY. I HEARD THAT ASHLEY HAD SOME EVEN FREAKIER SEX SCENES IN THAT MOVIE. IS IT TRUE?
If you define having sex with a plant, tv, lamp, chair or a microwave as freakier than a lesbian scene (and we certainly do!), then the answer is most definitely yes. "I had humped a potted plant in Atlanta, and that was nerve-wracking. There was only one camera guy and they kept it really quiet so it was OK. But by the time I got to having to be with the chair and the microwave and all over the place, I was just like, 'Oh, I've got this. It's fine that everybody's watching.'"
"I do recall having the hardwood chair hitting me from behind and I looked from behind and I was all into it. And then suddenly, I was just like, 'I'm getting slammed by a chair right now,' and I started hysterically laughing. They're like, 'Do it harder!' And I'm like, 'It's hardwood; it hurts!' I wish there was a camera on the prop guy who was probably like jamming it behind me. It just was so wrong."
DOES ASHLEY TISDALE TWERK IN THE NUDE?
We may never know the actual answer, but it sure seems that Miley Cyrus isn't the only former Disney starlet to get her twerk on. This video clip shows Ashley and Vanessa Hudgens offering moves that would surely make ol' Walt Disney roll around in his grave.
WOULD ASHLEY TISDALE BE A GOOD PROSTITUTE?
First of all, she's an actress so her job is to pretend to be other people. To that end, she was quite good on "Sons of Anarchy" as a prostitute, but there's no reason to think anything differently about her in real life. "When I was asked to do the show, I was just so excited.  I think this is the transition time for me, as an actress.  I always joke around that "Son of Anarchy" took my acting virginity."
HOW DOES ASHLEY TISDALE FEEL ABOUT SIDEBOOB?
She has been asked this very question, and whatever she may feel, you probably feel that you want to see some more of it.  "When I'm going to an event or a premiere, I like to be crafty. Actually one of my favorite dresses that I've ever worn was at the Golden Globes party and the sides were cut out, but it was still super-classy and it kind of reminded me of a Calvin Klein-esque dress. I'm never like, "Oooh, I need sideboob." That's really weird."
"But obviously in the Maxim photo shoot, I'm very proud that I didn't do something that they've done all the time, like the lingerie thing. I really was excited that I kind of got to just be myself and I wore more bathing suits and I had that tank top, so there was some side[boob], but it was cool to be able to kind of have my style with the leather jackets and bathing suits rather than lingerie."
OK, I GET THAT SHE'S NEVER POSED FULLY NUDE. YET, I REALLY WANT TO SEE HER NIPPLES. OR AT LEAST ONE NIPPLE. EVEN A NIPPLE THAT SLIPPED. CAN YOU HELP?
We can indeed, as this picture taken on the red carpet for the premiere of "Pirates of the Caribbean 2" unearthed some buried treasure that would make even Captain Jack Sparrow pleased. Ahoy, matey, I spy a fine piece of boob flesh.
HOW DOES ASHLEY TISDALE FEEL ABOUT PLAYING A GAY CHARACTER?
One of Ashley's most recent roles was a lesbian on ABC Family's "Young and Hungry." While the show itself is pretty innocent, it did allow her a creative stretch. "I produce the show, so it was really fun to be able to get creative with [creator] David Holden. We had all different types of characters, and I said, 'You know what? For me right now, I just want to play things super different and push things out of my comfort zone.'"
"That's something I've never done before, and it was cool. I love being able to do things that are different from what people have seen me do in the past."
IS ASHLEY TISDALE READY TO SETTLE DOWN? IF SO, WOULD SHE BE HAVING A BACHELORETTE BASH WEARING A SKIMPY BIKINI?
In late 2013, she got engaged to musician Christopher French, but that doesn't mean she's ready to put away all of her wild ways. A friend said "He had been planning on it for awhile. I think she knew it was coming but she is so happy. She likes those rocker types. They have mutual friends and just met through hanging out." She did have a party with some close girl friends to celebrate, and photos like this show she still can seriously rock a bikini.
Yep, she can rock it with a big smile on her face and an American flag nearby. Sexy, talented, funny and patriotic. Stand up and salute!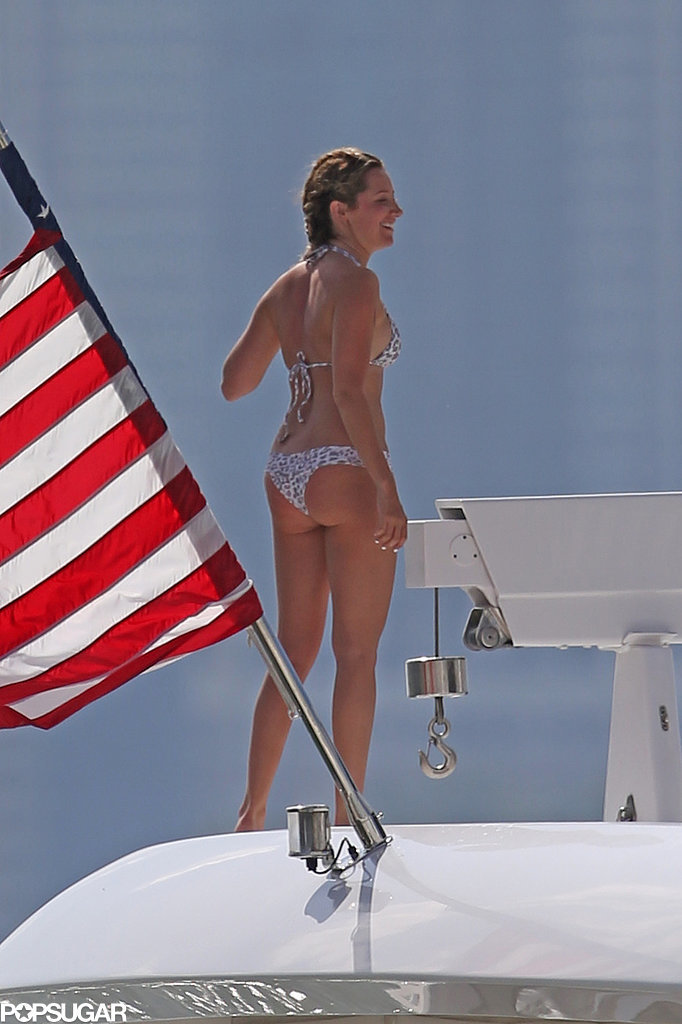 WOW. ASHLEY TISDALE DEFINITELY KNOWS HOW TO DO A BIKINI JUSTICE! ARE THERE ANY MOVIE CLIPS YOU CAN FIND THAT SHOW HER IN A BIKINI?
2009's "Aliens in the Attic" might be best be relegated to the dust bins of history, but this scene in the otherwise forgettable film shows a younger Ashley Tisdale in a sexy bikini as well. It even features the added bonus of her being thrown into the water – you know, if that's your thing. The role did earn her a nomination for a Teen Choice Award, but it's fair to say not many teens would choose this as her best work.
WOULD IT BE GOOD TO SEE ASHLEY TISDALE NAKED?
It would probably be more than just merely good, but for most mere mortals, it's not likely we can or will experience it in the flesh. That's what dreams are for, or so it would seem. Perhaps we should just settle for this sexy video of her performing her song "Be Good To Me," complete with corset and sexy shorts. It's good to see.