Ashley Greene: See Her Sexy Twilight Zone
With her sultry looks that she had long before she started fraternizing with vampires, Ashley Greene is one of Hollywood's hottest starlets.  Known best as playing "Alice Cullen" in the Twilight movie series, Ashley started modeling with Vision NYC and New England's Model Group until somebody told her that at 5'5"she wasn't tall enough to model and should act in commercials instead.  That piece of advice led her to falling in love with acting after taking classes and she left the idea of modeling completely behind.  Ashley has appeared on the Maxim Hot 100 list every year from 2009 to 2012. With her good looks and talent, Ashley is poised to be one of the next breakout stars. 
An Ashley picture gallery:
WHO IS ASHLEY GREENE?
Ashley Michele Greene was born February 21, 1987 in Jacksonville, Florida where she grew up.  Her parents are Michele Tatum Greene and Joe Greene, a former U.S. Marine and she has an older brother, Joe.  A self-confessed Florida Gators fan, Ashley attended University Christian School and in the tenth grade, she transferred to Wolfson High School a public school where she studied in a magnet program for law and psychology.  When asked in an interview how she went from studying law to studying acting, Ashley explained, "I always liked performing. I always liked being in front of people. That's one of the things I loved about law; we had mock trials, and I got to go up and state my case."  By the time her acting classes were over, Ashley had a manager and an agent who told her mother that Ashley needed to move to LA.  So Ashley graduated early at 17 years old and moved to L.A. to pursue acting.  Her parents were supportive and helped by paying her first year's rent.  Ashley said although she was young, it was scarier for her mother and father than it was for her.  She said, "This is what I want to do and I'm going and everything's going to work out. I'm going to be an actress. There was no way around it." 
HOW DID ASHLEY GREENE'S CAREER START?
However before everything did work out, Ashley experienced the realities of the acting profession. Her first audition was for the soap, "Days of Our Lives" where Ashley had to audition five times.  The experience opened her eyes to just how hard an acting career can be. Since she did so well in her first audition, Ashley was expecting to get the job but she was rejected.  She talked about this experience, "I had this kind of false hope in my mind. You know, everyone says it's really hard, but then you come out and do extremely well the first go. And then reality hits, and it's like nothing for a long time."  About dealing with the tough times, Ashley said, "I definitely struggled. And I'm always grateful to my parents for letting me struggle because you really don't appreciate it as much, I don't think, if you don't realize what you're gaining."  Ashley's parents had also told her that if things didn't go well in L.A. or if she started to misbehave, then she would have to go back to Jacksonville and go to college.  But every time it hit the point where her parents would say that it's time to come home, Ashley would get an acting job. 
Ashley started her career in 2005 by appearing on several television shows including "Punk'd," "Crossing Jordan," and "Desire," a "Gossip Girl" spin-off.  Ashley's first film role was a bit part in 2007's "King of California" but her big break came in 2008 when Ashley was cast as Alice Cullen in the film adaptation of Stephenie Meyer's novel, "Twilight" starring Kristen Stewart and Robert Pattinson.  Ashley prepared for the audition by reading the books and fell in love with the series so she was determined to get the part.  She told herself, "Okay, I'm going to book this part.  I worked my butt off for it."  Ashley was working in a restaurant when she won the part of Alice and her life instantly became a whirlwind. She gave her job two weeks notice, got fitted for wardrobe, flew to Portland to film the movie and the subsequent Twilight phenomenon changed her life. 
The movie became a big box-office hit especially with the tween crowd making Ashley a role model for pre-teens and teenagers. In 2008, she won the Teen Choice Awards for the category, "Movie Fresh Face Female" and also won for "Scene Stealer Female" in 2009, 2010 and 2012.  Ashley's other awards include "The Style Icon Award" at Hollywood Life's Young Hollywood Awards in 2010.  Also in 2010, the PETA foundation presented her with an award for representing Avon's no testing on animals policy.
For Twilight fans, the series invokes such strong feelings that they actually shake and cry when meeting Ashley.  But she understands their response and says about the Twilight films, "People have become very passionate about it, about my character but also about me, really relating to me and wanting to be my best friend. And so they cry and get so nervous. I give them a hug or whatever. People ask if I get annoyed, but you can't really get annoyed at something like that."   Ashley understands the responsibilities of fame  and said in an interview, "When girls come up and say, "You're my role model, it's really flattering, but it's also really scary because I'm not perfect and I'm going to make mistakes."  When asked how she deals with the pressure and the privilege of being a successful actress she replied, "I've just decided that I have to continue to live my life and do what I do. Hopefully, people love me because of who I am, not who I pretend to be."
However, there were drawbacks to Ashley's growing fame.  She admits, "There was a moment in time where I was kind of having this mini-breakdown because it was all very new, and it was all being thrown at me really quickly." Ashley learned about what it really means to be in the public's eye, "Why are people reporting on this? Why do people care what I'm wearing or what I'm eating and why are people looking down on me because I'm not wearing high heels?"  When asked how it was to go from a struggling actress to a young superstar, she said, "I haven't even really had time to sit back and process it all. But when you do finally sit back and think about it, it's incredible." 
A different look.  Ashley as Alice Cullen:
Before she reprised her role as Alice in 2009's The Twilight Saga: New Moon, Ashley appeared in two feature films, "Shrink" and she played the lead in horror film, "Summer's Blood" which went Straight-to-DVD.  She continued to play Alice in The Twilight Saga: Eclipse (2010), The Twilight Saga: Breaking Dawn - Part 1 (2011) and The Twilight Saga: Breaking Dawn - Part 2 (2012). In between the Twilight films, Ashley appeared in several feature films including "A Warrior's Heart" (2010) in which she reunited with her Twilight co-star, Kellan Lutz.  She also had a role in the independent film, "Skateland," which made its premiere at the 2010 Sundance Film Festival.  In 2011, Ashley tried her hand at comedy and appeared in the ensemble cast of "Butter," a satire of the 2008 Democratic presidential primary.  In 2012, Ashley starred in "The Apparition" a supernatural horror thriller and  co-starred with Miley Cyrus and Demi Moore in the film "LOL."   She starred in the 2013 movie "CBGB" about the famous Manhattan punk music club and was also in the thriller, "Random."  On television, in 2008, Ashley had a reoccurring role in the short-lived ABC period series, "Pan Am." 
In March 2013, Ashley experienced a torturous heartbreak when she lost a pet when her Hollywood condo was accidentally set on fire by an unattended candle.  Ashley fled unharmed but one of her pet fox terrier dogs was killed. Ashley was inconsolable while cradling her dead pet which was found under the bed. The fire was quickly extinguished 10 minutes after the emergency call.  
WHERE CAN I SEE ASHLEY GREENE NUDE?
Lucky you…you can see Ashley naked in a couple of places!  In 2009, three nude photos of Ashley was leaked to the Internet and she immediately contacted her layer who released a statement saying, "The photos in question, which appear to be of our client are illegal and are being unlawfully displayed. Our client intends to take legal action."  How or who released the pictures is unclear but suffice to say Ashley was not a happy camper especially since an insensitive act like this could really ruin her reputation with her young fans.  We don't want to be a part of this insensitivity but if you must see the pictures, click here.
On a happier note, in 2010, Ashley posed in the annual Sports Illustrated Swimsuit Issue wearing nothing but bodypaint in ads for SoBe beverages.  A pink scale bikini and a yellow one piece bathing suit was painted on her body by expert bodypainters who had to make sure all her ladyparts were properly covered. Ashley poses in various locales such as on the beach and…oh hell, just watch for yourself:
The Finished Product:
Here Ashley shows some side boob while filming "Staten Island Summer" at the Great Kills Swim Club on Staten Island. The film is about guys who work as lifeguards while trying to figure out their lives.
Whoever told Ashley she shouldn't model was clearly wrong. Also in 2010, Ashley posed in the below bondage spread which appeared in Interview Magazine.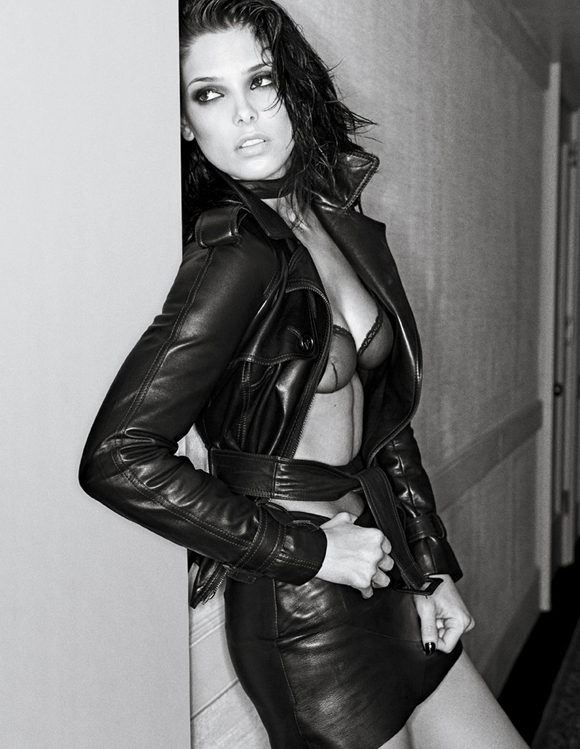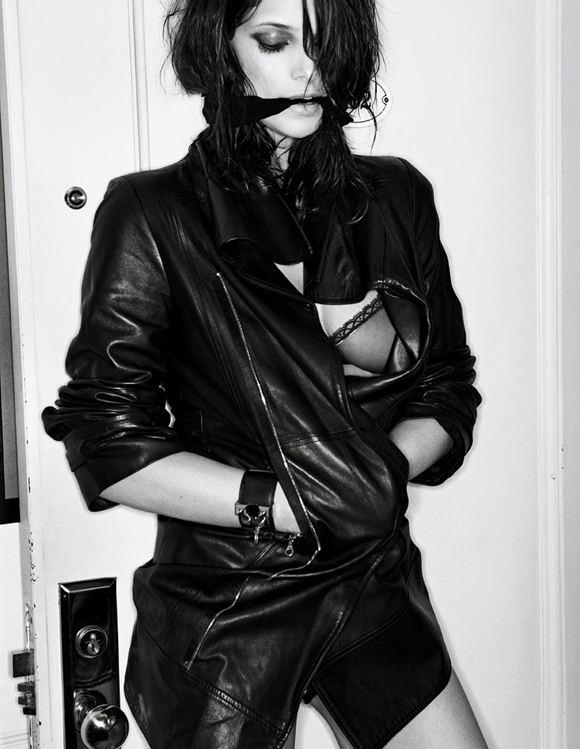 Ashley has posed for various photospreads wearing very little or just enough to cover but still showcase her breasts.