Ariana Grande Pictures Make a Grand Splash
Update on Ariana in the Fappening at the bottom of the page!
With her Barbarella signature look, actress and singer Ariana Grande literally burst onto the music scene by storm by appearing on Broadway when she was only 15 years old in the teen musical play, 13.  From Broadway to Hollywood, Ariana continued to find success as red-headed Cat Valentine on the Nickelodeon show, Victorious which made her famous and a favorite with the tween crowd.  Even though the show ended, Ariana got her own spin-off show on Nickelodeon starring as one half of the show,  Sam and Cat.  And if this wasn't enough, Ariana's debut singles both hit in the top ten on Billboard's Hot 100 list making her one of the few musical artists to accomplish this feat.  One thing is for sure, this young pop princess' career is smoking hot and as the public watches her grow up before their eyes, it's not just Ariana's career that's hot, it's all of her!
WHO IS ARIANA GRANDE?
Ariana Grande-Butera was born June 26, 1993 in Boca Raton, Florida where she grew up. She took her mother's last name and is known professionally as Ariana Grande.  She has an Italian heritage, "half Sicilian and half Abruzzese" and her mother is Joan Grande, CEO of Hose-McCann Communications, a company that makes communication systems for marine use and her dad is Edward Butera, a graphic designer.  Ariana's older half-brother Frankie is also an actor and a dancer.  About her childhood, Ariana said, "I loved growing up in Boca Raton, Florida.  I grew up going to the beach all the time and having a lot of fun with my friends."  Ariana started to do community theater when she was 8 years old and starred in the play Annie in addition to performing in The Wizard of Oz and Beauty and the Beast.  She said she didn't start taking performing seriously until she was 13.  Ariana explains how she got into singing, "Music just kind of happened, I never really trained for anything. I played French horn for a few years, that's where I learned a lot about sheet music and theory. I play a little bit of piano by ear but it's mostly just singing, which I never was trained in."
Young Ariana
Ariana attended North Broward Preparatory School until 2008 when she was 15 years old and made her acting debut in the role of Charlotte on Broadway in the musical, 13, about a young boy who moves from New York City to a small-town and how he has to learn how to navigate the social circles of a new school.  Although Ariana moved to New York to do the show, she was still enrolled at North Broward Preparatory School and the school sent her course work to her so she could continue her studies with tutors.  About being cast for the show, Ariana said, "Out of thousands of kids they picked me and I was so blessed. I came to New York with my best friend.  We grew up together doing musical theater since we were 7 years old. We both got it out of thousands of kids, it was insane."  Ariana was in the ensemble and although she barely had any lines, she got to sing the highest harmonies and her own melodies.  When asked what her favorite thing about appearing in the musical was, Ariana said, "Jason Robert Brown, who wrote the score, loved to push people to their limits vocally and I loved that."  Ariana credits the show with helping her develop her vocal abilities, "We were belting our brains out, and in the beginning it was super challenging but then when I was taking care of my voice and I was breathing, I was singing properly. My range expanded so much." In 2009, Ariana won a National Youth Theatre Association Award for her work in 13.
After 13, Ariana went to Los Angeles and auditioned for Victorious, a Nickelodeon show about kids who attend a performing arts school in Hollywood.  She won the role of Cat Valentine, one of the students.  Ariana was a big fan of Nickelodeon and said she felt, "that Cat is a role that I was meant to play. There are roles that people are just right for and I think Cat is mine."  The show premiered on March 27, 2010  and ran for three years.  Also during this time, Ariana created the original role of Miriam in 2010 for Cuba Libre, a musical, written and produced by Desmond Child.  Ariana also lent her voice to the role of Princess Diaspro for the animated Nickelodeon series, Winx Club in 2011 and starred as Snow White in December 2012 in the Pasadena Playhouse production of A Snow White Christmas.   After Victorious ended in February 2013, Nickelodeon announced a spinoff series called Sam & Cat, starring Ariana and Jennette McCurdy from another Nick show, iCarly.  A traditional "buddy sitcom," the two young actresses reprised their roles as Cat Valentine and Sam Puckett from their previous shows.  Sam & Cat  premiered June 8, 2013 and did well in the ratings. Even at her young age, Ariana has had several romances and dated Graham Phillips, her 13 co-star for several years in addition to being linked with Jai Brooks, from the Australian group, the Janoskians and Nathan Sykes from the band, The Wanted.   
WHAT KIND OF MUSIC DOES ARIANA GRANDE SING?
Ariana has wide vocal range and is a four octave light lyric soprano which has many music critics calling her the "mini Mariah Carey" which Ariana feels is a blessing and a "huge compliment" although she says, "when you hear my entire album, you'll see that Mariah's sound is much different than mine."  Ariana's music is generally pop and R&B with elements of funk, dance, and hip hop and she cites Mariah Carey and Whitney Houston as her musical influences.  Ariana called Mariah, "literally my favorite human being on the planet."  Another singer she admires is Fergie who Ariana calls "fun and passionate."  What she said she loves about Fergie is that she raps as well and "has a fantastic voice and she can belt Gs and As and she doesn't have to do it all the time. She just has swag and I think that's really cool."
Ariana definitely has a favorite pose
In March 2013, Ariana's single, "The Way" featuring Pittsburgh rapper Mac Miller from her debut studio album, Yours Truly hit number ten on the Billboard Hot 100 list.  Yours Truly was critically well-received and on the Billboard 200 list, it debuted at number one.  This made Ariana the fifteenth female artist to have her debut record enter the chart at number one.  When she discussed what it was like to work with Miller,  Ariana said, "Mac and I had been friends for a really long time. He tweeted me and he was like, 'Let's make music.' I went over to his house and we became best friends. We make really weird music together."  Eventually, the single sold two million copies in the United States and the album went double platinum.  The Music Business Association named Ariana as Breakthrough Artist of the Year for 2013 and  she also won the American Music Award in 2013 for New Artist of the Year.
Ariana has also performed at the White House a couple of times.  On March 6, 2014  at the invitation of President Barack Obama and First Lady Michelle Obama, Ariana sang at the White House concert, "Women of Soul: In Performance at the White House" a concert of songs exploring the struggles and achievements of women.  A month later on April 21, Ariana also sang at the White House Easter Egg Roll.  Ariana premiered her debut single, Problem from her yet unnamed second studio album at the 2014 Radio Disney Music Awards on April 27, 2014.  The single features Australian rapper Iggy Azalea and sold 438,000 downloads in its first week, debuting at No. 3 on the Billboard Hot 100 list and peaked at No. 2, becoming Ariana's second single to debut in the top ten.
WHERE CAN I SEE ARIANA GRANDE NUDE?
April Fools!  At first, Ariana fans were shocked when allegedly topless pictures of Ariana went viral on Twitter on March 31.  The topic #ArianasNudesLeaked started trending on Twitter and fans started retweeting the pictures.  There was a picture of Ariana supposedly topless on the beach and then a series of pictures in which Ariana is exposing her breasts.  But in reality, the clearly Photoshopped pics were just an April Fools' Day prank.  Eventually it was revealed that all these were fake pictures and the hysteria instantly died down.  But look on the bright side, Ariana, you're not a real star until people start creating fake nude pictures of you and posting them on the internet.  This is just the first step; once the rumors about an Ariana Grande sex tape starts to circulate, you know Ariana will soon be getting a star on the Hollywood Walk of Fame. 
However, Ariana has shown off her sexy side by posing in lingerie for V magazine and then seductively in short black dress (and holding a gun no less) for a Complex cover photoshoot and interview.  Perhaps this is a glimpse into what Ariana fans can expect to see which is hopefully more of Ariana and less of her clothing as the songstress becomes a bona fide woman.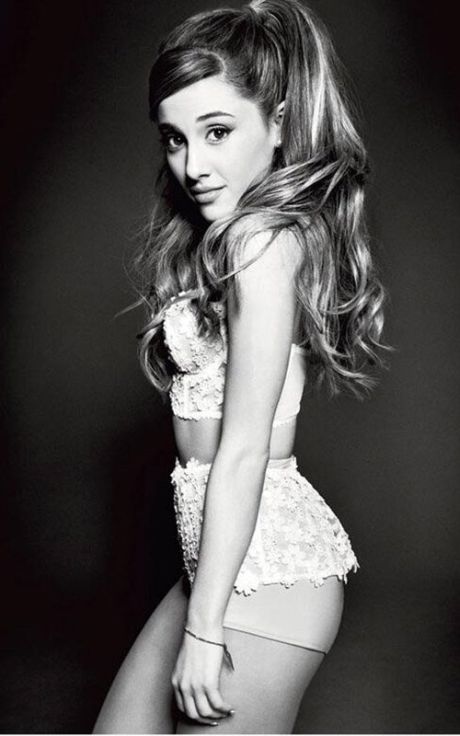 WAS ARIANA INVOLVED IN ANOTHER NUDE PHOTO LEAK?
Ariana's star must be skyrocketing since she is now officially the victim of not just one but two nude photo scandals since you must really be a big star if people want to see you naked.  Twice.  Along with a long list of Hollywood beauties, some A-Listers and some not, Ariana fell victim to the latest celebrity Iphone hacking scandal which occurred on August 31, 2014 in which a hacker was able to penetrate iCloud, Apple's online backup service.  Generally a back up service will lock someone out if the password is still incorrect after several log in attempts but Apple's "Find My iPhone" app and iCloud allowed a user unlimited log-ins. Apple has now changed this policy and limits log-in allowances but it seems too late, at least for Ariana and her fellow "hacked" celebrities. The hacked photos are floating around the web-o-sphere and as soon as one site takes them down, another posts them.  Despite Ariana's name being listed as one of the victims, her rep claims the pictures are fake and Ariana herself tweeted out a response on September 1.  She even made fun of the situation saying, "to every1 going on about my "nudes" & my "m&g prices" neither are real! my lil ass is a lot cuter than that lmao & tour details r comin soon."  What a talented girl…while dispelling a nasty rumor, Ariana doesn't forget to also promote her upcoming tour.  In another tweet, Ariana said she is "praying" for those who believed the pictures were really her saying, "but for real tho whoever thought those were actually me…… love u but I'm praying for u."  Despite all this unpleasantness,  Ariana's second album, "My Everything" debuted at No. 1 on the Billboard 200 chart following in the footstep of her first album, "Yours Truly" which means Ariana now has had two No. 1 albums in less than a year.  Some people would willingly post naked pictures of themselves on the internet just to have that distinction.
"My Everything" album cover: