Anne Hathaway: A Princess Becomes Catwoman
Not only is Anne Hathaway the name of William Shakespeare's wife, she is also a lovely young actress who grew up to be hot, beautiful actress and willing to expose her body in sex scenes for her art.  Not only can Anne Hathaway act, she can also sing and was able to transform her career from being known as a child actor to a legitimate leading lady.  People Magazine named this gorgeous brunette with the sexy lips to their World's 50 Most Beautiful People list in 2006 and Anne was named one of the sexiest stars of 2010 by Entertainment Weekly. She also ranked #23 on the 2012 Maxim Hot100 List.  And think about this, she still made the Maxim list even though that's the year she cut off all her long, luscious hair. 
WHO IS ANNE HATHAWAY?
Anne Jacqueline Hathaway was born on November 12, 1982 in Brooklyn, New York to a lawyer father, Gerald Thomas Hathaway and actress mother, Kate McCauley who like her daughter later would, played Fantine in the first U.S. tour of "Les Misérables." Anne is the middle child and has an older brother, Michael and a younger brother, Thomas.  The Hathaway family moved to Millburn, New Jersey when Anne was 6 years old where she grew up.  Hathaway was raised a strict Roman Catholic and considered becoming a nun when she was a child. But when Anne was 15 years old, she learned her brother Michael was gay and decided against it, "I realized my older brother was gay and I couldn't support a religion that didn't support my brother." Anne calls herself a "nondenominational Christian," and says that for her, religion is "a work in progress."
Anne participated in school plays at Millburn High School and she won a Paper Mill Playhouse Rising Star Award nomination for Best Performance by a High School Actress for her performance as Winnifred in "Once Upon a Mattress." She also acted in plays
at New Jersey's Paper Mill Playhouse.  Anne is a soprano and performed with the All-Eastern U.S. High School Honors Chorus at Carnegie Hall in 1998 and 1999.  In 1999, when she was 16 years old, Anne was cast alongside Jesse Eisenberg in the comedy-drama "Get Real" a Fox television series that ran for a season.  After high school, Anne studied English and Women's Studies at Vassar College for several semesters before  transferring to New York University's Gallatin School of Individualized Study.  She also studied acting at the American Academy of Dramatic Arts and The Barrow Group, a non-profit Off-Broadway theatre company and acting school.
Anne's acting career began she won the part of Mia Thermopolis over 500 other girls and  starred with Julie Andrews in Meg Cabot's novel, "The Princess Diaries," directed by Garry Marshall. The film was released in 2001 and grossed US$165 million worldwide and became a major commercial success.  Anne's performance was acclaimed with one critic saying "Hathaway shines in the title role and generates great chemistry." She has since voiced the first three audio books for "The Princess Diaries." Anne subsequently became a role model for kids and continued to act in family-oriented films for several years.  Anne also had a role in another Disney drama film "The Other Side of Heaven" (2001). The movie performed well for a religious-themed film but didn't receive positive reviews.
Fresh faced in "The Princess Diaries"
Anne made her critically well-received New York City stage debut in February 2002 as Lili in the City Center Encores! concert production of "Carnival"! In 2002, she appeared in the feature film version of "Nicholas Nickleby," which received positive reviews.  In 2004, Anne played the lead in the fantasy story, "Ella Enchanted" an adaptation of the 1997 novel by Gail Carson Levine.  She sang two songs in the movie in addition to three songs on the soundtrack.  Anne appeared in the sequel, "The Princess Diaries 2" in 2004 which marked the last family-oriented film she did before embarking on more mature roles saying "anybody who was a role model for children needs a reprieve," and hoped that her fans would understand, "it's lovely to think that my audience is growing up with me."
And boy did Anne grow up, transforming from playing good girls to a bad one. In 2005, Anne played a spoiled socialite in the drama, "Havoc" about Los Angeles teenagers who start emulating gangsta lifestyles after being influenced by hip hop music.  It was the first time Anne appeared nude in a film and she denied her decision to do nudity had anything to do with her desire to be seen as an adult. She said as an actress, she believed in doing nudity if it's necessary to the character.  In 2005, Anne received international attention when she starred with Heath Ledger and Jake Gyllenhaal in the drama, "Brokeback Mountain" directed by Ang Lee. The movie was critically acclaimed and received several prestigious film awards and nominations including Oscars.  Anne later said it was this project that made her realize what kind of stories as an actress she wanted to tell.  Anne showed her more comedic side again when she starred with Meryl Streep in the 2006 fashion industry comedy, "The Devil Wears Prada."  Returning to drama, Anne played English writer Jane Austen in the 2007 film, "Becoming Jane."  She followed this up with another comedy in a movie remake of the 1960s television series "Get Smart," opposite Steve Carell and played Agent 99. 
Anne shows she's all grown up:
2008 was a big year for Anne.  She became the face for Lancôme's fragrance, Magnifique and she appeared in the drama thriller, "Passengers."  The pinnacle came when Anne received both an Academy Award and a Golden Globe nomination for her performance as recovering drug addict, Kym in the family drama "Rachel Getting Married," directed by Jonathan Demme and co-starring Debra Winger.  Her next project was a commercial mainstream film, the kind actors do to pay large bills called "Bride Wars" (2009) with Kate Hudson about two competitive brides.  Although Anne had a successful movie career, she considers herself a theatrical actress and squeezes in theater projects between films.  She played Viola in 2009 in the New York Shakespeare Festival's summer production of Twelfth Night. 
Anne received an Emmy Award in 2010 for outstanding voice-over performance for her work on episodes of the Fox animated comedy, "The Simpsons."  Anne's follow up projects include playing White Queen in Tim Burton's adaptation of "Alice's Adventures in Wonderland" (2010), an ensemble comedy "Valentine's Day" (2010) and she reunited with Jake Gyllenhaal in the romance, "Love and Other Drugs" (2010) in which Anne received a Golden Globe nomination for Best Actress.  Anne then starred in the very British film, "One Fine Day" in 2011 but was criticized for her uneven and unbelievable English accent.  As an attempt by the Academy of Motion Picture Arts and Sciences to appeal to a younger audience, Anne co-hosted the 83rd Academy Awards with James Franco on February 27, 2011, 
Later in 2012, Anne played cat burglar Selina Kyle in "The Dark Knight Rises," directed by Christopher Nolan.  However, it was her other movie in 2012 that made her an Oscar winner.  Anne played Fantine in Tom Hooper's film adaptation of "Les Misérables," in which she famously starved herself and chopped off her hair to play the tragic prostitute. Anne said going to such extremes for a role doesn't "feel like sacrifices. Getting to transform is one of the best parts of [acting]."  It must have been well worth it since Anne won over 30 different awards, including the Oscar, the Golden Globe, BAFTA Award  and the Screen Actors Guild Award for Best Supporting Actress.  Anne's cover of "I Dreamed a Dream" from the musical reached number 69 on the Billboard Hot 100 in January 2013.
WHERE CAN I SEE ANNE HATHAWAY NAKED?
Starting with "Havoc" where Anne shows her breasts and backside, Anne's breasts are also featured in "Brokeback Mountain."  They don't appear again until "Rachel Getting Married" and then make several grand entrances co-starring with her butt in "Love and Other Drugs." 
HAS ANNE HATHAWAY EXPRESSED HER PHILOSOPHY REGARDING NUDE SCENES?
Anne Hathaway strips down more than once in "Love and Other Drugs" and gets hot and heavy with Jake a lot.  See Anne's other nude scenes here.
When asked about getting very naked, very often with Jake Gyllenhaal in the movie, Anne shrugged, "I don't get hung up on nudity. To me, it was just an extension of who she was. It was real." She explained how the nudity was integral to the characters they were playing, "These are people who have no trouble taking their clothes off, in a way their bodies are their currency.  But they're terrified of exposing their vulnerability, of becoming emotionally naked."  Since their characters were lovers and spent a lot of time in bed, some work days for Anne and Jake would consist of them lying in bed with no clothes wearing little patches over their private parts.  Anne talked about how it feels to be naked in front of co-workers, "There is that revoltingly embarrassing moment when you have to take your clothes off in front of strangers. I mean, I don't go to the beach in a bikini for a reason.  So for me, this role was pretty out-there in terms of the way I usually am in public concerning my body. So I thought, 'Okay, I'm going to be in control. I'm going to do everything properly, disrobe at the last minute, and in between shots get the clothes back on.' But then I found that every time I put my robe back on, it rubbed all the body makeup off, and that added 20 minutes to filming. As with all things in life, the second you stop making it about you and you make it about everyone else, it just got, dare I say, fun. There wasn't anything to be nervous about. It was another scene."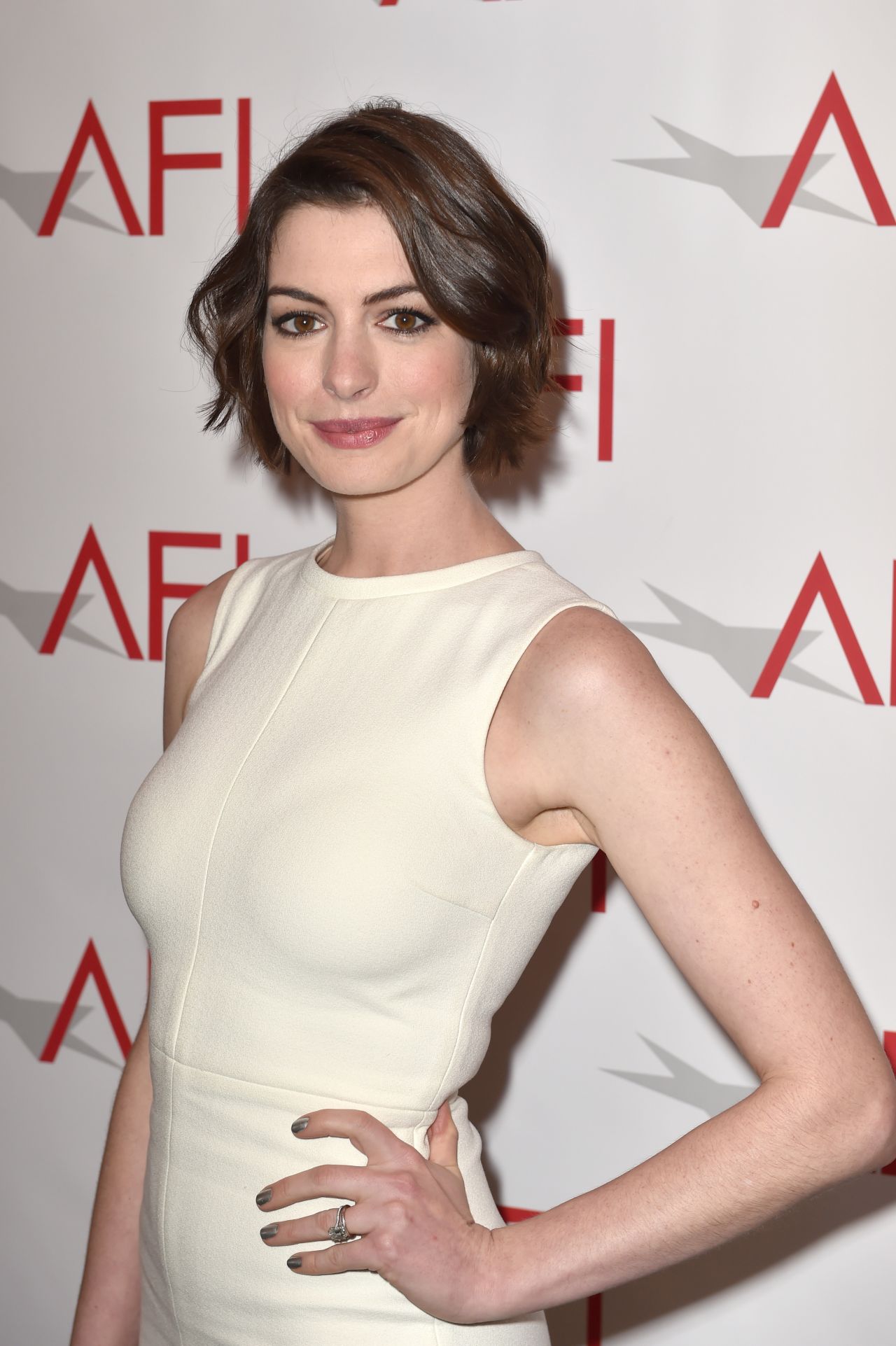 Anne created a real life scene when at the December 2012 New York City premiere of "Les Miserables," she flashed her lady parts at photographers when she was getting out of a car.  Clearly not wearing underwear, Anne created a stir with her attention-grabbing flash which instantly went viral.  She later said, "I was getting out of the car and my dress was so tight that I didn't realize it until I saw all the photographers' flashes," Hathaway reportedly said. "It was devastating. They saw everything. I might as well have lifted up my skirt for them."  During press junkets for the movie, Anne was forced to address the flash and said, "It was obviously an unfortunate incident.  It kind of made me sad on two accounts. One was that I was very sad that we live in an age when someone takes a picture of another person in a vulnerable moment and rather than delete it and do the decent thing, sells it." But always the professional, Anne managed to promote her movie at the same time and added, "And I'm sorry that we live in a culture that commodifies sexuality of unwilling participants, which brings us back to Les Mis, that's what my character is, she is someone who is forced to sell sex to benefit her child because she has nothing and there's no social safety net."  But if Anne had only worn underwear, she would have had a safety net.
This looks like another wardrobe malfunction waiting to happen: