Andie MacDowell: Groundhog Day in the Buff
While the Beach Boys once sang about the virtues (or lack thereof) of California girls, they also gave a shout out to " the Southern girls with the way they talk, they knock me out when I'm down there." Our belle du jour is indeed a true Southern belle, and a raging beauty even in her '50s. The lovely Andie MacDowell has been a star for over 30 years, and though her career has had peaks and valleys, she's remained in the limelight for much of the time. Our mission here is quite simple though – to direct our beloved readers to the places where they can see the fair Andie without clothes, and on that front, we are in luck. So grab a mint julep, a bowl of boiled peanuts and some boll weevil repellent as we head down South to find out
WHERE CAN I SEE ANDIE MACDOWELL NUDE?
It's rather undeniable the Andie MacDowell is an object of beauty, and in the 1991 film "The Object of Beauty," there is ample evidence of her charms. Her nude scene in the film is open to debate as to whether or not there's usage of a body double, but this clip still offers plenty of beauty for her fans to appreciate.
Although that might have included a body double, her nude scene in 1992's "Ruby Cairo" leaves little doubt that it's really her. The film itself may be largely forgotten, but a clip like that is unforgettable.
---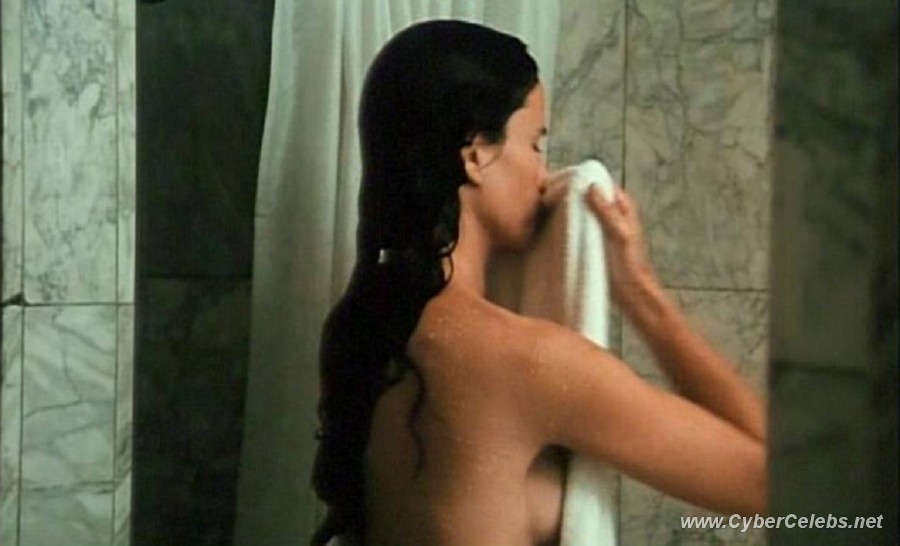 WHAT DOES ANDIE MACDOWELL THINK ABOUT GETTING NUDE IN MOVIES?
Despite the evidence above, she claims that she has never done a nude scene. She said that when she started out as an actress "You never saw respected actresses showing their boobs. You were more respected as an actor when you didn't. It almost lowered your status if you did."
"I certainly didn't, and if a nude scene was required I always had a body double. Even when Playboy offered me a lot of money to pose for them in the 1980s I wouldn't do it. Now, in the movies, not only are young actresses – and actors – having to do naked scenes, but they're filmed having sex. I have a problem with anyone having to do pornography. My question is, how far is all this going? What's next? The truth is, I'm bored with it and I think other people are as well. Yet since when is sex supposed to be boring?"
Ok, we don't want to make her feel bad or call her a liar or anything, but take a peek at this clip from "Ruby Cairo." Maybe she just forgot?
IS THERE AN ANDIE MACDOWELL SEX TAPE?
While there is absolutely zero evidence that such a tape exists, the topic is pertinent to our discussion as she starred in the film that first brought sex tapes to the mainstream public's attention. Steven Soderbergh's "Sex, Lies, and Videotape" was a hugely influential film for many reasons, not only in that it brought the great Soderbergh international attention for the first time, but it was also the first of the modern "indie" or "Sundance-type" films to break through with national audiences. The film remains a masterpiece, and her work in it is a career best.
DOES THE APPLE FALL FAR FROM THE PROVERBIAL TREE FOR HOT OFFSPRING OF ANDIE MACDOWELL?
As any fan of "Mad Men" can tell you, the first episode of the most recent (and sadly final) batch of programs opened with Don Draper seemingly seducing a gorgeous young woman in a fur coat. It turns out he was actually auditioning her to appear in an ad, and the mystery woman was none other than Andie's daughter, Rainey Qualley.
Andie actually has another daughter as well who is an actress, so what advice does she have for them? "Like all young girls wanting to make their mark in Hollywood, they're having to handle pressure to go nude on screen. They want to be taken seriously, and they're not crazy about the idea of having to take their clothes off."
"So they call me to ask my advice. I'd never tell them what to do, but I do say that if nude scenes were what it took to become an actress when I started, I probably wouldn't have done it. Nudity is expected by the studios these days, and I think that's appalling."
To put some context to that, it's been said that Andie is a "good Christian" so perhaps that explains it. But appalling? Sounds a bit harsh to us.