Amy Adams: Sexy Lois Lane
One can come up with several candidates for the current winner of America's favorite actress, and while a consensus pick may not be possible, a few women quickly rise to the top. The adorable Amy Adams for sure is among this select few. She can headline a quirky indie film, kiss Superman, charm Muppets, star in art house masterpieces and portray a fairy tale princess, all the while turning men on and seeming like a perfect best friend to women. Plus, if you are a fan of cute redheads, she might be truly irresistible, but she's sexy enough to likely win over a genuine ginger hater. Add in her obvious acting talents, fun personality, winning style, girl next door appeal, quick wit and the fact that she's got a fabulous body as well. Clearly, we have a great pick for our contest. While all these things are interesting, there's little doubt that many of her fans have one other thing on their collective minds. That is, of course:
WHERE CAN I SEE AMY ADAMS NUDE?
Amy has been kind enough to flash some bare flesh in a few of her films, among them one of her very first. 2000's "Psycho Beach Party" isn't quite the low budget exploitation film the title makes it out to be, but is rather a cute sendup of the genre. In this scene, her bikini bottom is accidentally pulled off. Although you can't see much, you do get a quick flash of at least part of her butt. In a difficult world, fraught with uncertainty and troubles, a piece of Amy Adams' butt is a good thing indeed.
Her next nude scene came several years later, and offered quite a bit more flesh. 2008's "Sunshine Cleaning" is one of the many fine independent films Amy has done over the years, and when American audiences saw it, they saw a smart but simple tale of two sisters opening a very unusual cleaning company. Foreign audiences though saw a bit more, as one specific scene was shown from a slightly different perspective and offered a quick flash of her breasts. Fear not though, as we have dug up this scene for you to peruse.
2008 was indeed a fine year for fans of Amy Adams' skin, with her also flashing some in "Miss Pettigrew Lives For a Day." In this scene, she gets out of the bath and covers herself with a towel, but audiences can still get a nice glimpse of her cute butt. The title character might have only lived for a day, but this scene lives on. It even begins with her in lingerie and stockings to up the fun ante.
THANKS FOR THOSE CLIPS. THEY HAVE GOTTEN ME READY FOR MORE. ARE THERE ANY MORE RECENT ONES?
One of her best nude scenes was in 2013's "American Hustle," which was both a critical and commercial hit. Amy was fantastic in it, and it earned her a fifth Oscar nomination before the age of 40 – which in and of itself puts her in very rare company. In this clip, she performs a hot dance on stage and then has sex with Christian Bale. Hmm. Sex with Christian "Batman" Bale and later playing Lois Lane in a Superman film? Amy definitely has a thing for superheroes.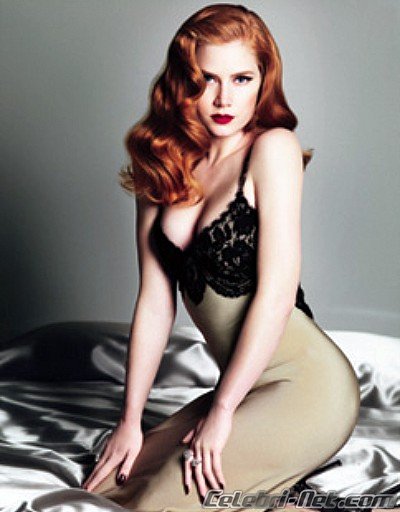 I'VE GOT A THING FOR BLACK LINGERIE AND FOR AMY ADAMS. WHERE CAN I SEE HER IN MY FAVORITE KIND OF UNDERWEAR?
In 2002's straight to video sequel entitled "Cruel Intentions 2," Amy does indeed don that sexy outfit as she tries to seduce a lucky co-star. Were her intentions cruel or just sexy? Feel free to skip the rather forgettable movie and just enjoy this brief clip.
DANG, I SURE LIKED THAT LESBIAN KISS. ANY MORE LIKE IT OUT THERE?
Well, she may have been "bamboozled" into the scene just mentioned, but likely didn't need to be coerced for this even steamier moment from 2005's "Standing Still." Like nipples poking through clothing? Like her co-star, Lauren German, prepare to go down on Amy? Like seeing Amy seem to get into it? You are in luck.
[[contentId: 2879333| ]]
Of course, the most famous girl on girl kiss Amy has done on screen was in "American Hustle." The quick but memorable kiss between Jennifer Lawrence and Amy generated a lot of press, and though it is as much about power as it is about sex, it is still an unforgettable moment in a film full of them.
Here's what Amy had to say about the scene and the famous kiss that wasn't even in the original screenplay. "My character is really strong and her character is kind of crazy, and I was thinking, 'Why would I let her leave?' I really want to tell her something and I thought, 'What's the craziest thing she could have done to me?' I thought she should kiss me."
How did Jennifer feel about Amy's suggestion? "Jen was open. She's open to anything." Remember that, all of you who dream of Jennifer Lawrence. She's open to anything. So, how was the scene for Amy? "She does a great job at it [kissing]. She has very soft lips."
LATELY, I'VE BEEN FIXATED ON SEEING AMY ADAMS IN A SEE THROUGH BRA WHILE SHE MAKES OUT WITH THAT WEIRD MACHINE FROM THE TRANSFORMERS MOVIES. AM I CRAZY OR IS THAT SOMETHING I COULD ACTUALLY WITNESS?
The answer is possibly both, but either way, we can hook you up. Provided that is that by weird machine from "Transformers" you mean Mark Wahlberg. In 2010's fabulous "The Fighter," which was another of the films Amy has gotten an Oscar nomination for, she does indeed have a juicy scene with Wahlberg and she is indeed wearing the type of bra you are describing. It's a wonderful movie even if seeing her nipples isn't high on your list. Then again, it probably is.
DOES AMY ADAMS HAVE SEX?
That would seem to be one of the dumbest possible questions imaginable, but the question actually came up once in an interview. "I did one interview when I was pregnant, and the writer said he thought people would be surprised to know that I had sex. I didn't know what to say. I was like, 'Excuse me if it takes a minute to process the fact that you think I'm asexual.' Anyway, there's something great about the world thinking I'm so innocent. Only it's not true."
WHAT WAS IT LIKE FOR AMY TO KISS SUPERMAN?
In "Man of Steel," she played the iconic Lois Lane so of course got to kiss everyone's favorite dude from Krypton. What was it like for her to prepare for the scene? ""I think at that point he is a normal dude to me, that's the thing about their relationship is that what they find in each other is such a compatibility. There's a, you know, the thing that they have in common is really strong and then this sort of isolation, like I talked about, and sort of they develop a real trust and friendship for one another."
WOULD AMY MAKE A GOOD DATE FOR A WEDDING?
She'd probably be good company pretty much anywhere, including at a wedding, but in 2005's "The Wedding Date" her character wears a red dress with no bra that allows for a seriously hot reveal of what's underneath. You never want to upstage the bride in real life, but this scene leaves little doubt who the real star is.
WAS AMY ADAMS EVER A SEXY WAITRESS?
Not only was she, but she was actually a bona fide Hooters Girl for a short stretch. "Everyone would agree, if they could see me, Hooters isn't necessarily the best way to describe me. I was a dancer, and I used to run around in a leotard and tights. I really didn't quite get it. I was so naïve about that."
She continued by saying "I just thought, 'Well, it's a leotard and tights and shorts; it's not a big deal.' But there is a difference, and I learned it. I was 17, and then when I was 18, I waited (tables) for about a month. I wasn't cut out to be a waitress, and I certainly wasn't cut out to be a Hooters waitress. That was a short-lived ambition." 
ANY CHANCE YOU CAN COMBINE A CLIP OF AMY DISCUSSING LOSING HER VIRGINITY, CRYING, WEARING A CUTE BRA AND TALKING TO THAT GUY WHO DROWNED IN "TITANIC"?
We can happily do so for you, dear reader. In 2002's fun "Catch Me If You Can," she does indeed have such a scene opposite that guy from "Titanic,"  Leonardo Whatshisname. She even sports a cute Southern accent along with the cute bra.