Johnny Depp's Girl Gone Wild is Amber Heard
You could rank the important female authors and philosophers of the twentieth century, and few if any would outrank Ayn Rand as a controversial figure. Her philosophy known as objectivism has been taken to heart by a generation of Republican neo-con leaders, making her either an absolute hero of the right and libertarians, or a vilified icon to much of the left. By this point you might be wondering how in the hell does this short haired and hardly attractive figure relate to the subject of this article? Well, Amber Heard was raised Catholic but at a relatively young age lost her best friend in a car crash. This turned her away from her faith, and towards atheism with an Ayn Randian bent. Heard said of Rand that ""I've read all of her books. Ever since then, I have been obsessed with her ideals. All I've ever needed is myself." For Amber's many fans, all they may need is to gaze upon her flawless beauty and agree that that would be enough. Then again, for anyone who has had to suffer through Rand's "Atlas Shrugged," it may be difficult to forget (or forgive?) Amber's taste in literature. Be all these things as they may, there is certainly a saving grace if you're drawn to gorgeous blondes – imagining her in a steamy sex scene.
WHERE CAN I SEE AN AMBER HEARD SEX SCENE?
Luckily for those in search of an Amber Heard sex scene, there are several floating around out there. The first one she did was in her very first film. 2004's "Friday Night Lights" later spawned one of the great television series of the modern era, but the film version offered her in a steamy make out session with a co-star.  Her character doesn't really have sex, but this topless scene definitely has its merits.
I LOVE BLONDES, NOT JUST AMBER. I ESPECIALLY LOVE BLONDES WITH BIG BOOBS, BIG EYES AND GREAT SINGING VOICES. PLUS, IF IT'S NOT TOO MUCH TO ASK FOR, I WANT TO SEE SUCH A BLONDE WITH AMBER HEARD. CAN YOU MAKE MY WISHES COME TRUE?
In fact, we can. Believe it or not, Amber shared a dual topless scene with the lovely and talented Amanda Seyfried in 2006's "Alpha Dog." While neither starlet had yet reached the levels of fame they would in subsequent years, their brief moments at the very least demonstrate a pair of killer bodies. The film itself is a very smart look at a group of troubled teens who have gotten into a situation far over their heads, and offers a remarkable cast. Beyond established talents like Bruce Willis, Sharon Stone and Harry Dean Stanton, it also featured then up and comers like Emile Hirsch, Ben Foster, Vincent Kartheiser, Justin Timberlake, Olivia Wilde and Anton Yelchin. It's well worth tracking down, but in the meanwhile, feel free to enjoy this topless romp in the pool with Amber and Amanda here.
Just because we are very nice and care about you so much, dear reader, we might as well offer you another clip from the same movie. It doesn't have Amber in it, but does feature Olivia Wilde nude. Yep, you read that right. Olivia Wilde nude. Enjoy.
I DEFINITELY THINK AMBER HEARD IS A SUPER HOTTIE, AND WOULD LOVE TO SEE HER IN PLAYBOY MAGAZINE. CAN YOU EMAIL HEFNER AND SEE IF HE CAN MAKE THIS HAPPEN?
We are sorry to inform you that despite our many powers, personally requesting such things from Hugh Hefner is a bit beyond our abilities. However, Amber did star in the short lived NBC TV Series "The Playboy Club." That she was cast as a Playboy bunny in the show was definitely believable casting, but the show itself was a critical and commercial dud. While there's nothing too graphic that aired due to the network constraints, the few episodes that did air offer some seriously sexy shots of Amber.
CAN YOU INFORM ME ABOUT ANOTHER AMBER HEARD SEX SCENE?
We can and will. In fact, of the several such scenes that Amber has done, probably the most graphic and exciting was in 2009's "The Informers." Although the film itself is definitely not worth writing home about, going straight to video despite an interesting cast that also included Billy Bob Thornton, Kim Basinger, Winona Ryder and Rhys Ifans, it offers several memorable moments with Amber. This clip offers both a steamy sex scene and a moment where she is messing around with two guys and another hot chick simultaneously. Feel free to thank us for informing you.
WAIT, DID YOU JUST SAY SHE WAS MESSING AROUND WITH ANOTHER GIRL? IS THAT JUST ACTING OR IS SHE ACTUALLY INTO GIRLS AS WELL?
Amber very publically came out as a bisexual in 2010, discussing in an interview with Elle Magazine about her relationship with photographer Tasya van Ree. "I didn't want to look like I was hiding anything. I'm not, and wasn't ever, ashamed."
In a different interview, she had this to say about dating. "I have had relationships, successful relationships, with men, and I had a great relationship with a wonderful woman. I will never beg for an easy classification or label for that moment in my life, or assume to know what the future holds for me. I have always been and always will be just who I am and I will never fake anything for anyone."
Amber has been quite outspoken about following her own heart and speaking up for what she believe in. "I am not ever going to be a person who has a desire to expose myself more than I feel. Being a private person made me want to not expose myself any more than I already had. But I also felt I had a responsibility to not appear to be in hiding. I watched people around me succumb to hiding and hiding denotes shame. I feel, and felt, zero shame. We all love who we love; we don't choose it."
WHICH MOVIE SEX SCENE HAS CHANGED AMBER HEARD'S LIFE THE MOST?
It may not be the steamiest, though it is steamy, and it may not be the longest, though it is pretty long, but it would seem that the pivotal scene she has done of this kind was in 2011's "The Rum Diary." The reason is that it was opposite Johnny Depp, who she became engaged to a couple of years later. When the film was shot, Depp seemed to have been in a perfect long term relationship with Vanessa Paradis, with the gorgeous couple parents to two kids. Well, either trouble was already brewing with Paradis, or perhaps Amber's charms were just too irresistible, but rumors of their on-set chemistry being more than just good acting soon proved true. Now that she is engaged to one of the most successful and beloved actors in the world, she may be done doing nude scenes on film. If so, we still have moments like this to appreciate.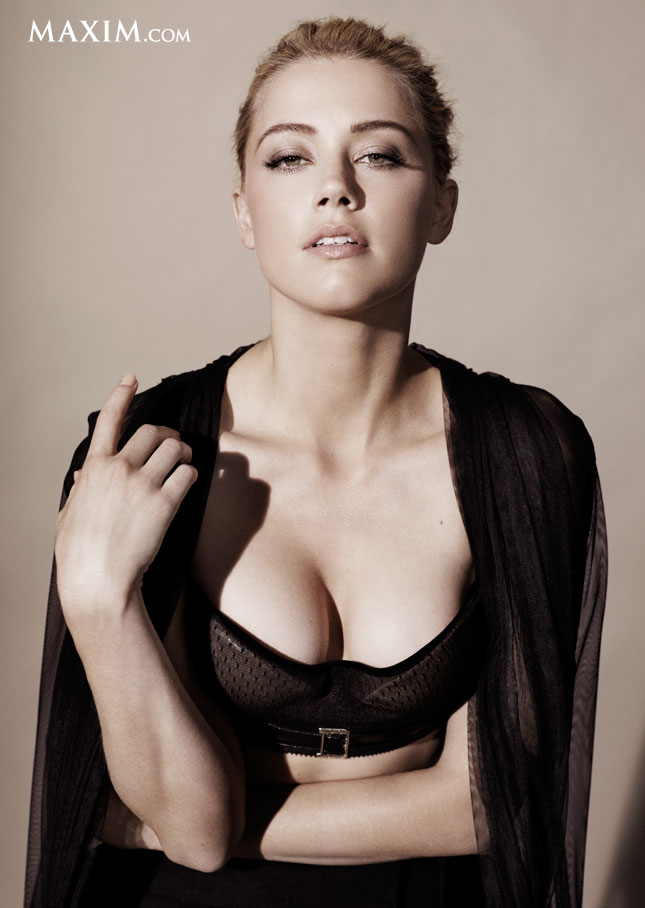 DOES AMBER HAVE A GOOD SENSE OF HUMOR ABOUT SEX AND SEXUALITY?
It sure seems as if she does. On the set of "Paranoia," she pulled this prank on co-star Liam Hensworth. She said "I saw a discarded large dildo in the prop truck and I asked if I could borrow it, and after not so long of a pause the prop guy happily handed it over to me. I talked to Robert [Luketic, director] and the producers and made sure that once we got the take we could ask for one extra. And unbeknownst to Liam, I just switched out my arm for the dildo."
HOW DOES AMBER FEEL ABOUT THE SEX SCENES SHE'S DONE IN FILMS?
By most accounts, Amber seems to be rather level headed and realistic about how the entertainment industry works. She said that "At first, you've got to take guest appearances on TV shows, which I did plenty of. I did plenty of topless scenes, too, which are in movies for no reason other than they're topless. I paid that small price, which you have to do to go further. But I always knew what I was doing in a movie. If my role was nothing but that, I could make the decision, as an adult, whether to use it to my advantage or not."
Now that she has become a star and on the verge of marrying a very wealthy man, she of course has a lot more leverage as to what roles she will be taking. It's likely though that she will be able to continue her path as an actress and not just a sex symbol, and it will be interesting to see where her talents take her in the years ahead.
At the very least, the uber-cool Johnny Depp definitely is charmed by more than her looks. "On one of the first times I sat down with her, just talking after we met, I was astonished at how smart she is. She's a real strong, brilliant man who has a lot to say. When you have that combination… And also, she has the ability to bring up the names of old blues guys, like Slim Harpo, Tampa Red or any of these somewhat obscure guys.  She has great knowledge of that and country music. It was just… there was no way around it."