Amanda Crew: Now There's a Sex Drive!
The Canadians have given us many gifts; hockey players who rather play for the U.S., a place where American football players can work out the kinks in their game before defecting to the NFL, a few pretty funny comedians, a mayor that the world and Saturday Night Live can make endless fun of (eh,Toronto?) and an example of what passive/aggressive means.  But best of all, they've gifted us some hot chicks.  Canadian actress Amanda Crew is an example of such a gift from our neighbors to the north and best of all, she's a gift that keeps on giving. With her smouldering good looks, there is a good chance we are going to see Amanda on the celebrity A-list someday.  Like most of her more intelligent brethren, she's defected to Los Angeles where she has earned the clout to star in U.S. television and film projects. After slogging through Canadian productions, Amanda got started to get supporting roles in Hollywood films. Her star rose after she got a leading part in the double entendre titled film, Sex Drive.  The girl with the Mona Lisa smile got enough male sex drives going that she was cast as Zac Efron's co-star in a U.S. studio movie, Charlie St. Cloud.  Once exposed to U.S. audiences, Amanda exposed her breasts in the indie film, Crazy Kind of Love which is always a young actress's first step to more nudity especially for "artistic purposes."  And now that Amanda appears on an HBO show, chances are high that if nudity is called for, she just might answer that ring.
WHO IS AMANDA CREW AND WHAT HAS SHE DONE?
Amanda Crew was born June 5, 1986 in Langley, British Columbia.  Her father works for a telecommunications company and her mother is a legal secretary.  She trained in tap, hip-hop and jazz dancing and started acting in the fourth grade when she landed the lead in the musical Dragon Tales. After seeing her performance, three agents wanted to sign her and Amanda started to focus on acting. She trained at the American Academy of Dramatic Arts, Tarlington Training and the Carousel Theatre School.  Amanda also acted in theatre in plays such as Stalling, Cordstons Courts and Langley and appeared in a Coke commercial before making her TV debut in 2002 in Dear Sara, Sincerely Patty.  Her big break came when she was 19 years old and cast as Tanis McTaggart on the teen dramedy series 15/Love about the lives of aspiring young tennis players which aired on the Canadian network, YTV.  Amanda left the show in 2005 and appeared on American television shows, Life as We Know It and Smallville.  She returned to Canada and from 2006 to 2008, she played Carrie Miller on the CTV drama series Whistler about the death of a famous snowboarder that takes place at the famous ski resort.  Amanda plays the girlfriend of the snowboarder who seeks to solve the mystery of his death.  She won a Leo award which is British Columbia's version of the Emmys for Best Lead Performance by a Female in a Dramatic Series for her work on Whistler. 
Amanda turned her attention toward film work and in 2006, she made her feature film debut in the  horror movie, Final Destination 3.  Although Amanda auditioned to play the goth girl character, Erin Ulmer, she wound up getting the role of Julie Christensen, the protagonist's sister.  The film received mixed reviews but earned $19,173,094 in its opening weekend and eventually grossed $117,719,158 worldwide becoming Amanda's highest grossing film.  Amanda appeared in 3 other features that year, She's the Man with Amanda Byes, John Tucker Must Die and Meltdown: Days of Destruction.  She acted in several feature films even while she was working on Whistler; That One Night and Monster Ark, both released in 2008.
Amanda got national attention with her first leading role as Felicia Alpine in Sex Drive (2008) in which she co-starred with Josh Zuckerman, Clark Duke and Seth Green. Based on the novel All the Way, by Andy Behrens, the buddy comedy is about a high school boy played by Ian (Zuckerman) and his journey on a cross-country road trip to meet a girl he met online in order to lose his virginity.  Amanda plays spunky Felicia Alpine, Ian's tomboy sidekick who joins him on the car trip along with his other buddies.  When asked why she took the role, Amanda said, "I try to find something within the character or script that will be challenging. I've never wanted to work on something that I didn't care about because I think that shows no worth."  Although Amanda has done comedy before, she found her leading role came with more pressure.  "Comedy is a challenge which I quickly discovered," she explains, "When you're a lead, all of a sudden there's quite a bit more pressure on you to make it work." Although she's got the looks to play the girl next door what attracted Amanda to the project was Felicia's anti-cookie-cutter-qualities.  She said, "So often, especially in comedies, the girl in the story is always just a pretty girl-next-door whose job in the movie is for the guy to like her. I love the fact that this character was a leading girl but she has substance to her."
Felicia had so much character that she had to agreed to pee into a car's radiator to keep it from overheating when it ran out of water.  Now, that's aim.
After Whistler ended on April 19, 2008, Amanda continued to do features including The Break-Up Artist (2009), The Haunting in Connecticut (2009) and Repeaters (2010).  Also in 2010, Amanda co-starred with Zac Efron, Kim Basinger and Ray Liotta in Charlie St. Cloud, playing Efron's love interest. Although the film didn't perform well at the box office, it did introduce Amanda to a wider audience due to her lead role opposite Efron.
In Charlie St. Cloud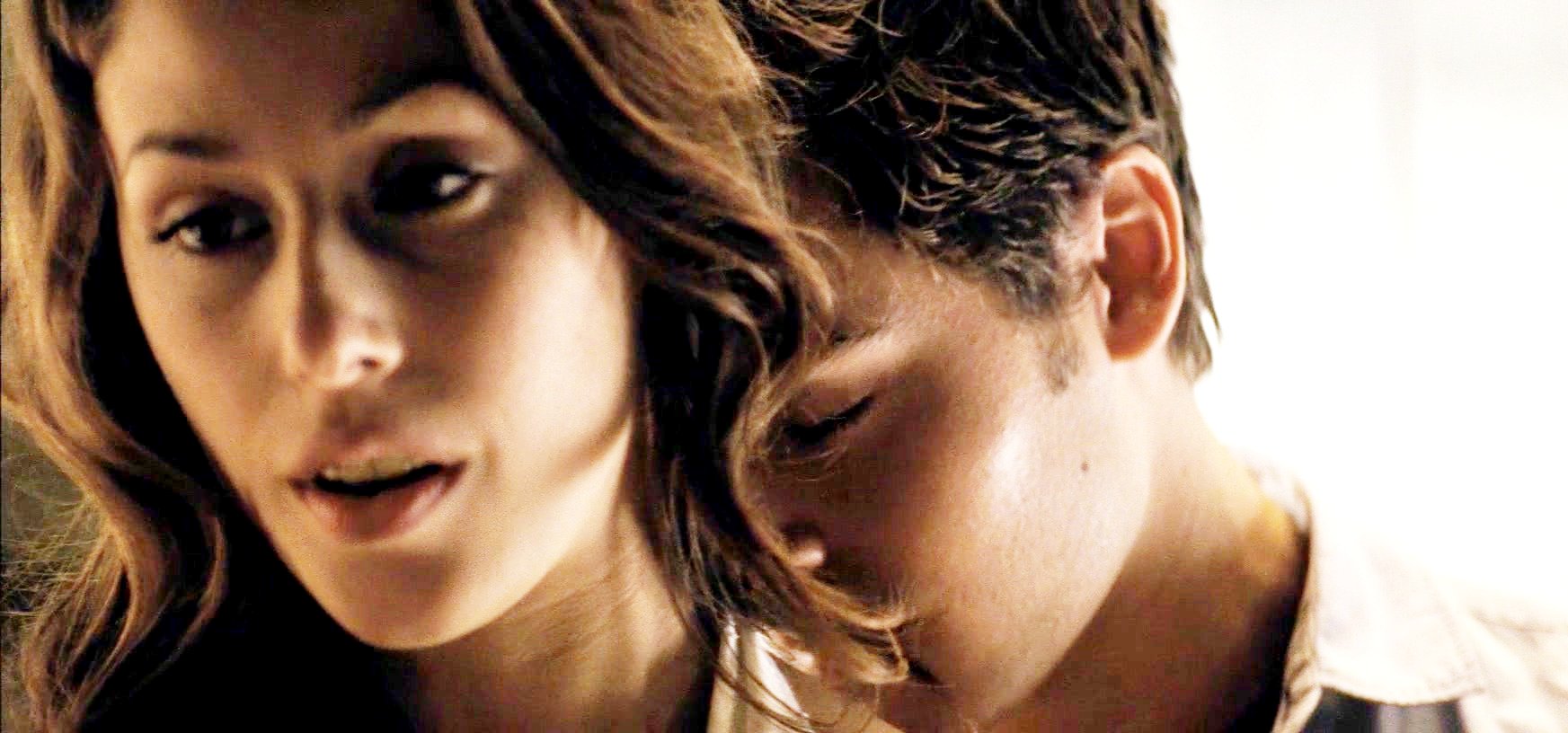 Her other films include Charlie Zone (2011), Sisters & Brothers (2011), Knife Fight (2012), the Steve Jobs biopic, Jobs (2013) and Crazy Kind of Love (2013).  Amanda returned to American television in 2014 when she was cast as Monica in Silicon Valley, a HBO series created by Mike Judge, about six guys who found a startup company in Silicon Valley. Amanda is the only women on the show in the reoccurring cast. She plays Monica, the assistant to venture capitalist, Peter Gregory (Christopher Evan Welch) who invests in the start-up.  Monica winds up being the advisor/therapist/mom to the guys at the company and had many scenes opposite Christopher Evan Welch who eventually died of lung cancer at the end of Season 1.  She told Esquire magazine in an interview how it was to work under such circumstance, "Chris was very private. Working with him, you'd never know. His spirits were so high, he had such great energy, he was on point, sharp."  Despite Gregory's limited role, he made an impact on the show.  Amanda praised her co-star's professionalism, "There's stuff that I witnessed that was pure genius and brilliance. It was always so hard not to laugh around him. He would go out of his way to make sure I was a part of his scene."
The only girl in the Silicon Valley cast
Amanda's career is definitely on the upswing as Silicon Valley is going into Season 2 and is both well-received in the ratings and critically praised. She also joined a formidable cast headed by Harrison Ford, Academy Award-winner Ellen Burstyn and Kathy Baker in 2014's The Age of Adaline about a woman who stops aging after recovering from a near-fatal accident.  Amanda says substance in her acting life and private life is what's most important to her.  Now a Los Angeles resident, she's aware of the downside in the culture of Hollywood but says fame was never her driving force to be an actress, "Acting is what I love to do. If I do it under the radar for the rest of my life but I get to work on amazing projects, so be it."
WHO HAS SEEN AMANDA CREW NUDE?
Amanda appeared in two movies with her boyfriend, Dustin Milligan a Canadian actor from Yellowknife, Northwest Territories Canada and best known as Ethan Ward on the CW teen drama television series, 90210.  Milligan was on the show for one season in 2008.  He and Amanda worked together in Final Destination 3 and in the 2010 thriller, Repeaters where they played young drug addicts who find themselves stuck in a time loop.  Given their history and current relationship, it's safe to say that Milligan has seen Amanda nude.  (Unless they have some odd agreement that we don't know about.)
WHERE CAN I SEE AMANDA CREW NUDE?
But hey, if Milligan hasn't seen her nude, you can! For Amanda fans, she hasn't appeared fully nude although there are the prerequisite photoshopped fakes on the web.  However, the worldwide audience can see her legitimately topless, topped with a nipple ring in Crazy Kind of Love based on the 1995 book, Angel Angel by April Stevens, about the story of a family that is torn apart when it's revealed that the father has been cheating.   Amanda plays Bette Mack, the girlfriend to Henry played by Graham Rogers. They co-star with Virginia Madsen who plays Augusta, the heartbroken mother.  When Henry invites Bette to live with them, their family dynamics start to change as the family slowly heals.  In a love scene between Henry and Bette, audiences can see Amanda's breasts, displaying a small nipple ring.  See it here.