Allison Williams Goes from Girls To Pan
On the HBO series, Girls, about twentysomethings dealing with life, angst and sex in New York City, famous daughter, Allison Williams is known as the good-looking, hot chick who plays uptight and responsible Marnie.  Constantly referred to as a Sex and the City for the millennial generation, Girls offers the actresses, especially the series creator, Lena Dunham who also plays the lead character, Hannah, many chances to be nude.  Girls is an HBO show and it seems to be a prerequisite that in order to be an HBO show, people must be naked and there must be sex.  Allison Williams' character Marnie has had sex many a times on Girls with several interesting characters like a pretentious, self-centered artist who can't sexually perform and Hannah's gay ex-boyfriend in addition to her own boring boyfriend, Charlie.   
She's known as the "pretty" one.
Surprisingly, Allison Williams' famous father, newscaster and journalist Brian Williams has said it is an "unmitigated joy" to watch is daughter on TV even in awkward sex scenes. (Should we mention that he may have been lying about this, as he is known to do?)  Williams said he and his wife always knew Allison would be an actress so he is simply a proud father when watching Girls and that nobody has to cover his eyes as the media had reported.  Williams said, "That was something someone made up in an article. There has not been a journalist with us in a room watching that I know of.  Other than myself. " 
Allison was cast on Girls shortly after graduating from Yale University in 2010.  Girls executive producer Judd Apatow saw the You Tube video in which Allison performed a Nat King Cole song, "Nature Boy" set to the band RJD2's "A Beautiful Mine," the theme for the AMC TV series Mad Men.  After Allison's audition, Lena Dunham was impressed, "There was a great mix of brazen confidence and deep age-appropriate insecurity flickering on her face." However, Lena originally wanted her real life best friend, Audrey Gelman to play Marnie.  But Audrey has a day job as spokesperson for Scott Stringer, New York City's comptroller and passed on the job.  When Apatow suggested Allison, "I thought 'gorgeous voice, great hair, what else is new in Hollywood,'" Lena confessed, "I had to meet Allison to understand just how cheeky and intelligent that video really was and just why Judd felt so strongly about her."  Yes, it probably did piss off a lot of struggling actresses but it certainly helped start Allison's career off with an orgasmic bang.
WHERE CAN I SEE ALLISON WILLIAMS NUDE?
Well, you definitely won't see Allison nude on Girls since when asked in an interview if she was going to do nudity on the show, Allison said, "I'm not planning on getting naked."  When asked if that was in her contract, she said, "I don't think I can talk about that.  But I'm not planning on it." It probably won't do for NBC News anchor Brian Williams' daughter to be strutting her lady parts and Allison herself says she watches her public behavior, "I'm always aware whether my clothes are falling off or not. I rarely go out to clubs or anything." So unless Allison's plans change, her fans will just have to settle for the various sex scenes she's done on Girls.  Her dad must have been especially "joyful" then to see Allison's much talked about masturbation scene in the "All Adventurous Women Do" episode in Season One.  Marnie meets artist Booth Jonathan (played by Jorma Taccone) at a party at the gallery where she works and runs to the restroom and gives herself an orgasm after Booth tells her, "I want you to know, the first time I fuck you, I might scare you a little because I'm a man, and I know how to do things."  Now, that's a pick up line.
COVER TOWN AND COUNTRY. Does this woman look like she does nudity?!
When asked how she prepared for the masturbation scene, Allison laughed, "I talked to Lena about it.  I was so nervous, Lena brought me in the dressing room and we took turns being up against the door."  Lena would do the scene one way and Allison would riff off of that and they created how to execute the scene together.  Allison explains, "We were trying to decide because Marnie was wearing tights and a dress; does she pull up the dress and then go down the tights? Or does she pull down the tights and then pull up the dress?"   When asked about all the attention her masturbation scene has garnered her, Allison said, "I'm sort of fascinated that it's being made into a thing because I just looked at it as a part of my job. There were scenes that were more difficult for me to do than that one and it's interesting to me that people are fixating on it."  This scene has also received positive reviews for showing that a woman masturbating is a completely normal thing to do.  Allison is all for Marnie sexually satisfying herself.  She said, "I hope Marnie can find a way to somehow fulfill herself. I hope that she starts masturbating more, doing whatever she has to do to be her own person."
Another one of Allison/Marnie's sex scenes that's gotten attention is the one when she actually does bang Booth Jonathan.  Marnie leaves in the middle of her shift on the first day at a new job to go to Booth's apartment when he tells her that she "looks like the kind of person who's about to have sex with him."  At the apartment, Booth locks Marnie in a tiny room that is his art installation.  In the room, a tower of TV screens showing crying babies while Duncan Sheik's "Barely Breathing" is blasting.  After he lets her out of the room, she tells him he's "so fucking talented" and they have weird, bad sex.  The weirdest part is when Booth asks Marnie to describe the doll near his bed which actor Taccone later revealed was an unrehearsed line.  He explains, "It was a weird doll that came with the house that we were shooting at and it seemed appropriate to me given how aggressive an artist Booth Jonathan is, that he would make it a three-way between Allison and a bizarre-looking old doll."  Allison said they kept laughing as they were filming the scene, "Walking into that bedroom and seeing that freaking doll standing in the corner, all of us had the same reaction, we were like, 'She's gotta be right here. She's gotta be in the sex with us.'"  
Booth and Marnie prepare for their 3 way with the doll
DID ALLISON DO A LESBIAN KISS?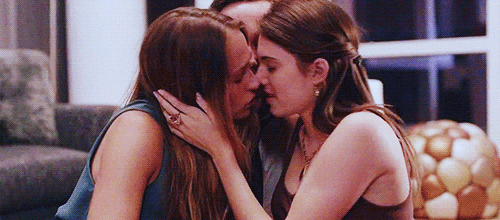 Allison as Marnie made headlines again in another episode when Marnie kissed and made out with fellow friend, Jessa played by Jemima Kirke in front of Jessa's future husband when all three characters are lying on the floor after drinking.  When asked what she thinks drove Marnie to kiss Jessa, Allison said, "It's a little bit of being drunk and a little bit of wanting to do something that surprises not only Jessa but also herself. I think it's the desire to not feel controlled all the time and turn off her brain and see what happens." You can see how it happens below.
WHAT IS THE CONTROVERSY SURROUNDING NUDITY IN GIRLS?
Unfortunately the nudity in question wasn't about Allison, it was about Lena Dunham.  In January 2014 at a panel for the Television Critics Association, TV critic and journalist, Tim Molloy asked Lena, "I don't get the purpose of all the nudity on the show. By you particularly. And your character is often naked at random times for no reason."  Lena's response was that she was nude on the show because in real life, people are just naked sometimes.  She took offense at the question and went on to say, "Yeah. It's because it's a realistic expression of what it's like to be alive, I think, and I totally get it. If you are not into me, that's your problem."  She went on to suggest that Molloy is "going to have to work that out with professionals."  Apatow told Molloy he felt the wording of the question was "offensive, sexist and misogynistic."  He said, "That was a very clumsily stated question that's offensive on its face, and you should read it and discuss it with other people how you did that."  He then asked Molloy if he had a girlfriend and whether she liked him. When Molloy answered yes to both questions, Apatow told him, "Let's see how she likes you when you quote that with your question and tell me how it goes tonight."  In article for The Wrap, Molloy gave his side of the situation.  He reported that he did discuss the TCA incident with his girlfriend who also didn't understand why it seemed Lena was naked so much.  He wrote, "Girls has more nudity by its lead character than any show, well, ever. But my girlfriend and I don't understand the reason for it."  As a TV critic, Molloy said he was just trying to understand the creative decision-making behind the reasoning for all of Lena's nudity, "We're cool with nudity and if Dunham wants to be naked, great. I'm not offended by it. I don't like it or not like it. I just don't get the artistic reason for it." 
Would there be controversy if Allison got naked? Here she is in her bra. Not enough?
Molloy and Apatow further discussed the situation after the panel was over.  Apatow was emphatic that his problem with Molloy was with the way he articulated the question saying, "There's a way to word a question about the reason for nudity on the show and it was not done elegantly. If you re-read it and you listen to it you will not be proud of yourself." When Molloy told him that it was his job as a TV critic to understand the reasoning behind the nudity, Apatow asked him, "As a TV critic you don't understand why a show about young people in New York who spend some of their time naked and some of their time having sex, includes women who sometimes are naked and sometimes have sex?"  Molloy asked him, "Then why aren't all of the characters naked?"  Apatow's response was that a show about Molloy would show him naked some of the time.   They debated about male nudity in Apatow's films and Apatow said if his actors were willing to be completely naked in a movie, he would feature that because it's more honest.   Molloy said he felt that was the answer he was looking for when he asked the contentious question which he eventually got in a roundabout way after pissing off the Girls executive producers.  However, perhaps the real honest answer that could have saved everybody a lot of time and negative energy is the reason Lena is naked a lot is because Lena will do nudity and other actresses like Allison won't.  It's Lena's show so if she wants to be naked because it's honest and real (because television is so real) or because she simply feels like it, she can.  And those of you who want to see Allison naked should hope that she gets her own cable TV show someday and discovers that as an artist and actress, she too must be seen naked.  
Allison fans will just have to settle for this picture of her in a bikini.