Jennifer Garner: Alias Hottie Becomes Power Couple Mom
Ben Affleck has had a very interesting career. He started out in small roles like as the biggest jerk in "Dazed and Confused"  before seeming to come out of nowhere with the Oscar winning script for "Good Will Hunting." In the years since he's gone from major star to butt of punch lines (especially when dating Jennifer Lopez) and then back to major star, having directed the Oscar winning "Argo." Next up he'll be Batman, but more to the point the dude is crazy lucky with women. Especially if you're a Jennifer Garner fan, as ol' Ben is the guy who gets to see a heck of a lot of Jennifer Garner naked.
The sad fact is that unless you're Affleck, you're likely out of luck. There are countless photoshopped or in other ways fake images floating around, as well as nude Jennifer Garner lookalikes one can find while web surfing.  Unlike many of her peers, Jennifer has never shown much flesh on-screen. There are though several places where she has shared some sexy moments, like later in this clip where she tries on some lingerie.
The next best thing for her many fans is simply settling for lots of pics of Jennifer. This compilation video features lots of photos, many quite striking, but still pretty low on the skin quotient.
OK, IF I CAN'T SEE HER NUDE, WHERE CAN I AT LEAST SEE HER BEING SMOKING HOT?
Jennifer rose to fame on "Alias," which ran for five years on ABC and allowed her to play  a secret agent for the CIA. For fans, this allowed us to see her in many different outfits and personas, some of which were pretty steamy.
This one's got a decent amount of skin, but alas, no real nudity.
Here she is lookimg sexy in a scene from  "Alias"
WHAT'S IT LIKE TO HAVE SEX WITH JENNIFER GARNER?
It's a safe bet that Mr. Affleck isn't about to reveal such things, but Hugh Jackman performed a sex scene with Jennifer in the movie "Butter," and had some interesting things to say on the topic. It seems that for him at least it was more comedic than erotic.
As per Ivillage, he  told Martha Stewart "It actually takes place in a car in a showroom. I'm a car salesman. So, we literally got in a showroom, in a car, Jennifer Garner and I in a backseat, director in a front seat. No camera man, just the sound recorders and he was like 'OK guys – action!' and we look at each other and go 'OK.'," he recalls. "We did it and he said 'cut, cut, cut, this is not going to work. I can't record you guys simultaneously; we're going to have to do it separately.'"
So the 43-year-old "Real Steel" star describes how he had to "simulate a love-making scene" -- happy ending and all -- while being recorded for the movie.
"Yes, and I don't know what it is -- there is no way for a guy to be sexy. Guys can not sound sexy," Jackman says of his pretend orgasm. "There's no way around it, and when Jennifer Garner is laughing so much she had her head in the front seat trying not to make any noise while I was recording. Humiliating!"
Although the film itself doesn't have a lot of flesh, it is actually an underrated little gem full of dark humor and odd characters. Definitely worth checking out for her fans or anyone into black comedy.
WOULD JENNIFER GARNER BE A GOOD SPORT WHILE BEING NUDE?
All we can do is speculate, but judging by how well she handled Gary Busey interrupting her being interviewed on a Red Carpet, you've got to assume yes. This clip both proves that Jennifer looks pretty darn hot when super dressed up and that Mr. Busey is even crazier than you might remember.
WOULD JENNIFER GARNER MAKE A GOOD GIRLFRIEND?
Though she is off the market making the question likely moot, she has played a good girlfriend on screen as one of the "Ghosts of Girlfriends Past." She didn't offer much skin in this one either but did become friends with co-star Matthew McConaughey, who she later reteamed with for one of her most acclaimed roles in 2013's  "Dallas Buyers Club."
DO THEY TALK DIRTY IN THE GARNER-AFFLECK HOUSEHOLD?
By all accounts, Mr. and Mrs. Affleck have a very "normal" life at least by celebrity standards. However, there are of course times that sexually related stuff enters the equation. Per the Huffington Post, she recently told Jimmy Fallon ""Let's not overstate things," Garner laughed. "We are divided down a very mom-dad [line.] If it has to do with making food, or [doing] homework or anything that has to do with actually functioning -- sorry it's true -- that's a mom thing. And then coming in just as you're getting them to bed and picking them up by their heels and swinging them around, that's a dad thing. Anything fun, that is Ben."
Speaking of fun, Garner explained that her husband of almost nine years is loving his "male-bonding" time with their 2-year-old son, Samuel. (The couple also has two daughters, Violet, 8, and Seraphina, 5.)
"He's so psyched to finally have a little boy -- he loves his girls -- but he's serious about his son right now," the "Draft Day" actress said. "So, he taught him about his bits ... he taught him about his "P" and his two "N's." So now anytime we pass a dog who's walking on the street or we're at a zoo or something, our poor little son is crouching down and looking up and he's like, 'Mama, does that have a vagina or a penis with two nuts ... That's what Ben's been up to!"
Still, Samuel is well aware that mommy knows best. "Sometimes Sam will look at me and say, 'But mama calls them testicles,'" Garner added."
WHY IS BEN AFFLECK HAPPY HE MADE "DAREDEVIL" DESPITE IT BEING ONE OF THE BIGGEST FLOPS OF HIS CAREER?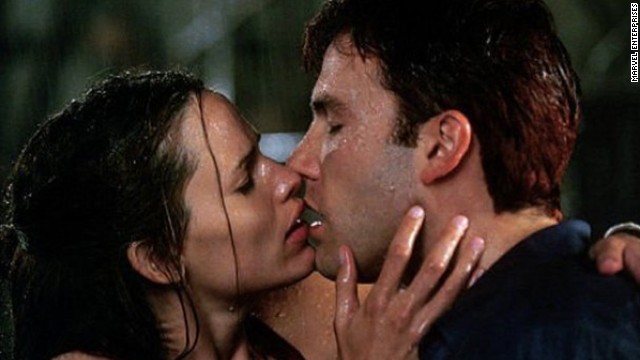 If you guessed because that's where he first began dating Garner, his co-star in the film, you'd be one hundred percent correct. It's a pretty rotten film, but did earn the couple a nomination in 2003 for the MTV Movie Award for Best Kiss.