Alexa Vega: Uncovering the Spy Kid
When child stars grow up, things don't always work out so well.  They either wind up looking funky and only a shadow of their former cute selves or they develop some serious substance abuse or financial issues or both.  However, feisty little spy kid Alexa Vega  seems to be the antithesis of these sorry fates. Having grown up right before our very eyes, this cute child star has butterflied into a sexy actress with a hot bod. Vanity Fair listed her one of 2003's hottest teen celebrities and in 2011, Alexa was named the Favorite Latino/Latina at the 2011 MTV Movie Awards.  Now, every bit the woman, Alexa continues to tackle TV and film roles that showcase her emerging talents.
She looks good as a blond too: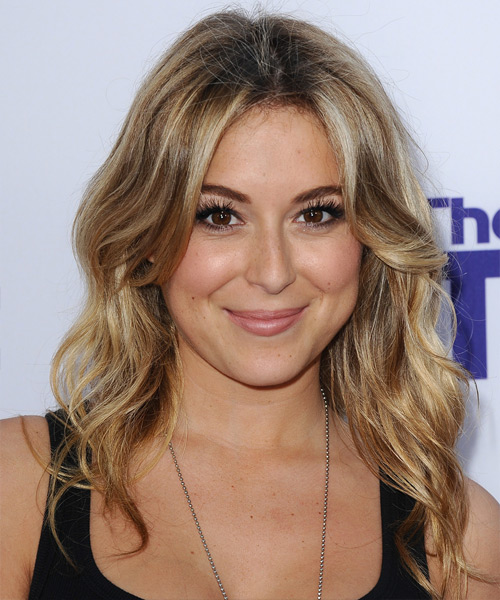 It's amazing what can happen when a little girl grows up:
See the 20 Hottest Photos of Alexa Vega here
WHERE CAN I SEE ALEXA VEGA NUDE?
If you misspell Alexa Vega's name while doing an internet search for her, you may come upon glamour model Alexa Varga and then you'd be in business.  But unless you become Alexa Vega's third husband, chances are you won't see her nude but you can see Alexa nearly naked and looking really sexy.  There's nothing like a hot girl who knows she's hot because she's willing to show it off and once this little girl actress became a woman, she's appeared in various TV and film scenes in very little clothing. 
Here she is in some sexy red lace lingerie in a scene from an episode of The Tomorrow People:
For a view of Alexa's backside, she tweeted a picture of herself jumping off of a cliff into the water: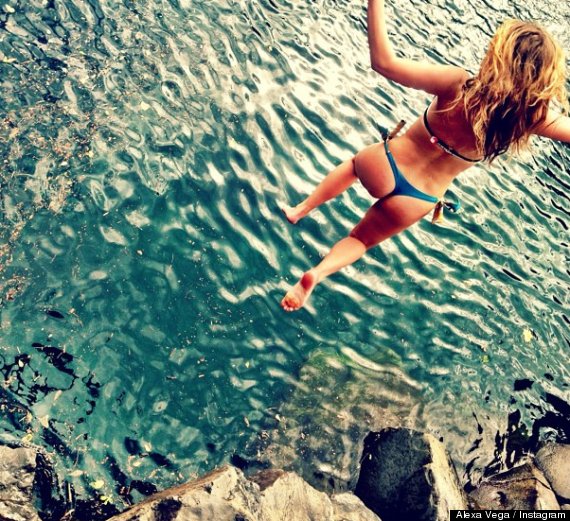 Then of course, audiences can get an eyeful of Alexa in Machete Kills where a lot of her wardrobe consists of a metal bra and leather chaps.  About taking on the the character of KillJoy, "This was all about owning my sexuality," Alexa said.  Well, Alexa's fans are happy about how well she owns it.
[[contentId: 2888551| allowfullscreen: | frameborder: 0| height: 360| width: 640]]
WHO IS ALEXA VEGA AND WHAT HAS SHE DONE?
Alexa Ellesse Vega was born on August 27, 1988 in Miami, Florida. Her father, Baruch Vega is a Colombian-born fashion photographer and her mother is American, Gina Rue who worked as a former model. Vega has six brothers and sisters and when she was 4 years old, family moved to California.  Her mother got a job with a talent agency and since Alexa was a precocious child, her mother thought acting would be a good outlet.  In 1993, she took Alexa to audition for the role of Burt Reynolds' daughter on his CBS TV series "Evening Shade." She got the part and was on the show for six episodes. 
As a child, Alexa continued to work had roles on various TV shows including, ER" and "Chicago Hope" in addition to TV movies, It Was Him or Us (1995) and A Promise to Carolyn (1996).  She also acted in feature films and made her debut in Little Giants (1994).  Alexa followed this up with several daughter roles; she was Tom Arnold's unruly daughter in Nine Months (1995), Steven Segal's daughter in The Glimmer Man (1996) and Alec Baldwin's daughter in Ghosts of Mississippi (1996).  In the blockbuster, Twister, (1996) Alexa played young Jo Harding, Helen Hunt's character.  Shuttling back and forth between film and TV, Alexa also played Alfred Molina's daughter in a short lived sitcom, Ladies Man on CBS and she was also Michelle Pfeiffer's daughter in The Deep End of the Ocean (1999).  
Alexa found fame when at 11 years-old, she was cast as Carmen Cortez, the daughter of undercover spies in Spy Kids, a film written and directed by Robert Rodriguez.  Released on March 30, 2001, the movie is the first installment in the Spy Kids series and instantly became a big hit, grossing over $147 million at the box office worldwide.  Alexa did most of her own stunts in the three movies and reprised her role in the subsequent sequels, Spy Kids 2 (2002): The Island of Lost Dreams, Spy Kids 3-D: Game Over (2003) and Spy Kids: All the Time in the World (2011).
As a little girl:
Also a singer, Alexa recorded three songs for the Spy Kids soundtracks, "Isle of Dreams" for Spy Kids 2 and "Game Over" and "Heart Drive" for Spy Kids 3-D.  After Spy Kids, Alexa continued to act steadily in movies such as Sleepover (2004), State's Evidence (2006), Odd Girl Out (2005), Walkout (2006), Marrying God (2006), Remember the Daze (2007) and The Beautiful Ordinary (2007).  In 2008, Alexa was the lead in Repo! The Genetic Opera, an unusual musical film billed as a rock opera horror.  She played 17-year-old Shilo Wallace who is confined to her room due to a health disorder but eventually rebels against authority.  Alexa also sang the song "Seventeen" on the movie's soundtrack. In 2009, Alexa played the lead in Helix, an independent action-thriller that has the distinction of being one of the few feature films shot in one take. 
Growing up:
Alexa was reunited with Robert Rodriguez in the 2013 American action-comedy, Machete Kills which he wrote and directed. She plays Killjoy, a woman who works in a brothel and protects the real working girls.  In the film, Alexa co-stars with a large cast including Sofía Vergara, Lady Gaga and her Spy Kids dad, Antonio Banderas.  However, she had to convince Rodriguez to let her audition for this role.  Alexa said Rodriguez's reaction was, "'Oh my gosh, no, I would never let you do that," she laughed, adding "I'm like a daughter to him."  But she convince him to let her read for the part especially since she was looking for a way to transition out of playing younger roles and escape her child star persona.  About her new image in the film, Alexa said, "It's edgy, it's kickass.  I think every girl wants to be a badass. I'm excited for people to see me in a new light without going over the top."  
All grown up:
Despite fame as a movie star, Alexa continued to work in television as well. In 2005, she played a victim of cyber-bullying and starred in Odd Girl Out, a Lifetime television film.  Alexa also played high school student and activist Paula Crisostomo in the 2006 HBO film, Walkout.  The movie was directed by Edward James Olmos and based on a true story of the 1968 East L.A. walkouts in 1968 when Hispanic and Latin students protested their unfair and poor treatment in Los Angeles schools.  "With a piece like that, you're serving history justice," Alexa said about her decision to do the movie, "There is something about playing an edgier role. You just have to focus on what you're making and I want to test my boundaries."
Alexa appeared on Broadway in 2007 when she played Penny Pingleton in the Broadway musical "Hairspray."  She was able to showcase her singing chops again when in 2009, she played David Cassidy's daughter for one season on the ABC Family sitcom, Ruby & The Rockits about a family with a music past. Alexa sang the opening theme, You Are Where I Liv, in addition to other songs on the show.  In 2012, Alexa played Gaby Rodriguez in a Lifetime TV movie, The Pregnancy Project about a high school student who challenges the stereotypes of teen pregnancy by pretending to be pregnant.  Alexa also had a recurring role as Hillary Cole on the CW science fiction series, The Tomorrow People that aired during the 2013–14 season.
[[contentId: 2888552| allowfullscreen: | frameborder: 0| height: 360| width: 640]]
In an ironic twist, Alex and her sisters recently reconnected with their father, Baruch and it was revealed that even though Baruch worked as a fashion photographer, he also had a double life as a government agent with the DEA, FBI and CIA.  Alexa says, "His life was just a crazy life working for the government and was just so dangerous he tried to make it as separate as possible." Baruch received death threats from Colombian drug cartel members and the FBI even briefly arrested him during a botched drug sting.  "We used to always laugh about that, if people ever found out how it would sound so funny; the Spy Kid with a real life spy dad," Alexa commented.
WHO HAS SEEN ALEXA VEGA NUDE?
Well, presumably her old and new husband definitely has.  On October 10, 2010, Alexa married film producer Sean Covel (Napoleon Dynamite)  in his hometown of Lead, South Dakota.  Robert Rodriguez walked her down the aisle. However, the couple divorced citing irreconcilable differences in July 2012 when Alexa was 23 years old although Alexa says, "I'm still very fond of my ex-husband, but if I've learned anything it's that relationships are about compromise." She adds, "But there are compromises like where you want to eat, what color you want to paint the wall but not who you are as a person. Never compromise yourself." 
In August 2013, 25-year-old Alexa became engaged to actor and singer Carlos Pena, Jr. who starred on  the Nickelodeon series Big Time Rush as well as being a member of the band of the same name. In interviews, Alexa laughed about how physically, Pena was not the type she usually dated, "When I met Carlos, I had never dated a Latin guy. I don't know if it's because all of my family is like a Latin crazy family but I've only dated tall, lanky white guys – everybody has been over 6-foot-3 and white," she said.  However although Carlos is 5'7 and very Latin, Alexa said, "He was everything I wasn't looking for but everything I needed," she says. "He is truly incredible!"  The couple got married in Puerto Vallarta, Mexico on January 4, 2014 and they changed their last name to PenaVega so Alexa is now professionally known as Alexa PenaVega.
Wedding picture