4 Stache-tastic GIFs From Nick Offerman's Stachedance
In case you didn't get enough of Nick Offerman's Movember Stachedance the first time around, we took the liberty of creating these animated gifs. Now you can enjoy all the Moustachioed goodness without all the cumbersome sound effects.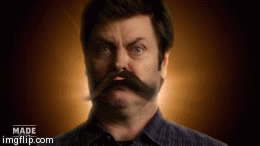 And in case you missed the video, we've included it below. Enjoy, and remember to sign up for the Break Movember team.