2 Girls 1 Cup and Many Reactions
The phenomenon of the 2 Girls 1 Cup shock video spawned a whole other phenomenon of its own; people watching and creating reaction videos of first time viewers of the scat-fetish video clip.  Literally playing with the last of the ultimate sexual taboos, for those who haven't had the pleasure of viewing the original 2 girls 1 Cup video, the one minute clip graphically shows two women sexually playing with each other.  After one of the women defecates into a cup, they both take turns eating the excrement and later, the ladies vomit into each other's mouths.  The music that runs throughout the clip is "Lovers Theme" by Hervé Roy from the film Delusions of Grandeur, a 1971 French comedy film.  The video is actually a trailer for a 60 minute porn fetish film, "Hungry Bitches," produced by Brazilian Marco Fiorito a self-described "compulsive fetishist" for his company MFX-Media.  Fiorito started his porn career by first producing foot fetish videos before moving on to coprophagia and no, that doesn't mean in support of cops.  Rather, coprophagia means the consumption of feces or to literally eat shit. The full length movie of 2 Girls 1 Cup was released January 5, 2007 (imagine sitting through that) along with the trailer which instantly went viral.  For you virgins, see the video here.
Typical reaction of a group of 6 girls while watching the famous video:
[[contentId: 395089| | size: 75]]
HOW DID 2 GIRLS 1 CUP REACTION VIDEOS START?
By mid-October 2007, YouTube and other sites were flooded with videos showing people's reactions to watching the video for the first time.  Reaction videos became so popular that besides filming their own reactions, people started recording their unsuspecting friends and relatives especially their grandmothers.  Grandmas became a very popular test subject in the reaction videos.  One nana even got really mad and called it several names while another just dismissed it as "rubbish."  A grandma with nerves of steel (she's probably seen worse on the farm) barely reacted while another confused bubbe quickly moved away from the computer screen like it was contagious.
[[contentId: 409515| | size: 75]]
People of all ages and races from kids and teenagers to senior citizens were featured in the reaction videos. Some videos showed a person watch alone, others with one or two people and many featured people watching in groups.  The biggest response was screaming and laughter coupled with disbelief.  Most people in the reaction videos covered their mouth and eyes with their hands and visceral responses ranged from complete mirth to anger to being completely grossed out; many people almost threw up themselves.  Some people rushed away from computer like they were afraid the doo-doo was going to touch them and others uttered noises that only farm animals usually can make.  One woman watched it at the holidays as demonstrated by the Christmas tree in background and another family actually watched if from the dinner table as demonstrated by the huge feast on the table before them.  One guy stopped eating his sandwich while watching only to resume eating after the video ended.
ARE THERE ANY BEST OF 2 GIRLS 1 CUP REACTION VIDEOS?
Of course there are!  Why should we have to sift through every homemade video when somebody else can do it for us?  In January 2008, Slate magazine compiled a slideshow of reaction videos and currently, there are now 5 sets of compilation videos of 2 Girl 1 Cup reaction videos on You Tube.  Although by now some of the reactions are clearly staged, some highlights do stand out.
Here are some notable reaction videos:
Kid twin brothers watch it and as they become more enthralled and grossed out, one spits food out of his mouth while the other grabs a potato chip bag to hurl in.  Come to think of it, where are their parents?
Not having seen the video almost became as big a source of pride as having seen it.  In her introduction, a girl explains that she has never seen the video like all her friends who have dared her to watch it while eating pudding.  She's now bored so she's taking them up on their dare.  See if she's able to choke down that pudding for yourself:
Somebody even posted their dog's reaction to 2 Girls 1 Cup.  The dog watches a while and then figures he better sit down, however, he's also probably thinking "So? What's the big deal?"
HAVE ANY CELEBRITIES SEEN THE VIDEO?
You betcha.  Celebrities like to be on the forefront of trends and wouldn't miss something this juicy.  Just like normal people, famous people get turned on to things by their friends like the below picture of Pharrell and Jay-Z demonstrate.  Posted on Reddit, thanks to Pharrell, Jay-Z Watches 2 Girls 1 Cup for the first time:
You know something has to be pretty intense if even Joe Rogan, host of Fear Factor,  
a show about disgusting things couldn't even watch although he did declare that he should give those girls a job:
[[contentId: 401320| | size: 75]]
While watching the video on radio show, The Playhouse, veteran porn star Ron Jeremy declared that it was "disgusting" and "those are not American girls" and walked off in the middle of the video. Yes, a porn star called it disgusting.
Whereas on the same radio show, Wyclef Jean barely reacted and just kept eating his corn on the cob:
On another radio show, Ace Frehley of Kiss was unaffected declaring, "Crazier things than that have happened on the road" and "I prefer water sports." If you know what he means.
In March 2008, writer A.J. Jacobs was interviewing George Clooney and when asked if he ever goes on the web, Clooney answered, "I go on YouTube when somebody says to look something up. There was one a few years ago that killed me. Look up 'monkey smells butt.'"  So A.J. decides to show him 2 Girls 1 Cup but warns Clooney it's highly disturbing.  He wants to see it anyway.  George says, "I can take it. "I'm a grown-up. We're all grown-ups."  After all, he was a People magazine Sexiest Man Alive.  Clooney watched the first several seconds, "It's not so bad."  Probably nothing Clooney hadn't seen before. Then three seconds later, he utters "Oh." Another two seconds: "Oh, my GOD! Oh, my God!! Oh, my God!"  Like so many others, Clooney put his hand over his mouth like he's going to throw up, got out of his chair and walked out.  His PR person, Stan Rosenfield asked to see it and Clooney wanted to watch Rosenfield as he watched the video. Rosenfeld could only stomach 3 seconds.  Afterwards, Clooney commented, "It's like the rodeo — see how long you can last" before he burst into laughter.  Unfortunately, there was no video documenting this interaction however, we can imagine just how this must have been a nice little respite from Clooney's Hollywood and saving the world duties.
There are even reaction videos from famous characters who are not even real. Here's Jason Voorhee from the Friday the 13th series' reaction.  Yeah, a little hard to tell what he's thinking but if Jason had a mouth, he would have covered it like everybody else.
In an episode of Family Guy, Brian introduces Stewie to the video and Stewie is so grossed out, he wants to search for a male version on the web:
Even Kermit the Frog saw the video:
ARE THERE ANY 2 GIRLS 1 CUP PARODIES?
How can you have something go so viral and not have parodies?!  Musician John Mayer posted "2 Guys 1 Cup" on his blog in which he and Best Week Ever correspondent Sherrod Small eat Pinkberry frozen yogurt in a similar way that the women in the video enjoyed whatever they were eating:   
[[contentId: 2744695| ]]
Canadian comedian Jon Lajoie performed the "2 Girls 1 Cup song" which talks about how the two women in the video were expressing their love for each other through their activities. The music video became a hit and had over 10 million views on You Tube:
As popular as the "2 Girls 1 Cup song" video is, most men prefer to watch this parody:
More a homage than a parody, this video, 4 Girls Fingerpainting takes the concept of 2 Girls and takes it to a whole new level.
And in what may be the best way to lose your job in advertising, a German company, Media Markt is trying to sell a cupcake maker by using the tagline, "2 Girls 1 Cup-cake maker."  However, they did receive 950 likes on Facebook and was on the front-page of Reddit so perhaps they know something about the desires of the public that the rest of us don't.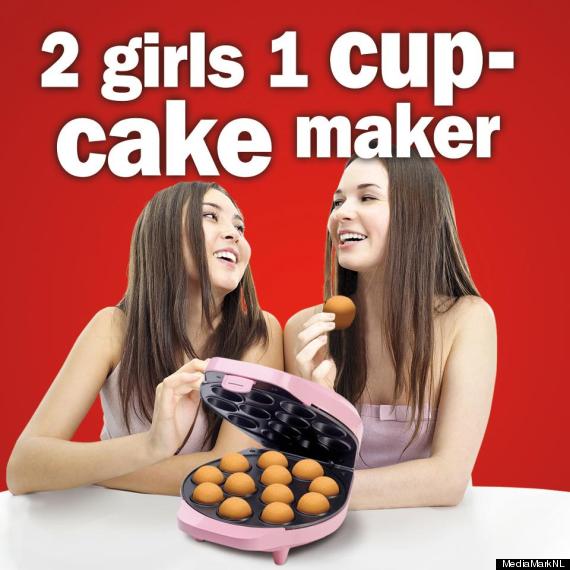 WHAT IS REALLY THAT STUFF IN THE VIDEO?
Skeptics feel that there is no way that the bodily fluids in the video are authentic.  Some think the material exiting from the young lady's anus is probably a mixture of coffee cream cake filling and another substance like peanut butter.  The theory is the woman  cleaned her bowels before introducing a large quantity of the substance.  Her rectum instantly rejected it because it's an alien substance and that's why it ejected so quickly.  When it comes to how the vomiting was created, the speculation is that if the women regurgitate right after swallowing food, it wouldn't contain any gastric juices so although still gross, it would be palatable to the other girl.  Sticklers also point out that the vomit doesn't really go directly in the other girl's mouth and mostly goes down her front.  Hmm.  Regardless how it was executed, wonder how many times they had to rehearse these scenes before it was a take?